Baba is not only one of my favorite restaurants, but it is a favorite of many in the city. They won the 2007 Worcester's Best Chef award, when the restaurant had only been open for three weeks.


On their site, they describe the food as Asian fusion. I describe it as the freshest sushi in Worcester, and the most innovative.
Do know, however, that they serve more than sushi. There is a selection of cooked items as well. And that was a good thing, because I don't have too many sushi-eating friends. Because they had cooked items, my friend Karen was excited about meeting me for lunch there.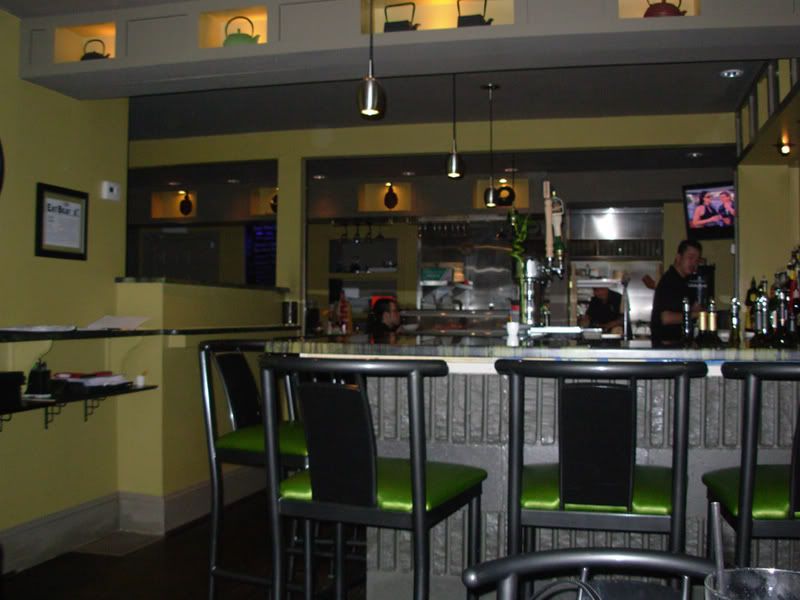 That's a photo of the main room. I took the picture from my seat, one of 4 small tables at the front of the restaurant. Straight ahead, in the back, there is the sushi bar. I believe there is more seating around the corner to the left, as I saw a group of people leaving from that direction. But it is a small place, so I'd definitely make a reservation if you are planning on going during a busy time of day. I had lunch there around 1:30 on a Friday and, as you can see, seating was not a problem.
My friend, Karen, who had lunch with me today wanted to make sure that I write that the music was great. During our lunch they were playing reggae, and it did sound good.
We sat down and began with drinks. She got a diet coke and I went hard-core, ordering a pear Grey Goose with cranberry juice, seltzer, and lime. They didn't skimp on the Grey Goose, and it's a good thing because it was a bit expensive, at $9.00!
But let's get to the food.
Karen got an appetizer: the
Shrimp Shumai ($5)
. I wouldn't let her eat it till I got a pic: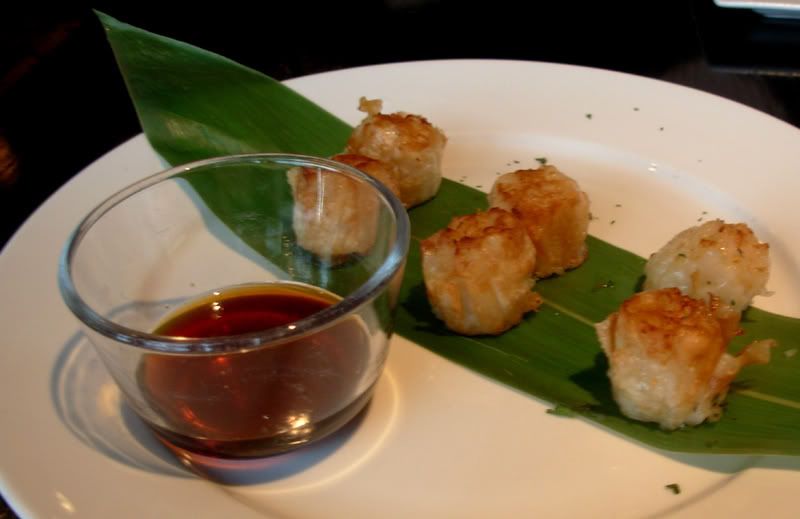 Karen was generous and let me try one. It was yummy. I'm used to the
Shumai that I get frozen in a bag at Trader Joe's. I seem to always be in a rush when I eat it, and I try to save calories, so I've never had pan-fried shumai. This shumai was a special treat! Karen really enjoyed it too.



For her entree, she ordered the
Yaki Tori ($7)
. I took a picture of it, but it came out blurry. I must have gotten side-tracked in conversation, because I never got back to taking another pic! But let me say that the presentation was beautiful, and Karen very much liked her meal.

I have gotten takeout at Baba numerous times. I've ordered the spicy tuna rolls, the Mango Tuna appetizer (ceviche), and the Cajun Salmon appetizer (ceviche). Today, I wanted to try new items from the menu. So I ordered two appetizers. This first picture is the Jalapeño Yellowtail ($10)
.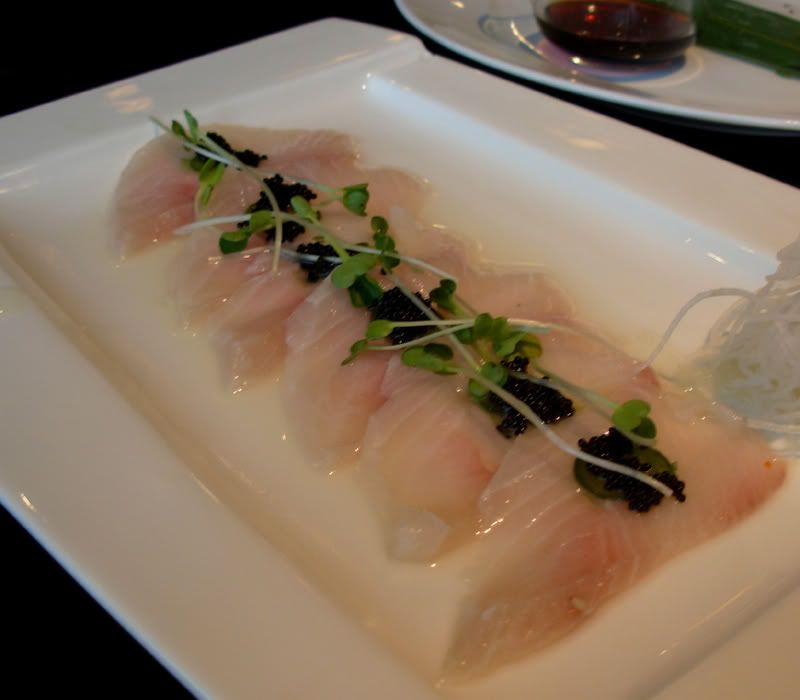 Wikipedia says that in the context of sushi, yellowtail refers to the Japanese amberjack. I didn't know that, and I got yellowtail mixed-up with yellowfin, and was expecting to see tuna. But this was delightful and I'm so glad it was a fish I'd never tried! It was in a light lime and jalape
ño
liquid. Each slice of yellowtail had a sliver of serrano chile (it was smaller than jalape
ñ
o) topped with some roe.

Below is my photo of the Tuna Tataki ($10). OMG, this was the best tuna I've ever had! Their menu describes it as a pan seared tuna with a light wasabi sauce. It was barely seared, and I liked it that way. I thought I tasted a bit of peanut in the wasabi sauce. But I was on the sauce (Grey Goose), so I could have been wrong. Either way, just look at the marvelous presentation!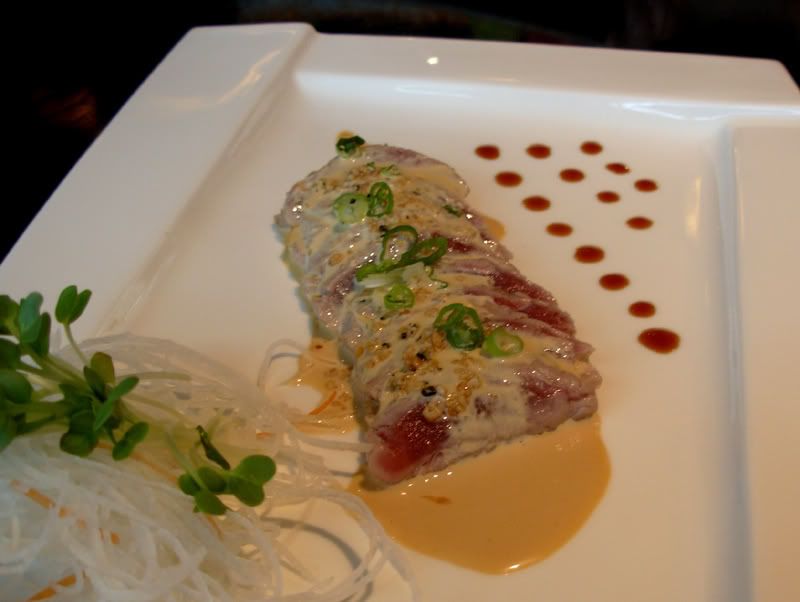 I even got Karen to take a bite. I forgot to pay her the $5.00 I offered if she'd try it. Sorry, Karen. ;-) I think she was okay with it. She's not a sushi person, so I was impressed with her spirit!

I also ordered a spicy salmon roll ($6.50). I thought I might take one or two bites and get the rest to go, but I didn't! I ate the entire thing. Their sushi is the best. It's always fresh, and always tastes so good.




We both left with full bellies and happy hearts. I always look forward to my next visit to Baba.