Mmmm, doesn't that look good? Oh, it was good! The bechamel sauce was creamy and flavorful and the tomato sauce on top added a little zing. It was a perfect combination.
This was originally a recipe from Cooking Light Magazine. I used to make it from time to time. It was really good. But when I made it this time, I made it less light and it was more than really good - it was divine.
And now that I made this excellent sauce, I would like to revisit a recipe I did earlier,
Butternut Squash Casserole
, and add it in. I would be willing to bet that it would make the casserole heavenly.
A little note about the bechamel sauce: I originally made it with 4 tablespoons of flour, as recommended in Mario's recipe. But I found my sauce to be to watery. So I added 3 more tablespoons of flour, but that was toward the end. So when I wrote out the ingredients for this recipe, I wrote to use 6 tablespoons of flour at the beginning. I'm estimating that the sauce would be thick enough that way. Of course, if it's too thick, add some milk and perhaps a few more dashes of spices.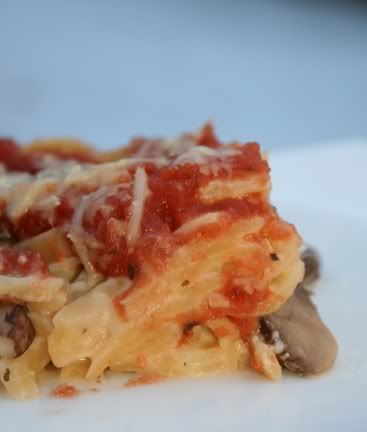 Red and White Pasta Bake
Adapted from Cooking Light Magazine
1 pound linguine
Cooking spray
4 cups sliced cremini or button mushrooms (about 12 ounces)
2 (14.5-ounce) can Italian-style diced tomatoes, undrained
1 recipe of Bechamel Sauce (see below)
1 cup mixture of mozzarella and Parmesan cheeses
Preheat your oven to 350°.
Cook the linguine according to the directions on the package. Cover it and set it aside.
Saute the mushrooms and set them aside.
Empty the cans of tomatoes with the liquid into a bowl. Puree it with an emulsion blender until it is fairly smooth. I, personally, don't like the chunks, so I blended it till all of them were gone.
Prepare the bechamel sauce:
Bechamel Sauce

Adapted from Mario Batali
5 tablespoons butter
6 tablespoons flour
3 cups milk (1 cup whole, 2 cups 2%)
½ onion
2 cloves
2 cloves garlic, sliced in half
2 teaspoons salt
1/4-1/2 teaspoon freshly grated nutmeg (to your taste)
1/4 teaspoon freshly ground white pepper
3.5 oz. light Finlandia Swiss
For the Bechamel Sauce
In a medium saucepan, heat the butter until melted. Add the flour and stir until smooth. Over medium heat, cook the mixture until it's light golden brown, about 6 to 7 minutes.
Meanwhile, cut the onion in half and stud it with the whole cloves. My onion was large, so I cut off a chunk and pretended it was a small onion.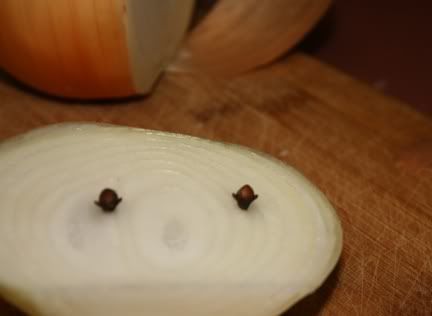 Place the onion with the cloves, and the garlic into the milk in a small pot. Heat it until it is just about to boil.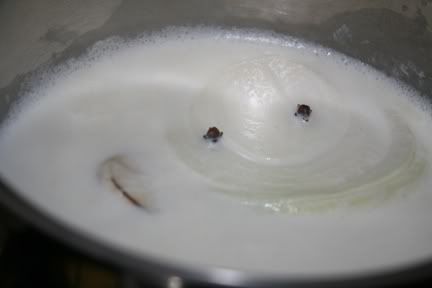 Add the milk to butter mixture 1 cup at a time, whisking continuously until very smooth and bring to a boil. Add the Swiss cheese and stir for another 30 seconds or so. Remove the mixture from the heat and continue stirring until the cheese is completely melted. Season the sauce with salt, white pepper, and nutmeg.
Assemble the Dish
Add the mushrooms and pasta to the bechamel sauce. Mix it well to evenly distribute all the contents of the mixture.
Prepare a 9 x 13 inch baking dish (or similarly sized casserole dish) by spraying it generously with cooking spray. Pour the pasta mixture in and distribute it evenly. Top it with the pureed tomato sauce and a mixture of mozzarella and Parmesan cheeses.
Bake the dish, covered, for 20 minutes. Then, uncover and bake 5-10 minutes more to melt and slightly brown the cheeses on top.
Mangia Bene!