Watch out! This casserole is dangerous . . . . Dangerously irresistible, that is! I've made it twice in the span of a week, and I'm about to make it a 3rd time.
The first time, Joe and I ate it. And we did a good job of it. It was mostly gone the first night. Definitely gone the next day.
I made it yesterday to give to a friend, but as I was finishing the meat part of it, Joe called and said he needed a dish for his office Christmas party the next day. So since it was already made, he got that batch and I'm about to make it a third time for my friend whose husband is in the hospital. I figure she doesn't want to cook right now, and she will enjoy and appreciate some healthy and delicious home cooking. And her husband will probably be able to eat it since it is fairly healthy (he had heart surgery). While the original recipe called for beef, I made it once with ground turkey and once with ground chicken and both were wonderful.
I'm looking forward to the little bit extra that won't fit in the pan that I will put in a little loaf pan for myself (he he he).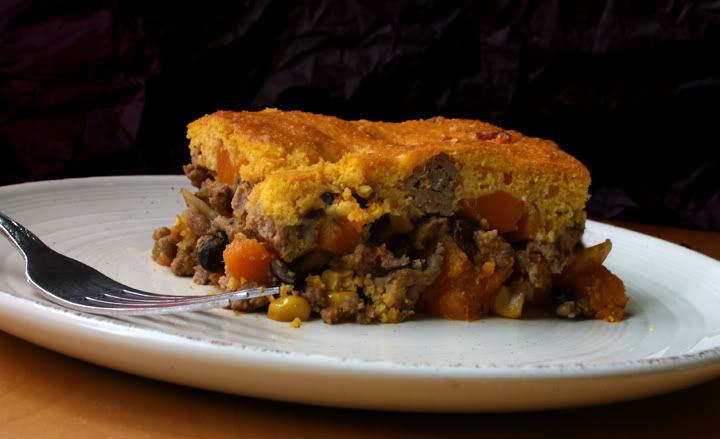 Winter Squash-Black Bean Bake with Meat
Inspired by Better Homes and Gardens
1 lb. ground turkey or chicken
3 cups of 1/2-inch pieces peeled butternut squash
1 medium sweet onion, chopped
1 15-oz. can black beans, rinsed and drained
1 cup whole kernel corn (I used canned)
1 4-oz. can diced green chiles
1/2 tsp. salt
1/4 tsp. freshly ground black pepper
1 tsp chili powder
1-1/2 tsp chipotle powder
a dash cayanne
1 cup lower-sodium beef broth
1 3-oz. pkg. cream cheese, softened
1 8-1/2-oz. pkg. corn muffin mix (the Jiffy mix is 8 1/2 ounces)
1 egg, lightly beaten
1/3 cup milk (I use 2%)
1/3 cup canned pumpkin
Preheat the oven to 400 degrees.
In your biggest skillet, sautee the squash and onion with the salt and pepper until the onion is tender and golden and the squash is close to a point where it could be eaten - sort of like it's aldente.
In a separate pan, cook the meat. I find it helpful to cook it in a little bit of water. It breaks apart easier. Drain off the liquid and fat.
Add the meat to the veggies. With it, add the broth, beans, corn, green chiles, and the spices. Heat it all through and then Transfer mixture to 2-1/2-quart baking dish.
In medium bowl stir together the corn muffin mix, cream cheese, egg, milk, and pumpkin puree until just combined. Spoon over beef mixture.
Bake the casserole for 20 minutes or until toothpick inserted into topper comes out clean.