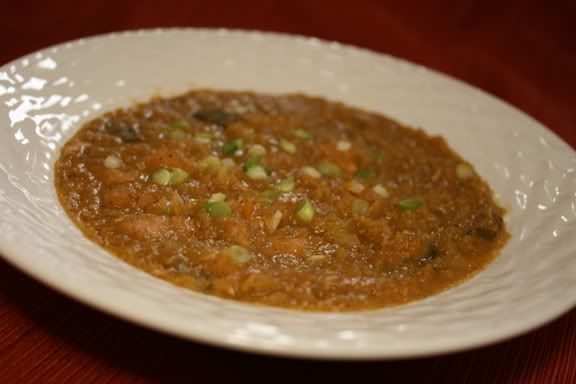 Before I get to the food, let me address this important issue. Where have I been?

Well, I've been very, very busy getting a certificate in Web Design - the first step in a hopeful career change. So I've been crazy in over my head as I learned all about css, page design, flash, using available java scripts, jQuery, a bit about XML, and table-driven and css-driven DHTML.

I haven't cooked much beyond boxed pizza in months. The freezer has been full of frozen meals and I've been thrilled about the invention of the microwave. We didn't have those things when I was a little kid!

But on to the food!

This recipe happened by mistake, as I got punished by my bad karma.

Several weeks ago while out taking
fall pics
, I stopped in at one of my favorite foodie destinations, Idylwilde Farms. I saw the soup mixes on the shelves and couldn't resist. You know, the dry soup mixes - the ones with the dried beans in a clear cellophane bag, and then at the top are the herbs and such. You add some stock and veggies. Here's a pic of one of the mixes I got: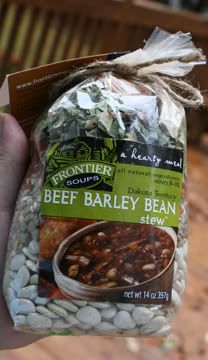 Well, I bought about four of them because I thought it would be like homemade goodness, but with convenience. Also, they make rather large batches, I could do it in a crock pot and freeze individual meal-sizes that I could just reheat when I felt like it and have comfort food any time.

The first one I made was the beef stew pictured above. And it was delicious. But as I made it I felt like an idiot. I spent so much time sauteing the onions and peeling and cutting up yellow turnip. I thought to myself, "Meryl, what you are doing now is the time consuming part of making anything. You could have made your own stew and made this a blog post and been proud of your creation instead." But it was too late for that.

So a couple of days ago I figured I'd use another of the mixes - this time the Red Lentil and Butternut Squash soup mix. But I got bitten in the rear by bad karma!

So, I was kicking myself as I cut up and seared some chicken, sliced and sauteed the onion, and cubed the butternut squash. But I thought that I must not let this soup mix go to waste. And I was sure it would taste good.

I put all the chicken broth (low sodium) in the crock pot. I added the chicken and veggies, and opened up the top of the cellophane bag of soup mix. The herb packet is always at the top. I reached in, took it out, and I immediately noticed that things were hanging off of it, as if caught on a web.

I was holding it over the sink, puzzled. I thought to myself, "what is this?" as I removed it all from the little plastic herb packet. It was then that I saw the live little worms twitching around inside.

Ewwwwwwwwwwwwwwwww!

And now I've got a dilemma because the soup is already started! I had to do something right away! I remembered that I had some red lentils, so I ran to my laptop to look for my own recipe.
I began by typing in epicurioius.com to find out that my Internet went down. OMG, the Gods are totally against me today! I thought to myself, "Meryl, don't panic. Take a walk with the dogs and the Internet will be back up and running when you return."
So I did. And when I came home, the Internet was back up. I looked at various recipes on various sites and came up with a game plan. Then, I ran to the cupboards to get the lentils. CRAP! I no longer had any.

I decided to let the what was in the crock pot cook, since the chicken was in it, for the rest of the afternoon. Then I put the entire crock in the fridge that evening and went to the store, not knowing if I'd find the red lentils easily or not. Luckily I did find them and I got back to the soup the next day.

In the end, the recipe I chose was a success. Warm, cozy, seasonal, and tasty. I'm glad that I made it and not the mix, although I could have done without the roller coaster ride.



Red Lentil and Butternut Squash Soup




(a crock pot recipe that makes 8-10 servings)



10 cups broth (I use low sodium - by the way, how big is your crock pot?)
a bag of frozen chicken breasts – and olive oil (large bag - approx 8-9 breasts / 3lb?)
a bunch of scallions
olive oil
1 onion sliced
1/2 can light coconut milk *
1 tbs garam masala ** (mine was old)
1 tsp red madras curry
1 tsp cumin
2 cups red lentils (added in last - cooked for about 2-3 hours, tasting for doneness)
salt (I added 1 tsp - I'm very sensitive to salt. I'd suggest 3 tsp for normal people)
* The coconut milk was great. If I were to remake, I'd add the whole can.
** My garam masala was quite old. But even if it were fresh I would still try the entire tablespoon. I bet it would be awesome. But if you are wary of that, you could go with 1.5 teaspoons.
Okay, if I were making this today, all in one day, this is what I would do.
Put the crock pot on high and add the broth, the coconut milk, the cut up butternut squash, and the spices.
Cut up the chicken in to small pieces or slices. Sautee them and them in 1-2 tablespoons of olive oil and add them into the crock pot.
Back in the sautee pan, turn the flame on medium-high, add 1-2 tablespoons of olive oil, heat it up, and add the sliced onions. Sautee them till golden brown and then add them to the crock pot. Leave the crock pot on high for 1/2 hour to an hour. Then turn it to low for a good long time. Geeze, this is where I had it on low for about 6-8 hours and then put it in the fridge overnight.
The lentils don't need as long to cook. Red lentils will take between 1-2 hours to soften on low.
Then you have a delicious, hearty, comforting fall soup. If you put it in the fridge, you'll probably need to add more broth, it gets very thick overnight, and the crock pot can only hold so much liquid.