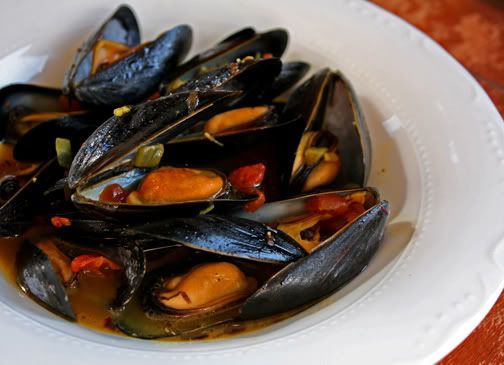 It's hard to take a good picture of mussels in a bowl. I don't think that the picture above does this dish justice. Because I'm going to make a serious proclamation: These are some of the best mussels I've ever eaten! And I'm the cook! I'm so proud.
And not only are these mussels incredibly tasty, but they are incredibly easy to prepare - and the dish comes together really fast too!
Mussels feel fancy to me, yet they are so much less expensive than other seafood items in the store. I got a 3 1/2 lb. bag of them for just over $3.00. I can appreciate that, can't we all? In comparison, I keep wanting to buy scallops, but I just can't justify spending the money on them lately. They are $13.00 a pound for fresh (not frozen) large scallops - and that's here in new England.

I recommend these mussels to all you shellfish eaters. You can impress yourself and your friends with them. They are great as a side dish, but I could totally see tossing them in pasta. The sauce is really flavorful and so pretty too! When my mussels were done, I would have dipped in crusty bread, but I didn't have any. So I cooked up some rice and had it like this: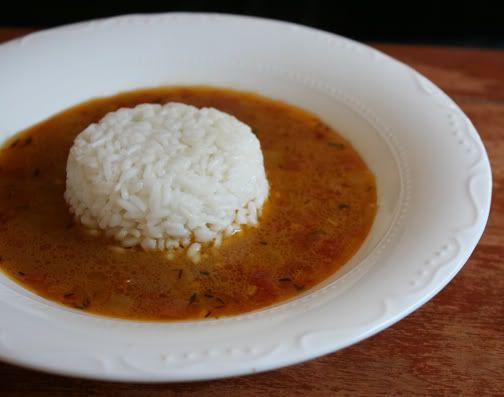 Isn't that broth so beautiful! It was delicious. And since making it, I bought some crusty bread to have with the still-leftover broth.

I will definitely, without a doubt, make this mussel dish again!

Mussels in White Wine
Adapted from Barefoot Contessa
Serves 1 as a main dish - 2 as an appetizer
3 pounds cultivated mussels
1/3 cup all-purpose flour
2 tablespoons unsalted butter
2 tablespoons good olive oil
1/2 cup chopped sweet onion
3 cloves garlic, minced
1/2 cup petite diced canned tomatoes, drained
1/2 teaspoon good saffron threads, crumbled
1/2 teaspoon thyme
1 cup good white wine - I used a chardonnay
1/2 teaspoon kosher salt
1 teaspoon freshly ground black pepper
When you open your mussels, you want to remove any that might not be alive. If the shells are closed tightly, you can trust the mussel. If the shell is open, quickly press it together.


It will spring open some, and at that point, a live mussel will close on it's own (sometimes it takes a few seconds). I tend to do this to all the open ones as I sort through the mussels. I put any open to the side. When I'm done sorting, I go back to the ones that were open and see if they closed. Toss any that didn't close!
Sometimes mussels have sand in them. It's not pleasant when you bite into them, so here's how to remove that pesky sand: Fill a large bowl to completely submerge your mussels with a couple of inches of water on top. Sprinkle 1/3 cup flour into the water and mix. Then add the mussels. Leave them in the water (some will float) for 1/2 hour.
Drain the flour water and rinse the mussels. You are likely to see all the sand they spit out as you pour off that water and see the bottom of the bowl. Pull off any beards from the mussels and scrub off any dirt. Now your mussels are ready.
Heat-up the butter and olive oil in a deep stock pot. After about 4 minutes, add the saffron. After 2 more minutes, add the garlic, tomatoes, parsley, thyme, wine, and salt. Bring the mixture to a boil.