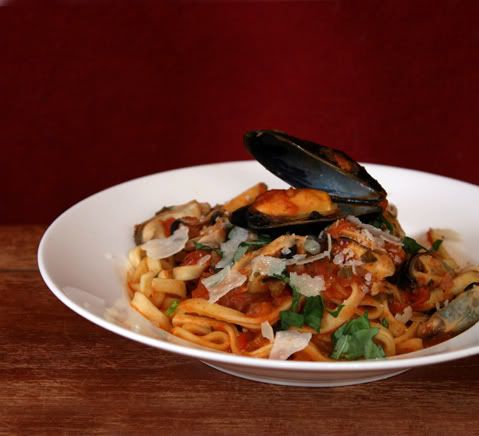 Public Television has the best of the cooking shows these days. They aren't trying to hook people with a personality that pushes a marketing strategy. It's all about the food, the ingredients, and the techniques of some of the best chefs around - be they big TV personalities or not.
Yesterday I watched Jacques Pepin cooking up some
mussels
in a spicy red sauce with rice. While I didn't feel like trying that particular recipe, he did remind me of how much I love
mussels
. He also taught me a thing or two about using mussels, which I've only cooked one other time.
Before you cook your
mussels
, you want to know they are alive - they should be! If you are looking through your mussels, a closed shell is good. And you see some that are open, tap on the shell, or tap the shell on the counter. A live
mussel
will close up before your eyes. If a mussel doesn't close up, throw it away - it's dead.
Joe picked up a pound of mussels for me yesterday. I
didn't
want to make them yet, so I looked up the proper storage method. I didn't want to kill the little critters (which I did last time)! To keep them alive, make sure they are
not
in an airtight container. I took some online advice and put them in a bowl and covered with a damp
towel
. My mussels were still alive and well today - perfect for me to kill them!
I like the smaller mussels. When I've had larger mussels, I didn't think they had a lot of flavor, and they seemed rubbery. Here was my batch of happy small mussels: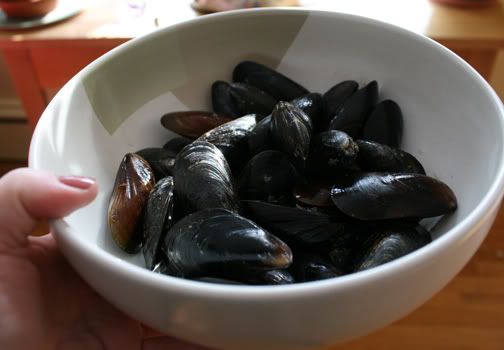 Mussels with Tomatoes, Herbs and Garlic (Moules Provençale)
Adapted from The Blego Cookbook (posted on epicurious.com)

2 1/4 lbs mussels, cleaned (I used less, but 2 1/4 is the max)
1/2 cup dry white wine
1 tablespoon olive oil
1 1/4 cup sweet white onions, chopped
1/3 cup celery, chopped
1 garlic clove, chopped
2 tablespoons chopped fresh basil, plus extra to garnish
1/4 cup chopped fresh flat-leaf parsley
1 bay leaf
1/4 tsp thyme
1 tablespoon tomato paste
1 lb. ripe plum tomatoes, peeled and chopped, or 1 14-oz can chopped tomatoes
salt and pepper
Parmesan cheese (optional)
Saute the onions and celery over medium-high heat. Salt and pepper to taste.
While it cooks, put all other ingredients (except the cheese) into a medium sized pot. Add the celery and onion when it is ready.
Cook until it boils. I don't like tomato chunks, so I used my immersion blender here. Little chunks are fine, but no more big ones.
Add the mussels. Stir around. Cover and cook one minute. When you uncover, they will already be opening. I stirred here to let the sauce into the shells more. Then cook two minutes more.
You could decide to eat it just like this! It's pretty good stuff:



Just look at that delectable little morsel. It's smiling at me!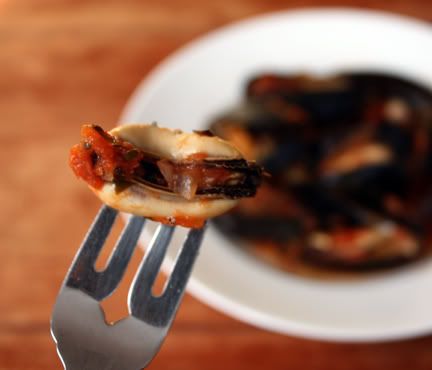 You could also serve it on pasta, with chopped basil and Parmesan cheese.