I've been hanging out a lot on Facebook lately. And so has Elle, from Elle's New England Kitchen. This past week she posted a picture (only on Facebook) of a rigatoni she made, and it looked really good. Shall we say that she inspired Inspired Bites? Yes!
So when we made plans for friends to come over for dinner and board games (and drinks!), I decided to make something similar.
I'll admit to you all that I didn't want to make dinner. It has been a really long, hard week, making midterms for 3 different levels of classes. I didn't stop working last night until 7:30 when the school musical began. I left school at 10:15 that night wondering what we'd do for dinner. But in talking to my friend about possibilities to order out, it became clear that I would need to cook. Living out in the boonies, we don't have too many choices, and I will not eat take out pizza with a bread crust and canned mushrooms.
I threw this together on Saturday afternoon and it made for a fabulous dinner. Joe made a garlic bread with naan, and we had a great bottle of dry red wine. Karen made a wonderful salad with toasted pine nuts, artichoke hearts, cucumber and tomatoes. We sprinkled balsamic vinegar and extra virgin olive oil over the top.
I'm going to eat every bit of the leftovers. I'm pretty proud of myself since I didn't use a recipe, instead making this one as I went along.
Spaghetti and Meat Sauce
3 tablespoons extra virgin olive oil
1 cup chopped green pepper
2 cups chopped sweet onion (I loves me some sauteed onion)
4 chopped cloves of garlic
8 ounces sliced mushrooms
1/4 cup tomato paste
2 (28 oz) cans crushed tomatoes
1/2 cup dry red wine
1/4 teaspoon salt
1.25 lb ground beef (85% fat)
1 (1.5 ounce) rind of Parmesan cheese)
one 2/3 ounce package fresh basil, chopped, plus more for garnish
salt, again, to taste (my taste was 1/2 teaspoon)
Add the 2 cans of crushed tomatoes to a dutch oven. It should be good and deep - my sauce tended to splatter, even on a low heat. Begin heating it up on a medium-low heat.
Saute the onions and pepper in the olive oil on a medium-high flame. Add the garlic towards the end.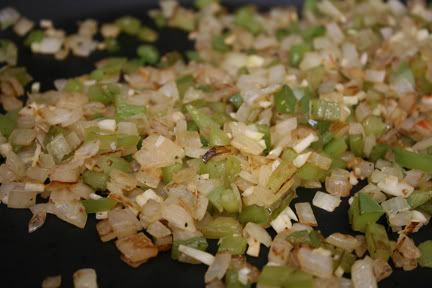 Place it in the pot with the tomato sauce.
Saute the mushrooms. Add it to the sauce pot.
Brown the beef. Pour it and the juices into the sauce pot.
Add the wine, basil, tomato paste, and the rind of cheese. Stir it, cover the pot, and cook on low for 2 hours. Remove whatever rind has remained. Much of it will disintegrate into the sauce and flavor it wonderfully. Here's what mine looked like: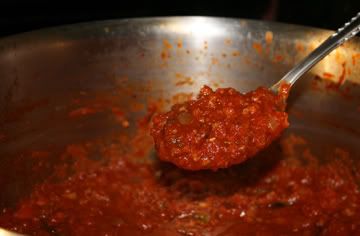 You should taste the sauce as you go and season it with salt and pepper to your liking. Depending on which type of cheese you use, you may not even need salt! My cheese wasn't salty, I guess, and not all of it fell apart, so this is when I added another 1/2 teaspoon of salt.

I used linguine instead of spaghetti. It's a little bit wider and flatter, but not as much as fettuccine. I like it.
Serve with Parmesan cheese and fresh basil on top.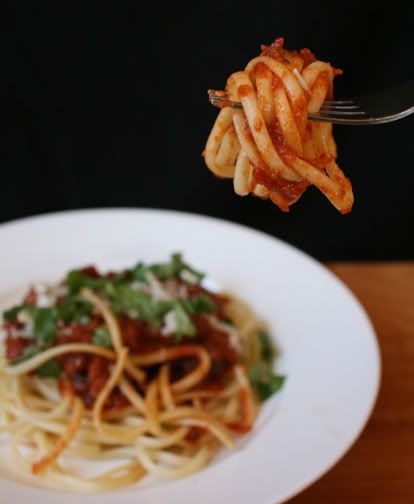 Mmmm, that's good stuff!