Every winter it seems I buy can after can of Progresso Chickarina and Italian Wedding Soup. I love the stuff - they both taste so good and have a respectful amount of protein, and a nice low calorie count.

My quest this past week was to make a delicious soup - similar to Chickarina and Italian Wedding. I kept thinking that if I liked them so much canned, how heavenly would they be if they were home made? Ooh, and an added bonus is that I can lower the sodium count. FYI: one can of Progresso Chickarina has a whopping 2,000 grams of sodium! Ouch!

It took two soup-making attempts, but I ended up with the most awesome soup. I dare say it is perfection in a bowl, and the perfect food for a cold, snowy day .

My first try was good, not great. I decided that I would use a beef-pork mixture. I used 16 oz. beef and 4 oz. pork.

While the soup was good, I couldn't understand, why my fingers swelled like little sausages every time I ate it. One morning I couldn't even put on my wedding rings!

It turns out that I just wasn't thinking. I had used canned chicken broth, and I'm guessing it was loaded with sodium. Also, even though I went with more beef than pork, I could feel a light film of fat on my lips after eating it. And hey, it's the new year, and it's time to make up for that holiday eating. But if you don't have a problem with the beef/pork mixture, then that is the more traditional way to do it and it does have great flavor as well.

But I need to watch my fat intake, so I went back to the drawing board today and decided to lighten it up with turkey meatballs. And I would improve the flavor and have better control over the sodium if I made my own broth this time.

While rolling out the little meatballs, I was worried that I had over-done it with the egg plus the egg white. The consistency of the raw meatballs was so different when made with ground turkey as opposed to beef and pork. They were sort of sticky as I was rolling them in the palms of my hands. I added some extra panko bread crumbs, but I stopped at 2/3 cup and hoped for the best. And the best I did have!

I

love

this soup! I know that I will make it every winter from this day forward.



Italian Wedding Soup

One recipe of Home Made Chicken Broth
4 large diced carrots (I prefer a small dice for this recipe)
1 small head of escarole (only the tender leafy parts - I removed the tougher parts for this recipe)

For The Meatballs:
1 (20.8 ounce) package of ground turkey
1 small onion, grated
1 egg + 1 egg white
2/3 cup panko bread crumbs
1/3 cup chopped flat leaf parsley
2 cloves garlic
1/4 cup grated Parmesan
1/2 tsp pepper
Mix all of the meatball ingredients with your hands! Don't be afraid, just delve right in. Once all the ingredients are spread evenly throughout the mixture. Put a little splash of water on your palms and take very small amounts in the palm of your hand and make many little meatballs. The water will keep the mixture from sticking to your palms. I found it much easier to work that way. Here's mine:



Once all the meatballs are rolled, put them into the soup raw. As you add the meatballs, add 4 chopped carrots.

Crumble about half the chicken meat from when you made the broth into the soup. I felt that adding all of it was too much. I saved the other half and hope that it's good for chicken salad!

Cook the pasta half way separately in a different pot. Add it to the soup pot.

At the end, add the leafy parts of the escarole. Cook two minutes more so that the escarole wilts.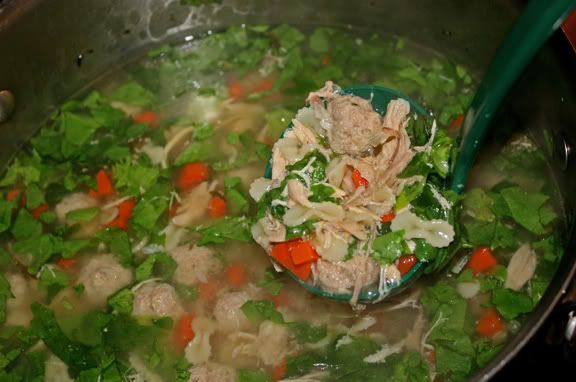 Serve with Parmesan cheese and perhaps a nice hunk of crusty bread!