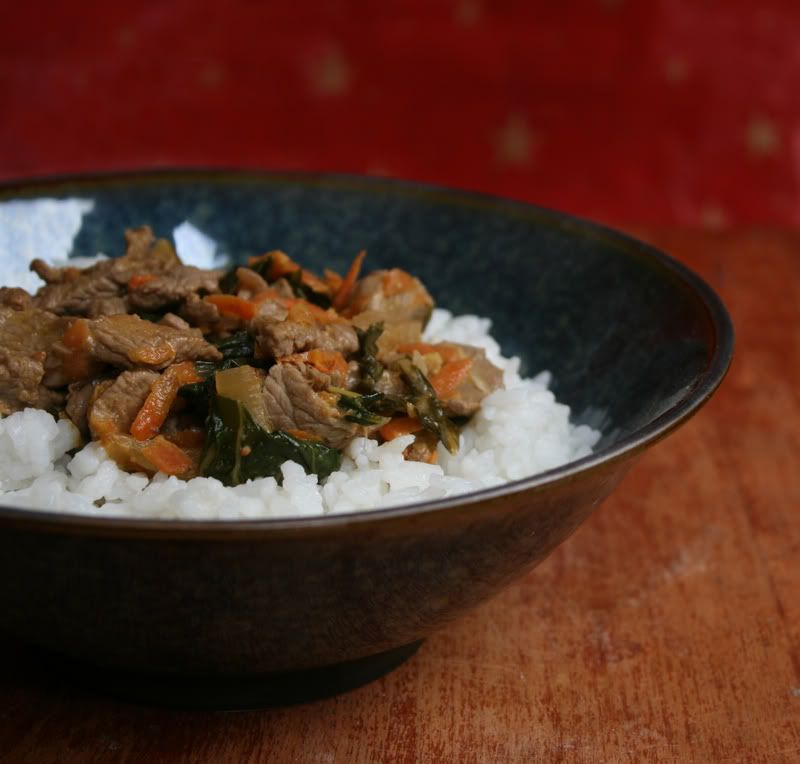 I got my new Eating Well magazine in the mail yesterday and was instantly drawn to this recipe.

While I always strive to meet a certain amount of protein each day, I'm reflecting upon my less-nutritional food choices as I struggle through the holidays. My inner child wants to make and eat a bunch of sweets, and my adult self wants to satisfy my cravings with something more substantial and satisfying.

Truth be told, I seem to fight with myself a lot lately to keep from ordering lo mein from my local Chinese take out place. I just love the stuff, but I know it's bad by the way my lips are slicked with oil after just one bite, and by the way my fingers, hands, and feet are completely swollen the next day from all that sodium.

So when I saw this recipe, it appealed to me because it has those Asian flavors that I crave, and it was pictured on top of a bed of udon noodles. But at the same time, it was a nice change of pace - beef was the protein. And I so seldom cook with beef.

The sauce looked rich, in a healthy sort of way. It has orange juice in it and peanut butter (the natural stuff, which is good because we always have it here). And to save my pudgy little fingers, I cut down on the soy sauce in the recipe and used the recommended low sodium type.

As for the noodles - I went to the wrong grocery store to get them. So instead of udon, I ended up with write rice, but that's just fine too!



Beef & Vegetable Stir-Fry with Peanut Sauce


Adapted from Eating Well Magazine

Makes 4 servings

¼ cup smooth natural peanut butter
⅓ cup orange juice
2 tablespoons reduced-sodium soy sauce
1 tablespoon rice vinegar
4 teaspoons canola oil, divided
3 cloves garlic, minced
2 teaspoons sesame oil, divided
1 pound sirloin steak, trimmed and thinly sliced (see Tip)
3 large stalks of bok choy plus the leaves of one more
2-5 tablespoons water
2 medium carrots, grated
¼ cup chopped unsalted roasted peanuts (optional)

In a bowl, whisk together the peanut butter, orange juice, soy sauce, and vinegar. When I did this I didn't feel too confident about the sauce. It seemed like the peanut butter was flecked through it and the liquid seemed too thin. But it was thicker when I went back to it later.
Because the ribs of the bok choy will need longer to cook than the leaves, separate the leaves from the ribs of bok choy. Slice the ribs in even sized pieces, about 1/4 inch thick. Then roll up each of the leaves and cut across the rolled leaf, each cut about 1/2-3/4 inch thick. Set aside.

Heat a large pan or a wok over a medium-high flame. Add 2 teaspoons oil and coat the pan. Add the garlic, 1 teaspoon of sesame oil, and the steak and cook, stirring,until the beef is cooked about 85% of the way. Remove it, with the pan juices, and set it aside.

In the same pan, heat up another 2 teaspoons of oil. Add the bok choy ribs and saute them until they are tender and slightly browned. Add the remaining teaspoon of sesame oil and toss to coat. Then add the carrots and cook about 3 minutes more so that the carrots are partially cooked and lightly browned.

Return the beef and juices to the pan and reheat for a minute or two. Add the sauce and toss to coat.

Serve on a bed of white rice or on top of udon noodles. Garnish with the optional peanuts.


Tip: For thinly sliced beef, freeze for 30 minutes to make it easier to cut into very thin slices.