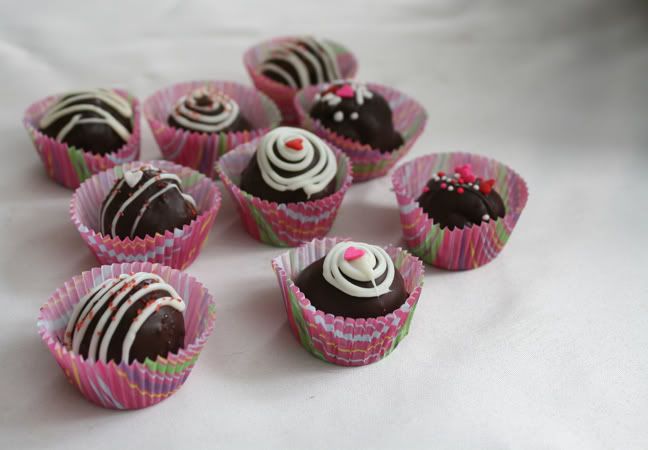 I first saw a cream cheese truffle recipe in the Kraft Food and Family magazine. They certainly looked good in the picture. But for whatever reason, I didn't make it.
Christmas came and went, and I still wanted to make truffles. I browsed around in other blogs and kept seeing those cream cheese truffles with all sorts of variations.
So I did it. I made the cream cheese truffles, with higher quality chocolate (Callebaut). Yum! Then I split the batch up and made two flavors, Amaretto-Honey and Raspberry.
Cream cheese truffles are easy and taste divine!

Cream Cheese Truffles
Adapted from Craft Food and Friends
1 (8 oz.) package cream cheese, at room temperature
3 cups confectioner's sugar
10 oz. high quality dark chocolate (I used Callebaut)
12 oz. high quality chocolate for coating the truffles
candies and white chocolate for decorating
To make the "ganache", blend the cream cheese and confectioner's sugar in a mixer.
Melt the chocolate in a double broiler. See my post,
About Melting Chocolate
, if you would like more information on this procedure.
Add the melted chocolate to the cream cheese mixture and mix until completely combined.
At that point, I wanted to split the ganache and make two different variations.
Amaretto-Honey Cream Cheese Truffles
1 Tbs. honey
1 Tbs. amaretto
1/4 tsp. almond extract
Raspberry Cream Cheese Truffles
In the other half, add 2 Tbs Dickinson's seedless red raspberry preserves. I like these preserves because they have a strong, wonderful flavor.
I didn't have Chambord in the liqueur cabinet, but I could see 1 tablespoon Chambord and 1 tablespoon preserves.
Whichever variation you make, roll the ganache into 1" balls. You could also use a melon-baller with the little metal piece that slides across to release the ball. I wish I would have had that melon-baller because I had a hard time getting a perfectly round shape: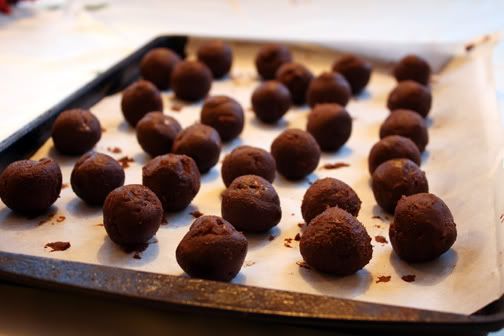 Some of my truffles weren't round enough, and that ended up showing when I dipped them in chocolate.
Chill the truffle balls for an hour. They should be as solid as possible before you dunk them in melted chocolate.
Melt the other 12 ounces of chocolate in the top section of a double broiler on a low flame. If you have tools to work with the truffles and get them in and out of the chocolate, those would be quite handy. See my post,
Candy-Making Tools
, if you want to see what I used.
Work quickly to dunk and cover all of the truffles in the chocolate and place them on a non-stick surface such as a Silpat mat or wax paper. Don't decorate until all the truffles are done because you risk burning the chocolate if you don't work quickly.
Once all the truffles are completed, decorate by adhering candy, coarse sugar, or whatever decorations you want to use. I also used melted white chocolate in a piping bag fitted with a coupler and a piping tip. Those items are also pictured in my post,
Candy-Making Tools
.
I recommend keeping these truffles chilled. You can package them in 1" candy cups and put them in decorative containers - that is if you want to give then away and impress your friends and family.
Your truffles will be enjoyed by all!