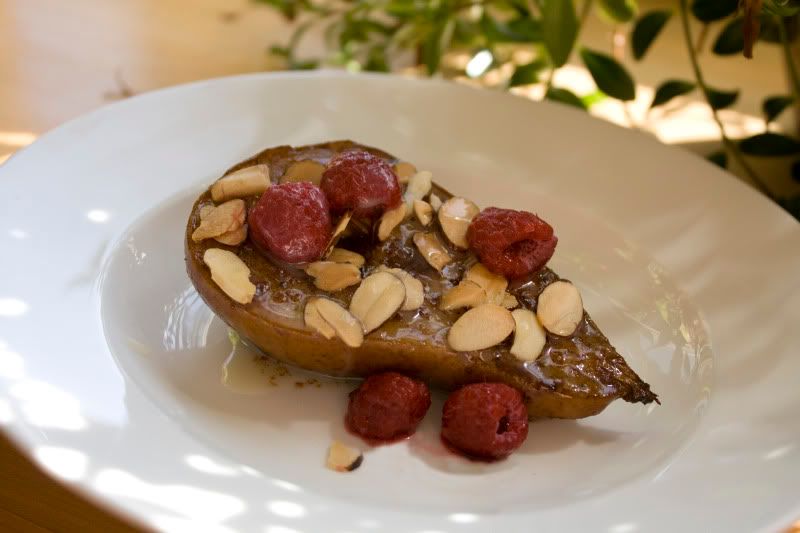 I'm so happy that this is my first recipe of 2010. It represents the way I'd like to cook and eat this year.
First of all, it's absolutely delicious! And it looks elegant, so you can serve it at the finest dinner party. Another plus was that it is quite simple. There really aren't a lot of ingredients, and you can have everything ready to assemble by the time the pears come out of the oven.
I don't know about you, but I need the "simple" in my cooking repetoire. My life is overwhelmed with minutia. But I do not want to cook the semi home made way. I want to cut down on processed foods and overwhelming amounts of sodium and chemicals. I believe that foods taste better when they are natural, and I feel better about eating them.
I decided to use organic frozen raspberries for my version of this recipe. It's the dead of winter, and while fresh raspberries were available, they were quite expensive and the quantity was small. I got about twice the amount of rasperries, and with the juice, I was able to make a 2nd sauce - a raspberry reduction. Here it is in all it's juiciness: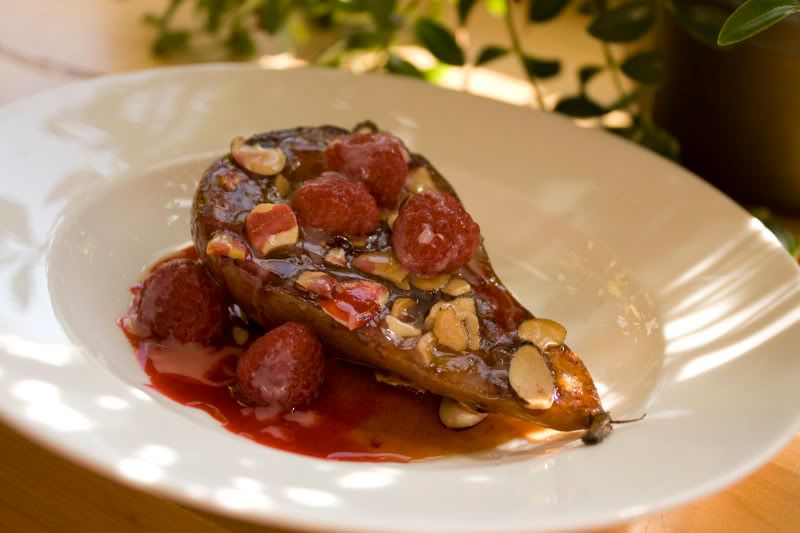 It was pretty spectacular. If you want to make the sauce, just though the raspberries. Strain out the juice while preserving the best of the berries for decoration. With some of the less-beautiful berries, put them in a sieve and use a rubber spatula to press out all the juice. You would be smooshing the berries to do this. Then put the juice in a small saucepan and boil it down to about 1/2 of the original amount of juice. If you wanted to, you could add some sugar. I didn't.
This recipe uses
Vietnamese Cinnamon
, aka Saigon Cinnamon. It is not the same as regular cinnamon - it's more pungent and complex. Maybe some of you can buy it in the grocery, McKormick does distribute it. But I prefer to order my spices online. I get mine from
Penzey's Spices
. They do have a few stores, which I hear are an incredible experience, but they also ship. My link is to the Vietnamese Cinnamon, but they sell every kind of spice, and they are fresher than anything you can buy in the grocery store, and most likely much cheaper per weight.
Penzey's Spices

: A jar of 1/4 cup (7 ounces) of the cinnamon is $3.25.



McKormick on the shelf at Stop and Shop supermarket

: only 1.5 ounce (the regular tall-size glass jar) costs $5.98.



Amazon.com

: Spice Islands Saigon cinnamon, the same size (7 ounces), is 5.80.



King Arthur Flour

: just 2 oz. cost $4.50



Roasted Pears Topped With Almonds, Raspberries, and White Chocolate Yummies
Inspired by Cat Cora (for McKormick)
1/3 cup brown sugar, packed
1 teaspoon Vietnamese cinnamon
1/4 teaspoon nutmeg
1/4 teaspoon ground cloves
2 pears, firm, halved with cores removed
2 tablespoons butter, melted
3 tablespoons heavy cream
2 ounces white chocolate, chopped
1/2 cup sliced almonds, toasted
fresh or frozen raspberries
Preheat the oven to 400 degrees. Place the pear haves, cut side up in an 8 x 8 inch baking dish sprayed with cooking oil. Brush the tops with butter and drizzle some more into the cavity, but leave as much as you can for later (I used half the butter).
Mix the sugar and spices in a small bowl and then sprinkle half of the mixture evenly over the pears.
Bake for 15 minutes. If your butter, sugar, and spices have fallen off of the pears, use a brush or spoon to baste the pears with it again. Sprinkle the remaining sugar mixture on top, drizzle with the remaining butter, and bake for another 20 minutes, or until the pears are tender.
While the pears are cooking, bring the cream to a boil in a small pot over medium heat. Take the pot off of the flame and add the white chocolate, stirring until it is melted and the sauce is smooth.
To serve, place a pear half on a dessert plate or shallow bow. Spoon any of the butter/sugar mixture from the pan over the tops and sprinkle with the almonds. Then drizzle the cream and chocolate mixture over it and top with the berries.