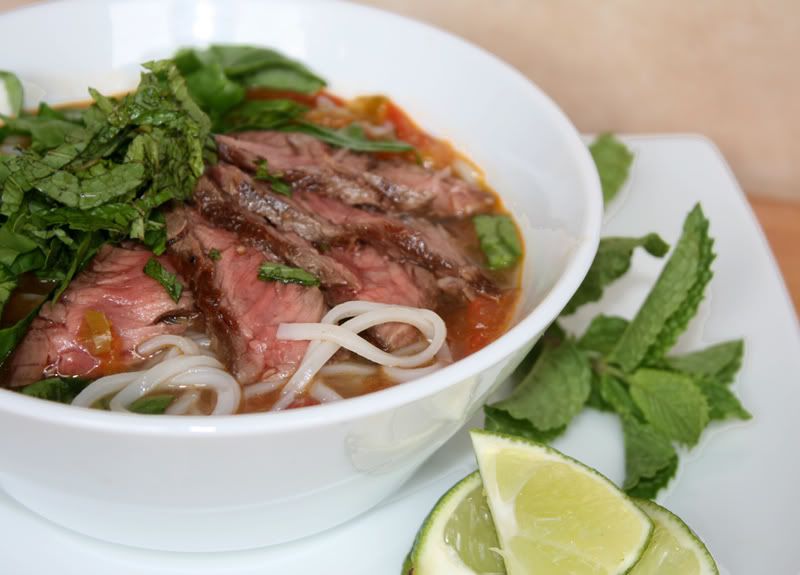 Soup for the sickie! That's me – the sickie.

I've been ill this week. It must be the ragweed, unless I actually have a cold. Nevertheless, I feel like crap. I've got a bit of bronchitis and all the wonderful things that go with it. I'll spare you the details. Oh, but I will tell you that when I blow my nose, my ears pop and I get a momentary case of vertigo. Not much fun!

So, I was too ill to cook yesterday, but I wanted some soup with a spicy kick to make me feel warm inside and open up my sinuses. Yesterday I settled for canned and boxed soup. Today, I'm going for the gusto and trying something that I think will hit the spot.

This recipe comes from Gourmet Magazine. It is a classic soup from Lao. Apparently it has a lot in common with Pho (a Vietnamese soup). I've never had Pho, but I've been wanting to try it. So I almost feel like I am today.
I never used lemongrass before (not fresh lemongrass). So that was a new experiment. It resembles scallions, in a way. But it's more wood-like. Especially the outer layers. The inner parts are softer than the outer. You remove the outer and throw it away. But don't worry if the inner parts aren't soft like scallions. You end up pouring the stock through a sieve and throwing away the solids.

In the end, you place the noodles in a bowl, pour the stock over it, and then add the rest.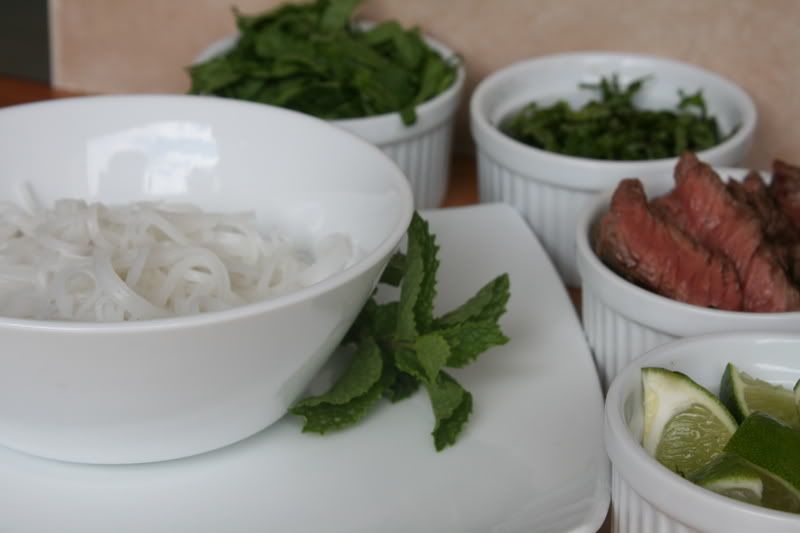 I used beef in the recipe - sirloin. But Gourmet says you can use pork, chicken, or fish instead. Either way, I'm sure it will wake up your senses and make you feel good. :)
Aromatic Rice-Noodle and Beef Soup
Adapted from Gourmet Magazine
2 tablespoons minced shallot
2 serrano chiles, thinly sliced, with a few seeds left in for some heat
1 tablespoon Asian sesame oil
1 tablespoon vegetable oil
1 lemongrass stalk
2 tablespoons minced ginger
8 cups low-sodium chicken broth
1 tablespoon Asian fish sauce
2 whole star anise
1 (3-inch) cinnamon stick
1/2 teaspoon salt
1/4 teaspoon freshly crushed white peppercorns
2 small tomatoes, cut into a small dice
4-5 scallions, thinly sliced
2 tablespoons fresh lime juice
1/2 lb. dried flat rice noodles
1-lb. sirloin steak (about 1 inch thick)
2 cups chopped spinach
3 tablespoons finely chopped fresh mint
Discard any dry outer leaves from lemongrass and coarsely chop bottom third of stalk. Don't worry if it is somewhat fibrous (wood-like). You will discard it in the end.
Heat the vegetable oil and the sesame oil in a 5-qt. heavy pot over moderate heat until hot but not smoking. Add the shallot and chiles, stirring, until dark brown, but not burnt. It will take about 4-5 minutes. Add the lemongrass and ginger and cook, stirring, 1 minute.
About the white pepper: While the chiles and ginger cooked, I crushed my white pepper. I had whole peppercorns. I put them in a bag and crushed them with the back side of a strong tablespoon. White peppercorns are fairly easy to crush, I guess.
Add the broth, fish sauce, star anise, cinnamon stick, salt, and white pepper and bring to a boil. Reduce heat and simmer 20 minutes. Pour through a fine sieve into another pot and discard the solids. Add the tomatoes, scallions, and lime juice and simmer until the tomatoes are softened, about 10 minutes.
While the broth simmers, bring a large pot of water to a boil for noodles. Trim the fat from the steak and season with salt and pepper. Heat a well-seasoned ridged grill pan over moderately high heat until hot, then grill the steak for about 5 minutes on each side for rare. Let stand 5 minutes before slicing very thin.
While the steak is resting, cook the noodles in boiling water until tender. Follow the package directions for the times. Mine was 4 minutes.
Place the noodles in your soup bowls. Pour the soup over top and then top it all with the spinach and steak. sprinkle with the mint and enjoy the experience.