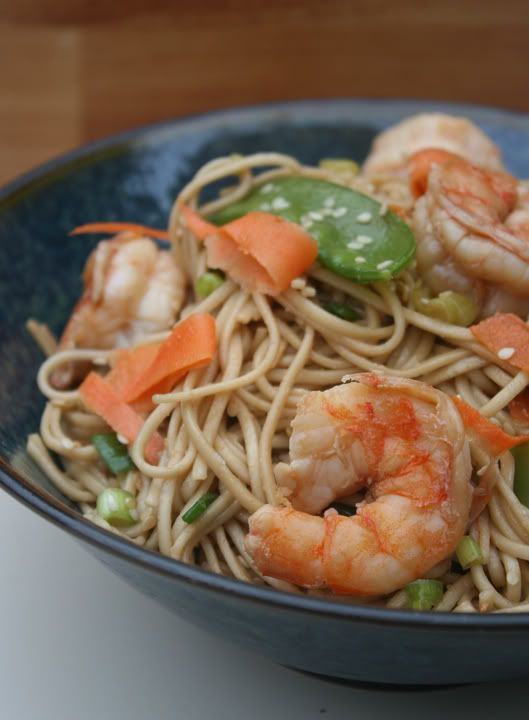 I just got through watching Anthony Bourdain: No Reservations in Japan. I will admit that lately I seem to be a bit fascinated with Japan, it's culture, and it's food.

Well, in this episode, Bourdain, being the food idol that he is, was joined by Masaharu Morimoto, being the food idol he is! The topic of soba noodles was the first one in this episode. I imagine that most of the noodles we eat are made in a factory, by machine. And maybe they have factories like that in Japan.

Bourdain says, "Soba is the Japanese word for buckwheat. And good Soba noodles are 80% buckwheat, 20% wheat flour."
There are people in Japan who spend their whole lives making soba, with no machines involved. They work the dough, roll it out, and then precisely cut it into 1.6 millimeter noodles. And do know, that's a guy, cutting through sheets of noodles folded onto themselves to form into thick squares of flat dough. Then he cuts them with a tool, guided by a piece of wood to get a straight edge. The only power is coming from the man's muscles. It's truly amazing. These noodles were not dried, but rather cooked fresh.

Bourdain and Morimoto ate their noodles in a traditional style, with a soya-based sauce called tsuyu. The tsuyu probably contained nori, wasabi, and Japanese leeks. They scooped-up the noodles plain, and dipped them into the sauce before loudly slurping them up – the proper way to eat the soba.

My noodles? Well, let's compare. I have a package of them sitting in my pantry. Hmmm .... mine were made in Australia. It's the Hakubaku brand organic soba. But the package says it's number one in Japan. But it is 70% wheat flour and 30% buckwheat. Shouldn't that be turned around?
The last time I made soba
the noodles were, in fact, much darker. So I imagine that they had a more traditional buckwheat to wheat flour ratio. Well, no matter, I guess. I think they taste pretty good.

In fact, I think this noodle dish tastes pretty good! And there are so many little add-ins you could do to change it up. I made a small batch of the sauce and used it for a pound of shrimp. It could just as easily be chicken, or tofu, or even beef. Also, I steamed some snow peas and shaved carrots. That's what I like. But you know what? Even without all that stuff, the dish was pretty tasty. Looks good, doesn't it?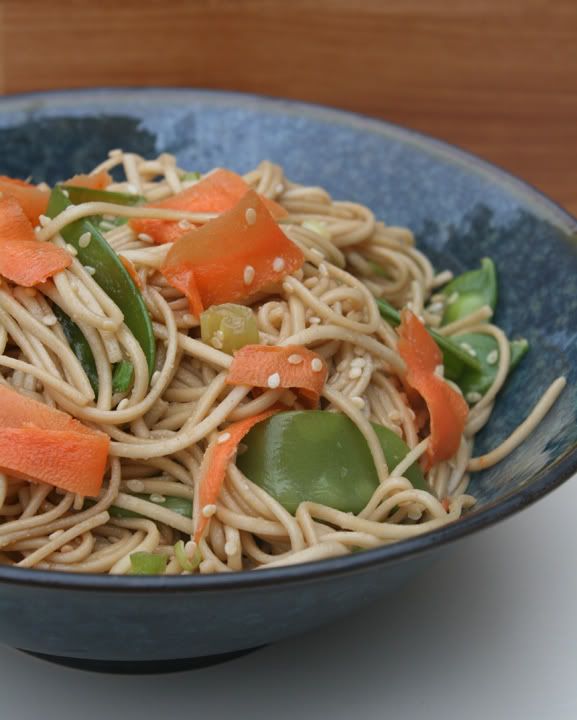 While making the soba dish, I was excited because I got to use a new ingredient. About a month ago I ordered
Yuzu juice
online. It has a strong citrus flavor. I used is sparingly. It combined really well with the soy, vinegar, honey, and sesame oil.

Oh, one nice thing about this recipe is it doesn't have to be done at one time. I made my shrimp and veggies in the morning and cooked the pasta much later in the day when I was getting hungry.



Cold Soba Noodle Salad with Shrimp


Adapted from Nigella Lawson's Forever Summer

1/4 cup sesame seeds
1 package soba noodles (

mine was 9.5 ounce

)
5 scallions, diced
8 ounces snow peas
one large carrot, shaved with a peeler and left in long strips
1 1/4 pounds shrimp, peeled and de-veined


Shrimp Marinade
2 teaspoons rice vinegar
5 teaspoons low sodium soy sauce
2 teaspoons strong flavored honey (

I use chestnut honey

)
2 teaspoons toasted sesame oil
½ teaspoon grated ginger (done on a microplane zester)
1/4 teaspoon yuzu juice

Sauce (it's the same as the marinade, but doubled)
5 teaspoons rice vinegar
10 teaspoons low sodium soy sauce
4 teaspoons strong flavored honey (I use chestnut honey)
4 teaspoons toasted sesame oil
½ teaspoon grated ginger (done on a microplane zester)
½ teaspoon yuzu juice

In a small bowl, mix one batch of sauce. Pour it into a freezer bag and add the shrimp. Let it marinate for 1-2 hours.

To cook the shrimp, place them in a non-stick pan sprayed with cooking spray or with about 1 tablespoon of olive oil. Cook them for about 1 1/2 minutes per side. They will turn opaque. Cook them till they are barely done. Be careful because shrimp can easily overcook and be overly chewy. Cool the shrimp in the refrigerator in a container that is sitting in a container of ice to cool it from below.

When you are ready to prepare the noodles, mix together the batch of sauce in the bowl where you will place the cooked noodles.

Toast the sesame seeds by putting them in a dry pan over a medium-high heat until they look golden brown. You should shake or stir them around so they are browned evenly on all sides. Place them into a bowl and let cool.

Put a pot full of water on high so you can bring it to a rapid boil. You can steam the vegetables while you wait for the water to boil.

To steam the veggies, bring about an inch of water to a boil in a steamer. You will be steaming the snow peas and carrots. When the water is ready add the snow peas to the steamer. After 3 minutes, add the carrot shavings and continue to cook all of the vegetables until they are tender (about 3 minutes more). Place the steamed veggies in the refrigerator to cool.

Once the pot of water is boiling rapidly, put in the soba noodles and cook them according to package instructions (mine called for 4 minutes). They should be tender, but not mushy.

When the noodles are done, drain them and plunge them into a bowl of ice water to stop them from cooking further.

Place the noodles, scallions, and toasted sesame seeds into the bowl with the sauce. Toss to combine. The dish will taste better if you let it sit in the refrigerator for at least an hour.