Have you ever noticed that the cookies we eat tend to change with the seasons? Maybe in the summer we eat more lemon or other citrus cookies. In the winter I tend to go heavy on the chocolate and nut content. Do you?

Well, as fall hits in New England, and the temperatures dip and the heat comes on at night, I'm ready for some autumn cookies, and these are some good ones. I browned the butter before using it in the dough. The sugar is brown, and the heath bits are brown toffee goodness! These cookies remind me of the turning leaves and the taste of being toasty warm in front of the pellet stove.
By the way, I'm not a soft cookie fan. I like my cookies to have some bite to them, and these do. For me the texture was just right. They are not soft, but won't crumble apart when you eat them either. They are the perfect in between.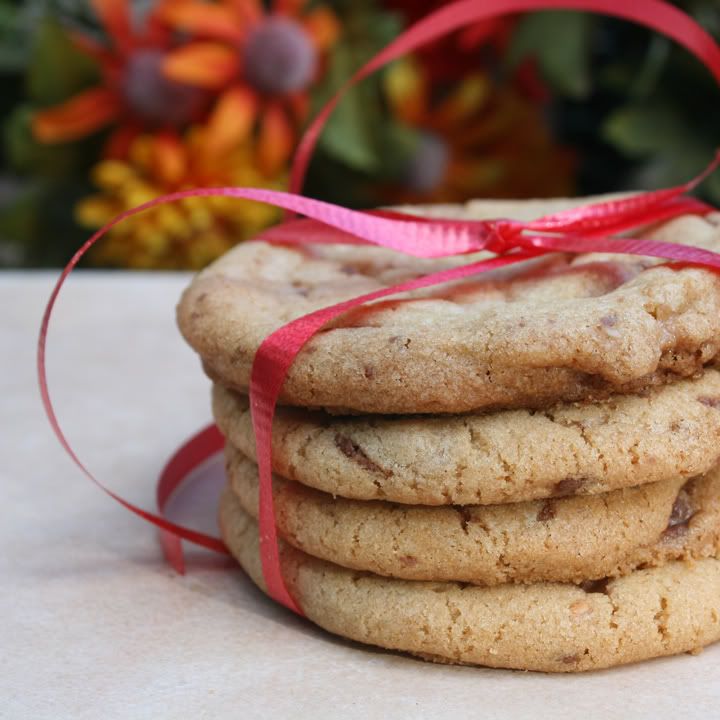 Brown Butter Heath Bit Cookies
2 sticks unsalted butter
2 ¼ cups packed light brown sugar
2 ¼ cups unbleached all-purpose flour
½ teaspoon baking soda
¼ teaspoon baking powder
½ teaspoon table salt
2 large eggs
1 tablespoon vanilla extract (I used double-strength)
2/3 package heath bits
Preheat the oven to 350 degrees.
Brown the butter by heating it over medium-high heat in a medium sized pot for several minutes, stirring occasionally. Then, pour it into a bowl to cool.
Sift the flour, baking soda, baking powder, and salt together. Set the flour mixture aside.

Once the butter is cool, add the brown sugar. Blend with a mixer until it is smooth and well-blended. Add the 2 eggs and the vanilla extract. Beat until smooth.
Add the flour mixture, beating until all is incorporated into the dough. Then use a wooden spoon to add the heath chips.
Roll into golf ball-sized spoonfulls of dough and place on a cookie sheet lined with either parchment paper or a Silpat baking sheet.
Bake for 14 minutes. Let cool for a few minutes on the cookie sheet before moving to a cooling rack.
Makes approximately 24 yummy cookies.