Home made chicken broth is
far superior
to it's canned counterpart! It has an enormous amount of flavor. I noticed the beautiful fragrance almost immediately after the broth began to boil. The entire house was filled with a beautiful scent that made our mouths water.
I originally made this chicken broth for my
Italian Wedding Soup
. I reserved a small amount and used it the next day in my
Sauteed Bok Choy
.


Chicken Broth

1.25 lb chicken drumsticks, skin removed
1 lb boneless chicken breasts
15 cups water
1/2 teaspoon salt (I added 1 1/2 teaspoons more afterwards)
1 small onion - cut in half
2 cloves garlic - cut in half
1/2 cup chopped parsley (flat leaf)
3 ribs celery - with the leaves
3 carrots
12 peppercorns
1 bay leaf

Put all ingredients in a dutch oven. Bring it to a boil. Then turn the flame to low and allow to cook for 2 hours - covered.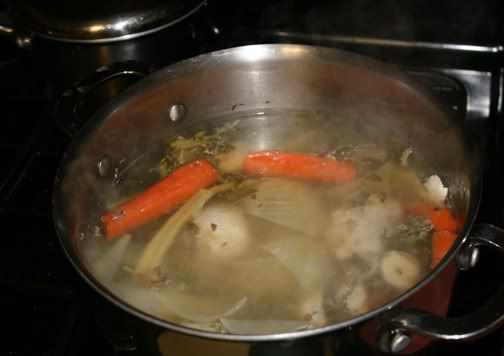 Strain the broth through a colander, and if there are still particles you want out, again through a sieve.
You can freeze this broth and have it on hand. It will keep well.