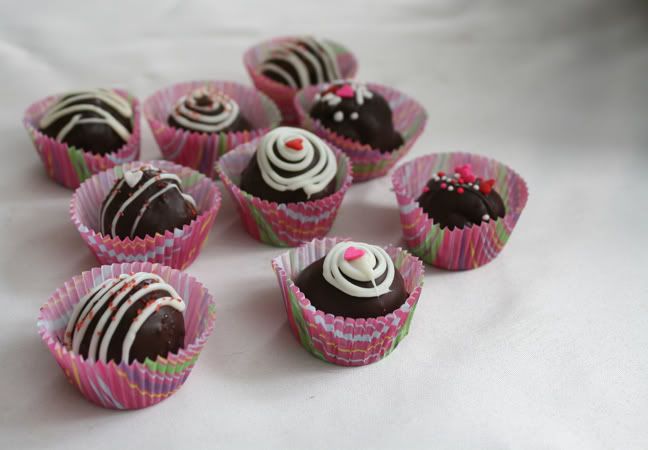 I finally made some truffles, folks! I have such a feeling of accomplishment for finally reaching that little goal.

I've wanted to make chocolates for quite some time. The first time I tried to make them was a couple of years ago. I had candy molds and all, but the experiment was a complete flop, if I do say so myself.

The second time I tried to make them was early in the fall (October 19th to be exact), but the ganache seemed to be far too soft to work with. Failure number two kind of hurt.

But like the little engine that could, I tried again just before New Year's Eve. And just like that little engine, I got up that hill and successfully reached the end game! Ahh, truffles. And they are not just good, they are fantastic. I gave them to my friend, Karen, along with her Christmas cookie package. Then, today, I brought some to my friend, Maureen. She called to tell me that they were sinfully good and comparable to any of those expensive Godiva chocolates she's had. Well, that comment really made my day!

I made two types different kinds of truffles: Gingerbread Truffles, which used a traditional type of ganache made of cream and chocolate, and Cream Cheese Truffles, which I flavored two ways: Raspberry and Amaretto-Honey.

See my post, About Melting Chocolate if you aren't quite sure about the process.
I bought some inexpensive tools and supplies at Michael's to help me out:

a candy dipping set (tools to roll the truffles in the melted chocolate and remove and set them properly

couplers and tips

parchment pastry bags

decorating candies
If you are unfamiliar with these and want to learn about them, see my post on Candy Making Tools.
Because the recipes are different, I'm going to put them in different posts: