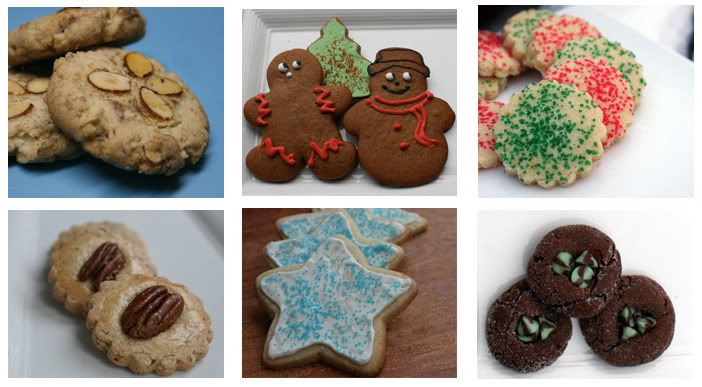 This was a very challenging Christmas season, but things ended up being really good.

Challenging was the week we spent away from home while we waited for the power to come back on. I was already running behind and then that happened. You see, I have cookie assortments to make each year. People are counting on me and I have to come through!

Then, as a result of the ice storm, school was cancelled until January 5. That gave me time to catch up in my Christmas baking. Three days straight were spent searching for recipes, making and rolling out dough, and baking. But it was worth it.

I have a list of 17 people - each receiving this package: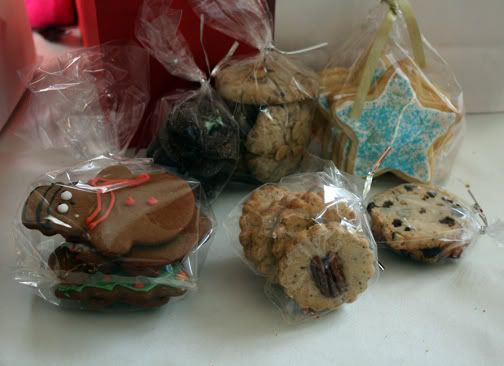 First I made the
chocolate mint cookie drops
. They were a favorite of the family:

I made two different kinds of butter/sugar cookies. This first one, came from the Land O' Lakes Web site. They are called Sparkling Citrus Cookies. I changed the recipe just slightly. They were supposed to have little colored balls in them and be in a triangular shape. I made them more festive with colored sugar on top (which I sprinkled on before baking). Also, I didn't like how the triangular shape looked once baked, so I switched to using a cookie cutter. This was the delicious result: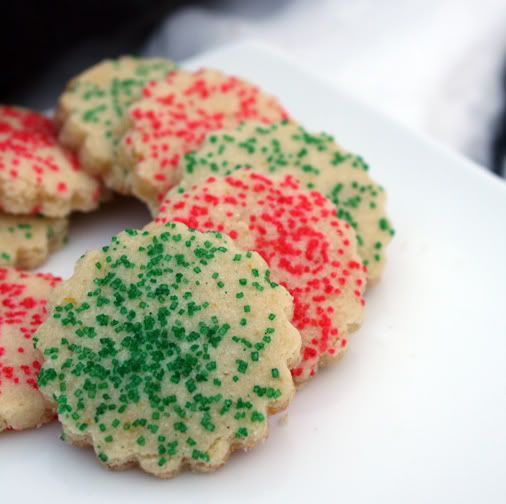 I ordered a special flavoring from King Arthur so I could make it:
Fiori di Sicilia
. It's sort of like vanilla with citrus. Most people really enjoyed the taste - that is everyone except for Joe, who thinks that citrus doesn't belong in cookies. Hmmf!
The
Royal Icing
on the cookies was a recipe I found online that was accompanied by a
video demonstration on decorating your gingerbread men
. I used it on the butter cookies and on the gingerbread. I found the recipe for the icing and the video demonstration to be so helpful. And even though my power went out for four hours on Christmas Eve, just when I had made the icing and was about to decorate, I used the techniques with much success - by candle light. I wish I would have had more time, and better lighting, but such is life. My relatives and friends oohed and ahhed over the gingerbread men.

By the way, this is the only gingerbread cookie I make because the recipe is stupendous! It is the original Martha Stewart recipe and can be found
here
. Everyone loves these cookies. Even Joe's family!
On to the next cookie! I used a recipe from Epicurious.com for
Pecan Salbes
. They are quite delicious.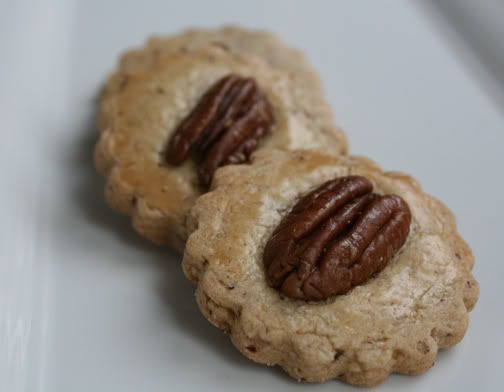 The
Almond-Cardamom Christmas Cookies
was a slightly controversial recipe within the family circle. I sort of knew there would be issues, but made them anyway.

You see, my husband's family is very meat and potatoes. They don't tend to go outside of their comfort zone to try new things and enjoy exotic ingredients. So the cardamom didn't go over so well. Also, they don't hold back in expressing their thoughts - but they also hugged me and told me not to take it personally when they described the cardamom as tasting like turkey stuffing.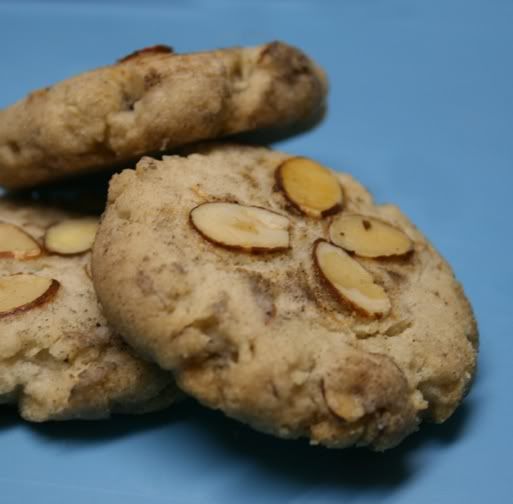 Personally, I did enjoy these cookies, and I love cardamom. But I will suggest to anyone who views the recipe to cut down on the amount of cardamom by half. My cardamom was from Penzey's and was fresh. So the flavor was strong. I would imagine that most people would appreciate it in lesser amounts.

Finally, were the
Santa's Whiskers
, which also came from the Land O' Lakes site. I changed the recipe by using dried cherries instead of the candied ones. I also lowered the amount of coconut to 2 cups and instead of rolling the dough in the coconut so it would only be on the outside edges (the whiskers), I combined it with the dough.
The Santa's Whiskers were good, but not great. I suppose that the candied cherries would have made them look more festive, but I preferred the dried fruit instead.
In the end, I was pleased with my cookie assortment, as were the recipients. Christmas was great. And the gifts were wonderful. That will be a separate post.