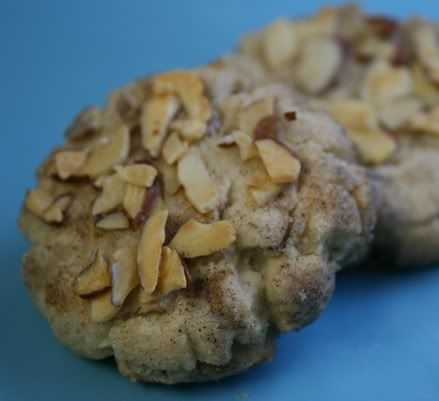 Every year I make a small assortment of Christmas cookies for friends and family. Now that I'm home again, I have just enough time to make some before Christmas!

My first cookie this year is one that I found on
Recipezarr
and was posted by a member named Bergy. I'm so happy I found it because it is such an awesome recipe. It melts in your mouth from all the delicious butter, yet has a crunch from the almonds. It's perfectly sweet too, and has one of my favorite flavors - cardamom! But I will warn you, if you don't absolutely love cardamom, or if you like it more subtle, you may want to cut the amount in half.

I tried different patterns for the top of the cookie, but the one pictured at the top is my favorite, and it's perhaps the easiest one to do! Other things I tried were arrangements of three almond slices, four almond slices, just one big almond slice, and even mini chocolate chips.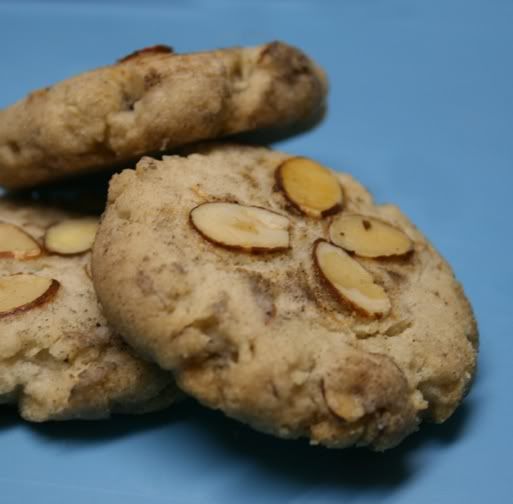 The one slice was elegant, but there were very few large slices in the bag that would do the trick.

Oh, and another wonderful little feature of this cookie is that it can be stored for months in the freezer in a plastic container - not that they would ever last that long!
Almond-Cardamom Christmas Cookies
12 tablespoons powdered sugar
10 teaspoons ground cardamom (whichever amount - it will be separated) *
1 1/2 cups salted butter, at room temperature
1/2 cup sugar
4 cups flour
1 cup sliced almonds
sliced almonds for garnish
1 egg (or just the white) to adhere the garnishes
* Some people may want to consider cutting the cardamom in half. I love cardamom, but I will admit that it was strong in this amount.
Preheat the oven to 375 degrees.

Mix together the powdered sugar and 6 teaspoons of cardamom in a small bowl. Set it aside.

Cream the butter and sugar, and the remaining 4 teaspoons of the cardamom in a large bowl. Add the flour by cupfuls until it is completely blended. Then stir in the almonds by hand.

Grab a heaping tablespoon of the dough at a time and roll each piece into a ball. Drop it into the powdered sugar and cardamom and toss it around until it is coated.

Place each cookie on a greased cookie sheet (or one lined with a Silpat silicone sheet) and press gently with something flat (I used a measuring cup) until the cookie below is about 1/2 inch thick. Once flattened, the cookies should be 1/2 inch apart on the cookie sheet.

Use egg wash to adhere the almonds on top. Truth be told, I used Just Whites because I had it in the fridge.


Bake for 14-15 minutes, until beginning to brown around the edges.

Don't try to remove the cookies from the cookie sheet until they have cooled somewhat. Otherwise, you would risk having them crumble apart, and that would be a shame.

Makes 50 cookies.