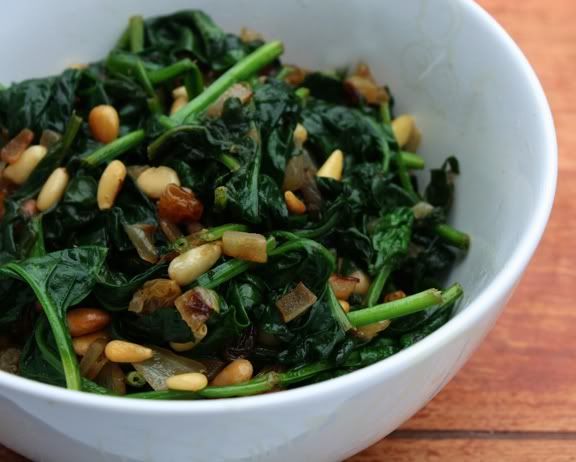 I've had a bag of spinach in my refrigerator for longer than I care to admit. It surprises me that it still looked in tip-top shape this morning and I decided it was time to do something with it.

I had a plan all along. There was a recipe in last month's issue of Food and Wine Magazine. All I needed was the spinach! That's great because sometimes I see a recipe and I hardly have any of the ingredients.

So today was the day.

The toasted pine nuts and plump golden raisins were so wonderful. Sweet and nutty are great with spinach. And I added a little kick with some red pepper flakes.

Food and Wine recommends serving this dish with roast beef and potatoes. I kept it simple and made it the fun part of an egg white omelet, to which I added some goat cheese. It was a great breakfast and I felt like I had something good for me.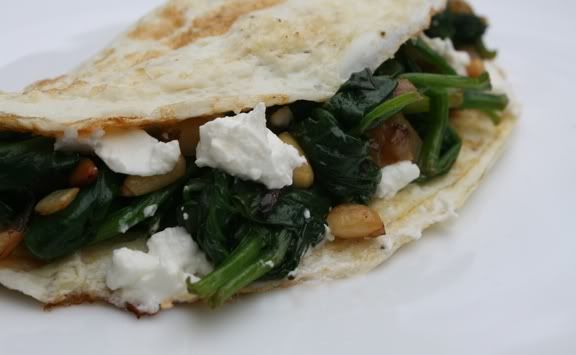 Spinach with Raisins and Pine Nuts


Adapted from Food and Wine Magazine

1/2 cup golden raisins
1/2 cup toasted pine nuts
2-3 tablespoons extra virgin olive oil
1 1/2 cups chopped white onion
1/2 teaspoon sea salt, or to taste
1/4 teaspoon freshly ground black pepper
20 ounces fresh spinach (2 bags)

Place the golden raisins in a container with very hot water. Cover and let stand.

Place a pan on medium-high heat. Once it his good and hot, add the olive oil. Only wait a few seconds (just to warm it up) before adding the onion to the pan. Add half of the salt and pepper and saute the onion until it is caramelized and browned.

Add the spinace in batches, along with the remaining salt and pepper. After you add each batch, toss it around in the pan for maybe 2 minutes while it wilts and makes room for more spinach.

Serves 6