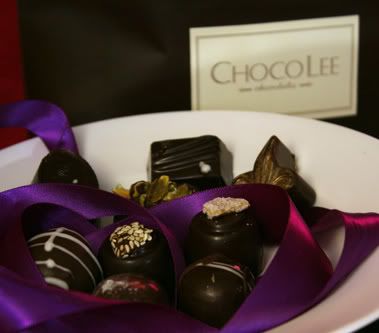 I was browsing through Boston.com the other day and saw their story on Boston's best new restaurants. The very first picture in the slideshow was of
ChocoLee chocolates
. And in the description it read, "Be sure to sample the main draw, offered only on the weekends: beignets oozing with a ganache of dark chocolate and mascarpone. "
Well, they didn't have to tell me twice! I was all over that, immediately emailing several friends trying to find one who would go with me on Saturday.
I had figured that since ChocoLee was listed as a best "restaurant" and they had beignets, that there would be seating with a small selection of drinks and pastries. But while there was no seating and no menu, it was absolutely worth the trip into Boston's South End.
ChocoLee is located at 83 Pembroke Street, which is right around the corner from Tremont Street. If you drive in, you'll need to park on Tremont Street and have plenty of quarters to feed the meter. If you take the T, the Back Bay orange line station was within walking distance.
I did love the large metal bowls of "chocolate" and monster-sized whisks in the windows.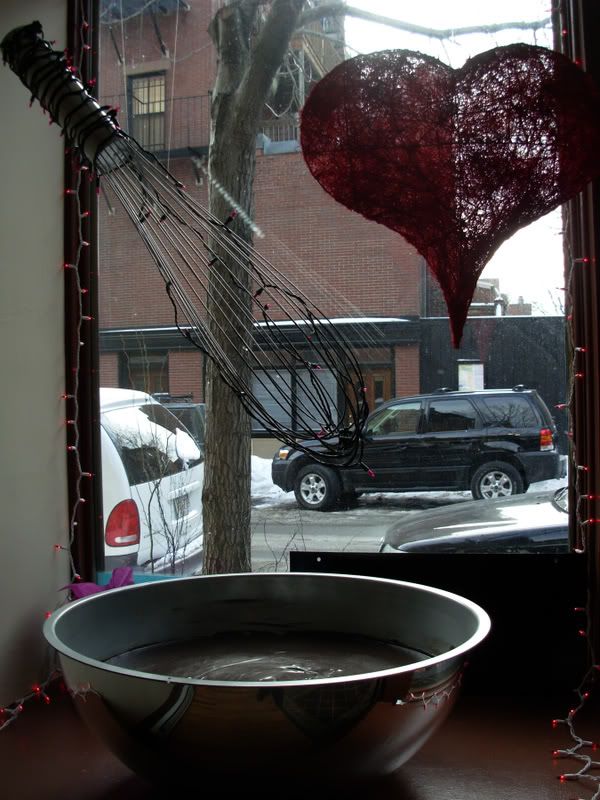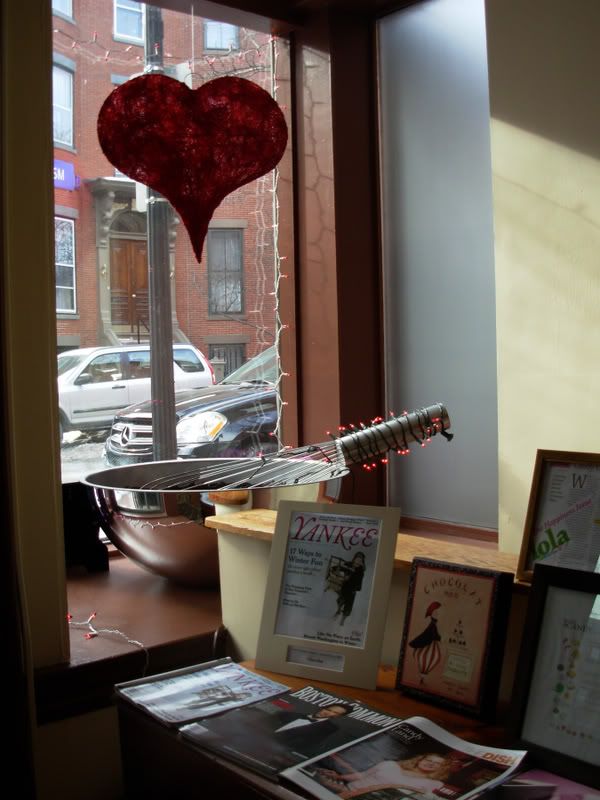 One can't help but notice the magazines full of praise for Chocolee that are displayed near the above window. There was also one of those Boston's Best signs from the well-known annual poll of Boston residents.
There were two women working behind the counter. They were very friendly and approachable. I mentioned that I had a food blog and asked if I could take pictures, and they didn't hesitate to let me.
They did not know of the Boston.com Best of the new restaurants story. I mentioned that I had driven in from Worcester County and they asked if I came into town just for their chocolates. I should have just fessed up and said yes, I did. But I made myself look like less of a chocolate freak and I mentioned that I decided to make a day of it and meet friends there for those chocolate beignets and lunch somewhere. Just then, my friends Karen and Jon walked in the door.
They make the beignets to order right there. They were nice and hot when they handed my order to me in a bag and warned me that the liquid ganache inside was very hot and to be careful. My mouth was watering. Not only did I get the beignets, but also a number of their delectable looking chocolates. I like being able to choose which kinds I want instead of being forced to buy a pre-packaged box of the flavors someone chooses to give me.
The chocolates were in a glass display and were fresh. In fact, there were more freshly made chocolates on the counter top behind the display. They make the chocolates right there, daily!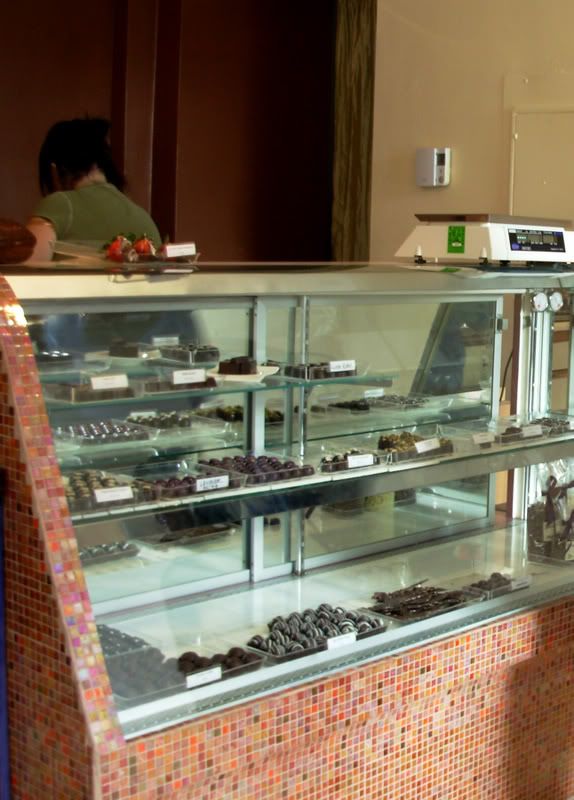 I loved the chocolate pod displayed on the top of the counter next to the chocolate dipped strawberries (the pod was a replica).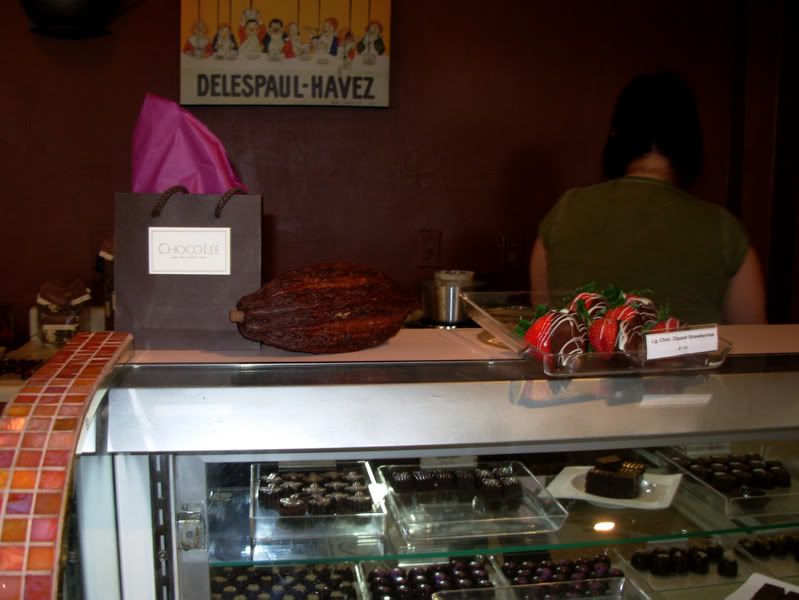 For the chocolates I got lavender, toasted sesame, lemon curd, lime curd, ginger, vanilla ganache, cardamom, chile, lemon pistachio, salt caramel, and I think the last one was cherry cordial. I should have written down the exact names, but I wasn't thinking. So those are my approximations of the names of the flavors.
I've had three of my chocolates so far, and each one has been wonderful. I like that they had flavors that weren't chocolate inside and out. The lemon curd was exactly that - lemon curd inside a delicious dark chocolate shell. The lavender was in a white, creamy filling. I loved it as well. The third one I had was what I think was cherry cordial. All of the chocolates were incredibly satisfying and as fresh as could be.
But lets get on to the beignets! As soon as we walked outside the door, we all dug into them. It was hard to take this picture without gorging on this little dough ball filled with chocolaty goodness.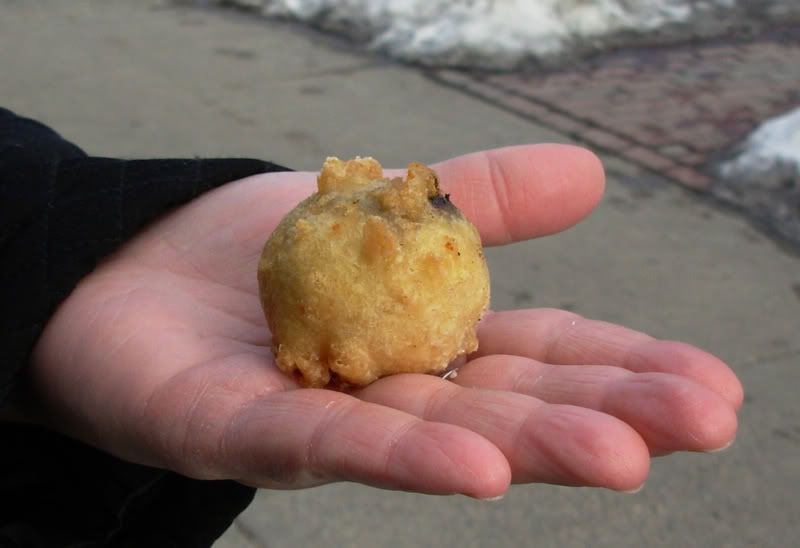 And here's the glorious inside: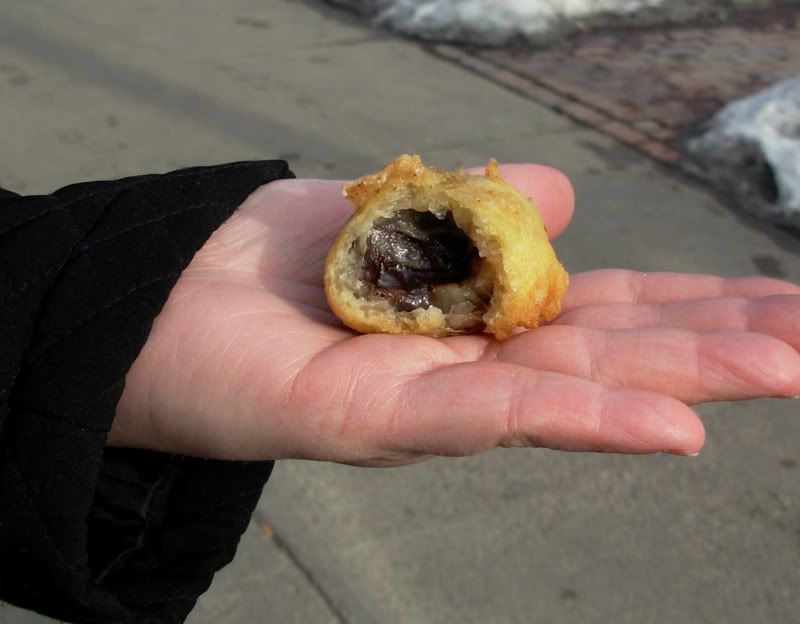 OMG! It was pure heaven!!!!! But they must be eaten carefully! If you don't bite into it correctly, the chocolate ganache squirts out. So my advice is to tear off a bit of the dough to expose the chocolate without putting pressure on it! At that point, Jon sucked the chocolate out of the beignet, while Karen and I just put the entire thing in our mouths. It was totally chocogasmic!
I won't hesitate to go into Boston again - just to visit ChocoLee, and for no other reason but pure chocolate indulgence.