Last week I was sitting in the waiting room at the doctor's office, flipping through the pages of Better Homes and Gardens. I will admit that I go straight for the last pages of the magazine because that's where the recipes are. And that's where I found the original recipe for this dish.

I love butternut squash. Its so awesome when it's roasted. It's sweet and savory and so colorful too. And the texture is so awesome.

So it was just me in the waiting room, and I knew I had to make this dish. My first instinct was to rip out the recipe from the magazine. But I decided to be big, and I resisted, and as soon as my appointment was over I went running home to look up the recipe online.

I'm sure that the recipe would have been wonderful without the changes I made, but I wanted to add some more protein and make it a meal in a bowl. So I added spicy apple chicken sausage.

For the pasta, I chose a noodle called campanelle. I'm guessing that campanelle means "bell" or "little bell" (campana in Spanish). And they do look like little bells!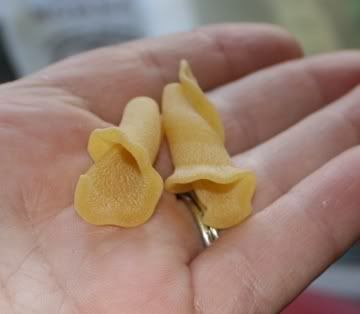 They are really pretty when they're cooked.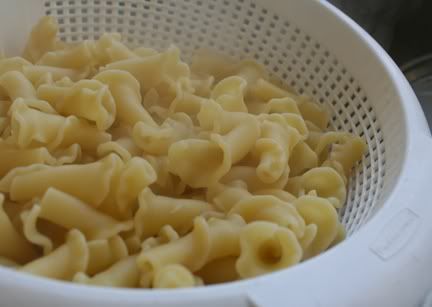 The results were really nice. It was a hearty, warm-you-up-on-the-insides kind of meal; the perfect flavors for this time of year. I'll admit that I was expecting it to hold it's shape once it was cooked and it did not. But I didn't load it up with gooey cheese either.

I liked this dish a lot and I can see myself making it again. But since it didn't hold it's shape, I thought of an alternative approach for next time: add more liquids so it's sort of in a sauce. I'm thinking of milk with a flower thickener and going a little heavier on the Parmesan than I did this time.

So once you get through all that leftover turkey and the sides, here's a dish you may want to consider making!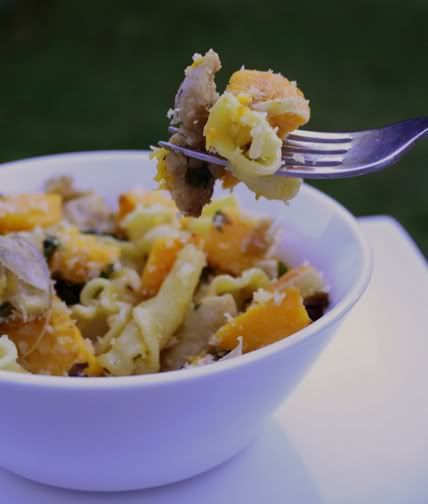 Ingredients
1-1/2 lb. butternut squash, peeled, seeded, and cut in 1-inch cubes (3 cups)
2 Tbsp. olive oil
salt and pepper to taste
8 oz. dried noodles (I used campanelle)
4 tablespoons butter
6 shallots, minced
6 chicken sausages (I used apple flavored, but Italian would be good as well)
1 tablespoon lemon juice
1 8-oz. carton mascarpone cheese
3/4 cup grated Parmesan cheese
1/2 cup fresh Italian (flat-leaf) parsley, chopped
1 cup panko (Japanese-style) bread crumbs or soft bread crumbs
Preheat the oven to 425 degrees.
Toss the squash, oil, and salt and pepper in a bowl. Place the squash into an 15x10x1-inch baking pan. I line my pan with tin foil because it saves me from washing it, which can be tough if any of the vegetables stick to the bottom.
Roast, uncovered, for 40-45 minutes, until the squash is lightly browned and tender. Stir the mixture twice during the roasting period.

While the squash is roasting, cook the noodles according to package directions in a large pot. Drain them and set them aside.
Saute the shallots in butter. Remove them from the pan and set them aside.

Remove the casings from the sausage and cook it in the same pan you just used so that it crumbles. You might have to actually chop it some with your spatula.

When everything is ready, add the noodles back to the pot. Then stir in the lemon juice, mascarpone, 1/2 cup of the Parmesan, 1/4 cup parsley, and 1/4 teaspoon each salt and black pepper. Mix it up well and transfer it to a greased baking dish.

In small saucepan melt remaining 2 tablespoons butter; stir in bread crumbs, remaining Parmesan, and parsley. Sprinkle it onto the noodle mixture. Bake, uncovered, 10 minutes, until crumbs are golden.
Serves 8-10.