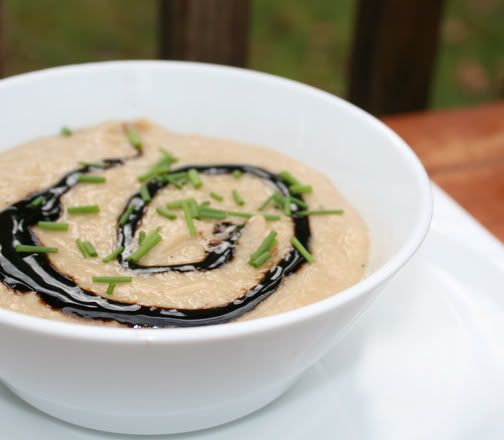 I just love parsnips. I had my first ones just a few years ago. Where had they been all my life?
For those of you who are unfamiliar with parsnips, they look like white carrots. But their flavor is stronger, a bit more bitter, and deeper. I wouldn't eat them raw (though Wikipedia says you can), but when they are roasted, they caramelize and have a fabulous, earthy flavor.
In this soup, parsnips are roasted with pears and onions and the result is beautiful in this flavorful and hardy fall soup. The soup alone is great, but the balsamic syrup knocks it out of the ballpark.
Oh, you can use boxed broth, but why? When I cook, I save the liquids in the freezer. I had enough to use in this soup so that I didn't have to go for the box. But let it be know, if the box were all I had, I'd have used it without thinking.
But I was fortunate, and instead of using boxed broth, I had my own stock on hand along with 1/2 cup of liquids that came from some butternut squash I recently cooked. Using that instead of the boxed stuff really added a level of depth to the soup.
I've been eating it for dinner with a big hunk of crusty wheat bread, and it's great! I also think this soup could be a huge hit at any one's Thanksgiving dinner this year.
Roasted Parsnip Soup With Balsamic Syrup


Adapted from Eating Well Magazine

Makes 7-8 servings, generous 1 cup each

Ingredients
2 pounds parsnips, peeled and chopped into equal-sized pieces*
2 pears, peeled and cut into eighths
1 small yellow or white onion, peeled and cut into eighths
¼ cup vegetable oil
1 teaspoon salt, divided
½ teaspoon freshly ground pepper
1 cup balsamic vinegar
4 cups reduced-sodium chicken broth or vegetable broth
2 ¼ cups low-fat milk

Position the rack in lower third of oven and preheat to 450°F.
Toss the parsnips, pears, and onion in the oil, 1/2 teaspoon salt and pepper. Put it in a roasting pan. Roast, stirring every 10 minutes, until very soft and starting to brown, about 50 minutes.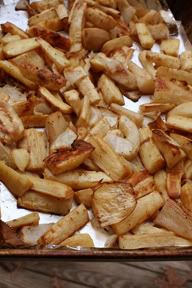 While your fruit and vegetables roast, boil the vinegar in a small saucepan (I used an omelet pan) until syrupy and reduced to about 1/4 cup. It takes 10 to 14 minutes. Watch the syrup carefully, especially at the end, so it doesn't burn. When it is done, you can pull a spoon through it and it see the bottom of the pan without the syrup immediately covering it back up. See my picture below. When you reach this point, remove it from the heat.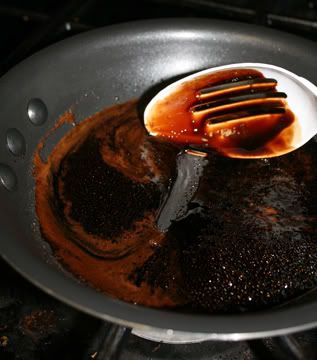 In small batches, puree the roasted fruit and veggies in a blender with the liquids. You may find that you have more liquid than you need. I added 2 cups liquid to the original recipe because it just wasn't enough! And still, my soup was very thick.
Add it all the saucepan and stir in the remaining 1/2 teaspoon salt. Reheat the soup over medium heat, stirring often, about 5 minutes.
Gently reheat the balsamic syrup if it has become thicker than syrup while standing.
Ladle the soup into bowls and drizzle with the balsamic syrup (I used a spoon sprayed with PAM so the syrup would drizzle). Garnish with chopped chives, if you like.

* Eating well said to remove the fibrous, woody core of parsnips before using. But I didn't know what they were talking about. There were no woody cores in my parsnips.