This is the kind of dish that makes me think it wouldn't be bad to be a vegetarian. Well, not really, but it is a great vegetarian dish that non-vegetarians could enjoy. I sure did. After all, it's flavorful, colorful, and tasty.
I really do like tofu, but it sometimes seems like there isn't a lot of variation in tofu recipes. So I was excited to see something that looked different, but manageable in a recipe.

It's been a while since I cooked with tofu. For cooking, I prefer the extra firm tofu. I want some texture to my tofu. To add even more texture, I
drained
my tofu very well. Be sure to see my link on
tofu draining
if you aren't familiar with tofu! I think the terminology is a bit misleading for the process. By draining
the tofu, it becomes more chewy and "meat-like". No, tofu will never be like meat, but if you drain it, it will hold it's shape, and even require a knife!
This recipe gets and additional thumbs-up for summer cooking because you won't have to heat up the house with the oven if you eat it as soon as it's cooked. If you are having company, you could prepare everything up to, and including, coating the tofu ahead of time. Then, just pan-fry it and serve. The pan-frying only takes a few minutes.
I served it with the Spicy Peach Salsa that was in the original recipe (though I adapted it to my taste) and a recipe of Coconut Rice with Ginger, Chiles, and Lime.
Coconut-Crusted Tofu
Adapted from Eating Well Magazine
1/2 teaspoon salt
1/3 cup unsweetened flaked coconut (I get it at Trader Joe's)
2 tablespoons flour
2 tablespoons cornstarch
1/2 teaspoon salt
1 14-ounce package extra-firm water-packed tofu
Egg Product (ie: Better'n Eggs)
rice vinegar
3 tablespoons vegetable oil

Spicy Peach Salsa
Mix the coconut, flour, cornstarch, and salt in a shallow dish. Remove the tofu from the package, emptying the water that surrounds it. Cut the block of tofu lengthwise into 8 thin steaks.
Drain the tofu
.
Get your tofu-preparation station together: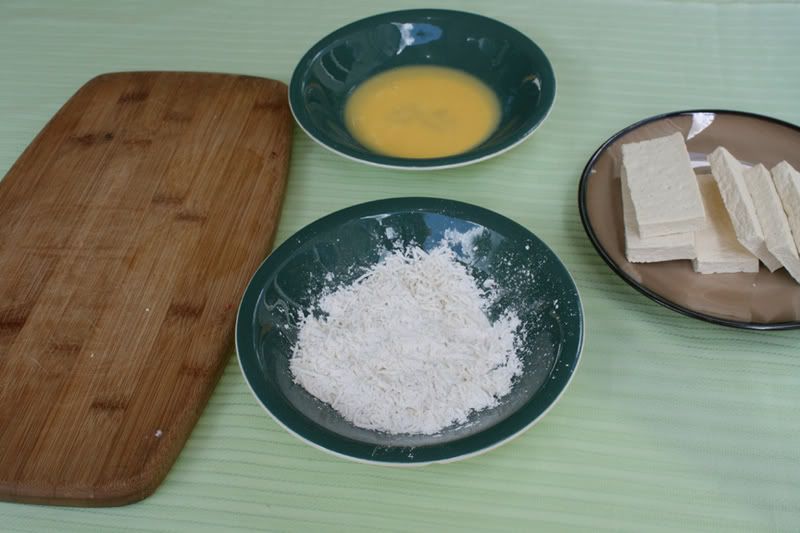 For a splash of flavor, I dabbed rice vinegar on my tofu, and then I dipped it in the egg product. From there, it went into the coconut mixture to coat evenly.

Heat the oil in a nonstick pan. When it's ready, add the tofu. Let it brown on the bottom. Use plastic-coated tongs to gently turn each piece over.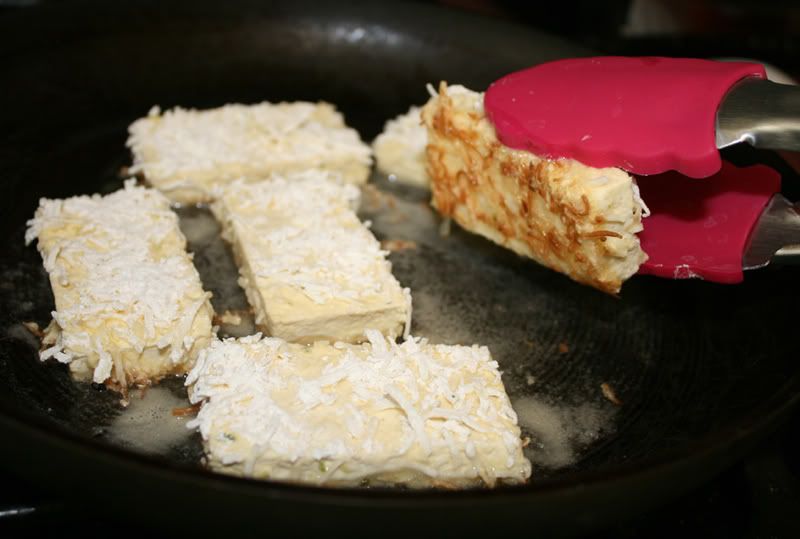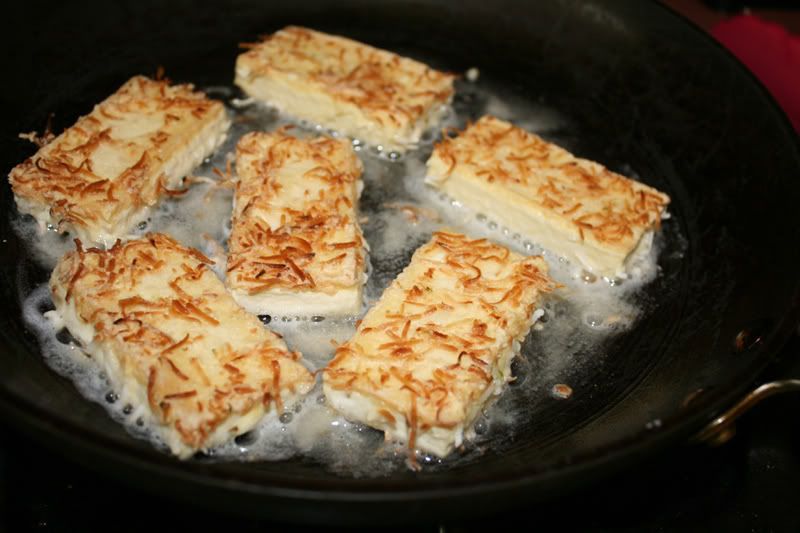 When each piece is ready, remove it from the pan and drain on a paper towel.
Be sure to impress everyone with a pretty presentation!