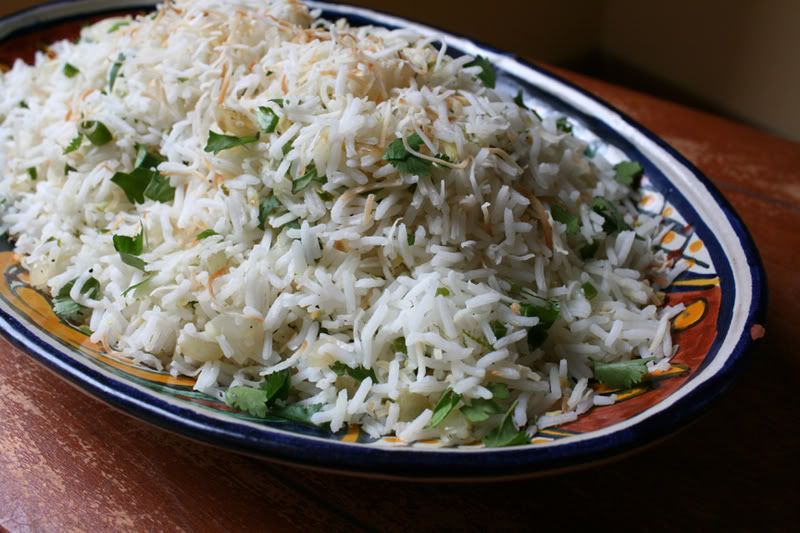 My first introduction to Molly Katzen was a cooking show she had on PBS about 7-8 years ago. I really enjoyed the show and was inspired by her recipes. I later learned that she is the author of the Moosewood Cookbook (which I love), along with other vegetarian cookbooks such as the one from which this recipe comes, Vegetable Heaven.

The dish is light and fluffy (the lightest and fluffiest rice I've ever had). While it has jalapeños, they are not extraordinarily hot when you remove the seeds and white ribs.
For me, this recipe is a little time consuming and requires a little bit (not much) of effort. That is to say it took more effort than throwing a cup of rice into boiling water. But it is delicious, and therefore worth it!
Coconut Rice with Ginger, Chiles, and Lime
Adapted from Molly Katzen's Vegetable Heaven
Start by making the pilaf:
Basmati Rice Pilaf
8-10 cups water
1 Tbs salt
2 cups uncooked basmati rice
1 Tbs. vegetable oil (or melted butter)

Preheat the oven to 350. Put the water and salt in a large saucepan and bring to a rolling boil. Meanwhile, place the rice in a strainer and rinse several times under cold running water.

Add the rice to the boiling water and let it boil rapidly, 10 minutes for white, or until the rice is just tender to the bite. Drain the rice in a colander over the sink, and rinse with warm running water.

Brush the oil or melted butter over the bottom surface of a 9 x 13 inch pan, and spread out the rice in an even layer. Tightly cover the pan with foil, and bake for 10-15 minutes.

Carefully stir in whatever special ingredients the pilaf recipe calls for and cover the pan tightly until serving time.

Now you can add the flavor.



The Coconut, Ginger, Chiles, and Lime

1 recipe of Basmati Rice Pilaf
1 Tbs. vegetable oil
2 cups minced onion
3 serrano or jalapeño chiles, seeded and minced
3 Tbs. fresh minced ginger
2 Tbs. minced garlic
salt and pepper to taste
1 tsp. grated lime zest
4-5 Tbs. fresh lime juice
1 cup shredded, unsweetened coconut, lightly toasted


Optional Garnishes
a handful of torn cilantro leaves
wedges of lime
slices of kiwifruit

While the rice pilaf is cooking, heat the oil in a medium-sized skillet. Add the onion, salt, and pepper and sauté over medium heat for about 10 minutes. Stir in the chiles, ginger, and garlic. Lower the heat, and continue to cook slowly for about 10 minutes longer.

Carefully stir the sautéed mixture into the rice, fluffing the rice with a fork as you stir. Gradually add the lime zest, lime juice, and most of the toasted coconut. Taste and adjust flavors as necessary. Serve hot, warm, or room temperature. Top with leftover coconut and other garnishes.