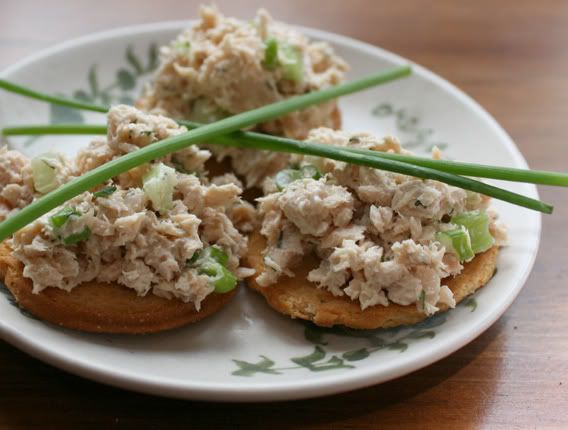 I eat this salmon salad for lunch several days a week. Not only is it tasty, but it's satisfying and loaded with protein and omega 3 fatty acids which protect your heart.
My favorite cracker to have it on is rye-flavored melba toast.
Ingredients:
1 foil-pack of Bumble Bee premium pink salmon
Hellmann's mayonnaise (approximately 2 Tbs.)
ground black pepper to taste (I do 10 twists on a coarse grind)
1-2 teaspoons fresh lemon juice
1 scallion, finely sliced
2 Tbs. finely minced celery
dill to taste
Squeeze excess liquid out of the salmon pouch. Put salmon in a bowl and add all other ingredients. Mix it up well and chill until ready to serve.