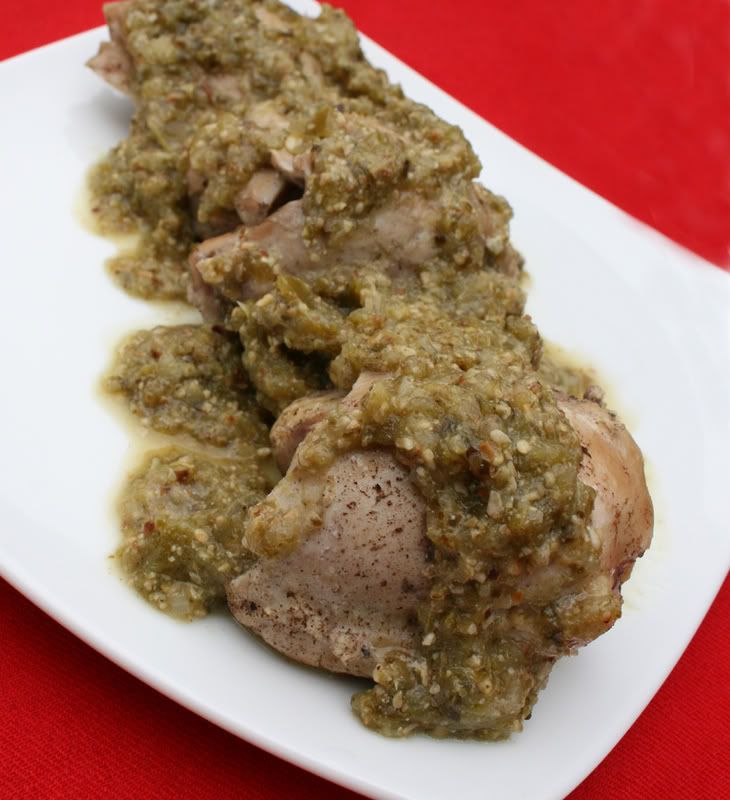 Okay, I'll be the first to admit that this is not the most attractive chicken dish, but let me be the first to tell you that this stuff is awesome! It has deep flavors that present themselves in layers. And it finishes with just a little bit of heat. If I were a judge on the Iron Chef, I'd say it was like a little orchestra in my mouth! But in my own language, I'll say that it has so much flavor, and it is pure goodness on your taste buds. In fact, when I tasted it, I liked it so much that I made another batch so I could share it.
I don't make real, traditional Mexican food very often. It tends to be a bit on the labor-intensive side. But, this dish really wasn't so bad. Heck, it was almost a breeze the 2nd time I made it! Honest! And there's no reason that you can't make this over the span of two days. You can make the chicken one day, and the sauce the next day.
And if you are preparing this as your first Mexican dish, you could even do the 3-day thing.
Day 1: Roast and peel the poblano peppers, toast the pumpkin seeds and put them through a food processor, make the chicken.




Day 2: Make the tomatillo sauce (pictured in the mustard-colored bowl




Day 3: finish the sauce and reheat the chicken in it.
The first batch I made used the two-day approach.
But the 2nd time I made it, I sprinted through the steps and did the whole thing at once. That was cool. Being a multi-tasker (I have a serious case of ADD), I did several steps at the same time and totally messed up my kitchen. It was an intense, fun experience.





Pollo En Pipián Verde


Adapted from both Gourmet Magazine and Bon Appetit


For the chicken:

5 cups water
6 chicken thighs with skin and bones
1/4 large white onion
3 garlic cloves, halved
3 large fresh cilantro sprigs
1 teaspoon fine sea salt
1/4 teaspoon allspice
1 whole clove
freshly ground pepper

Put all the ingredients in a medium saucepan and bring to a boil on a moderate flame. Once it reaches the boiling point, turn down the heat to medium-low and simmer for 30 minutes. When it is done, remove the chicken pieces with some tongs and strain the stock. Throw away the strained matter. If you have time, refrigerate the chicken stock and spoon off the fat from the surface later.

For The Sauce:
1 1/2 cups raw green pumpkin seeds (about 7 ounces)
2 tablespoons sesame seeds
1/2 teaspoon cumin seeds
4 allspice berries (I used ¼ teaspoon powder instead)
3 cloves
6 black peppercorns
1 pound fresh tomatillos (or a 28-ounce can tomatillos, if you must)
6 fresh serrano chilies
1/2 large white onion
4 garlic cloves
1/2 cup packed coarsely chopped fresh coriander
2 teaspoons salt
1/4 cup lard or vegetable oil (I used oil)
3 cups stock from cooking chicken
1 to 1 1/2 fresh poblano chile


Roast the poblano chile
.

Let it cool while you toast the pumpkin seeds.
Heat a large heavy skillet over moderate heat until hot and toast pumpkin seeds, stirring constantly, until they have expanded and begin to pop, 3 to 5 minutes. Transfer seeds to a plate to cool. In skillet heat sesame and cumin seeds, allspice, cloves, and peppercorns, stirring, until fragrant, about 1 minute, and transfer to plate. When seeds and spices are cool, in an electric spice/coffee grinder grind mixture in batches to a powder (I did 2 batches).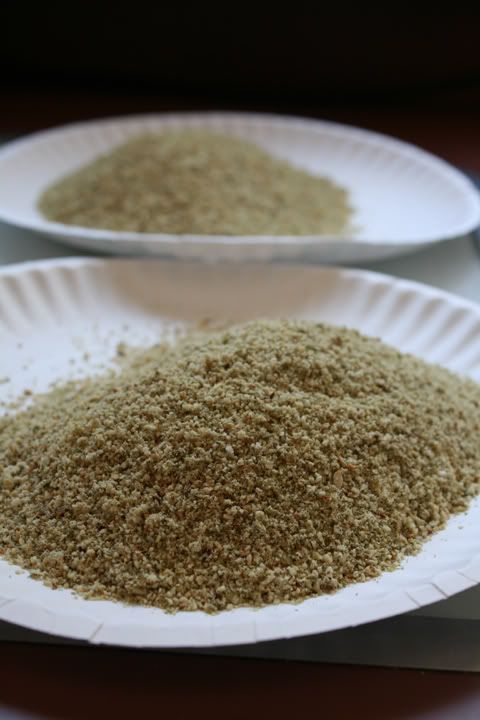 If the chile is cool enough after having roasted, you could

peel it now and discard the seeds and stem.
If using fresh tomatillos, discard husks and rinse with warm water to remove stickiness. Stem serrano chilies. In a saucepan simmer fresh tomatillos and serranos in salted water to cover 10 minutes. If you look closely at the picture below, I flipped some of the tomatillos over. The part that was submerged got less green.

I went the extra mile at this point and sauteed my onions. I didn't have to. The recipe didn't call for it. It said to just use them chopped and raw. But I like to think of the sauteing as adding depth of flavor. I could be completely full of crap, but that's my story, and I'm sticking to it.
Transfer tomatillos, prepared poblano chiles, and serranos (use a slotted spoon if simmered) to a blender and purée with onion, garlic, 1/4 cup coriander, and salt until completely smooth.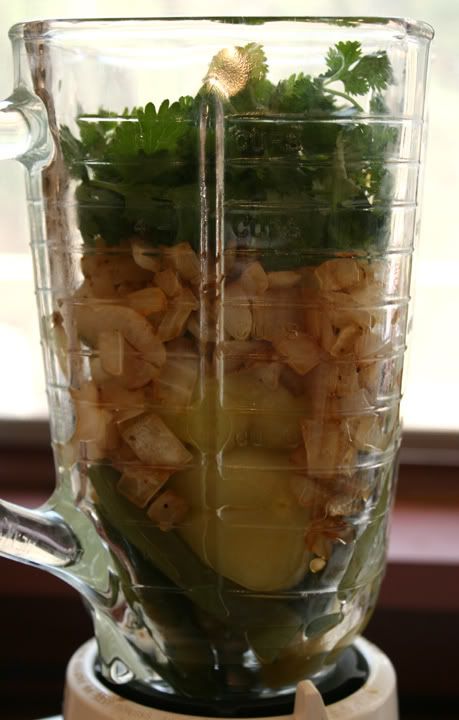 Here is the tomatillo sauce after being poured from the blender: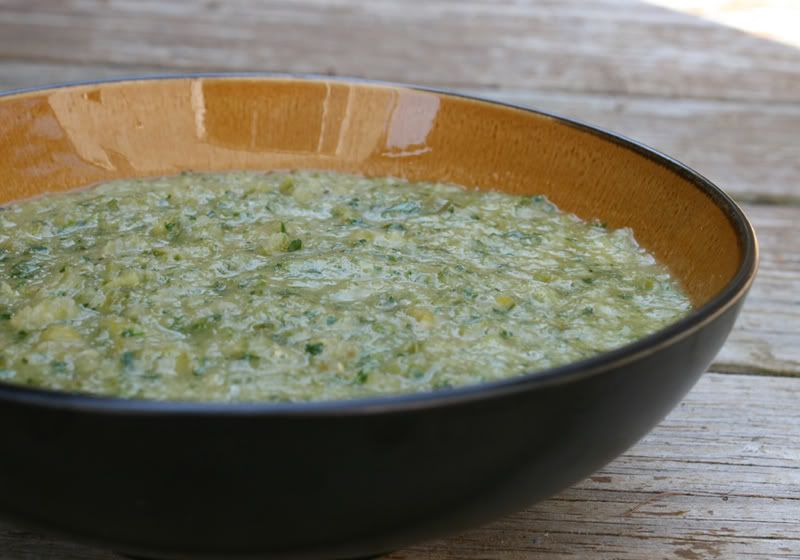 You could take a break here and put this sauce away till the next day if you wanted. Or you could continue.
In a 5-quart heavy kettle simmer tomatillo purée in lard or oil, stirring frequently, 10 minutes. The sauce will thicken. You can see in the picture below that when I ran the spatula through the middle, the sea of sauce parted and stayed parted.
Add 2 1/2 cups stock and stir in powdered pumpkin-seed mixture. Simmer sauce, stirring occasionally, 15 minutes, or until slightly thickened.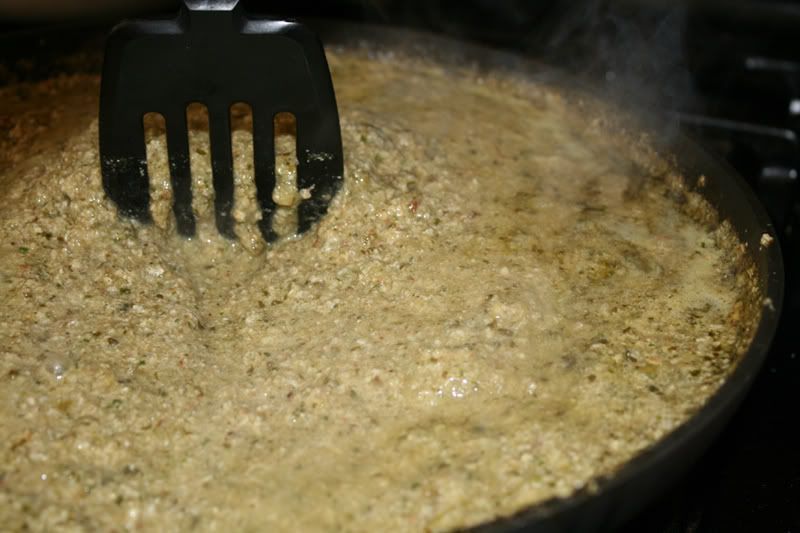 Stir the chicken into sauce and heat on top of stove or in a 350° F. oven until chicken is heated through.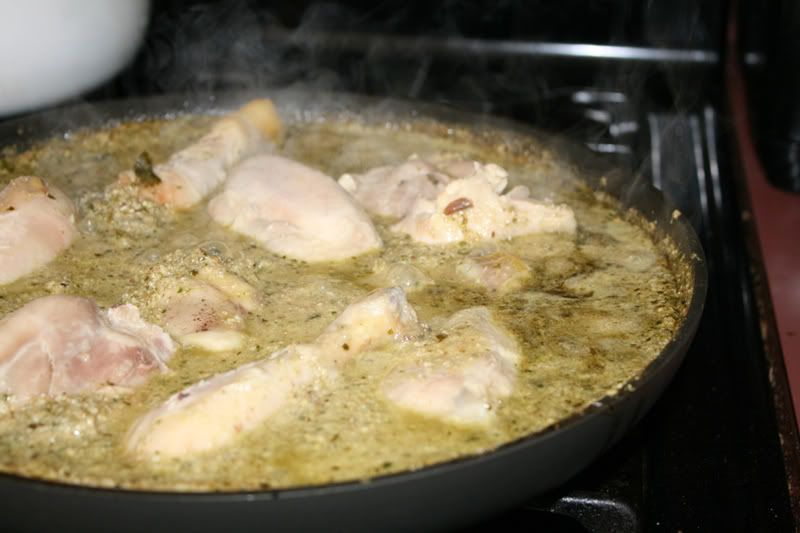 You could serve this chicken with white rice, Arroz Verde, or just shred it up inside a corn tortilla as a taco. If you like tacos, you might want to see my post on
preparing them
.