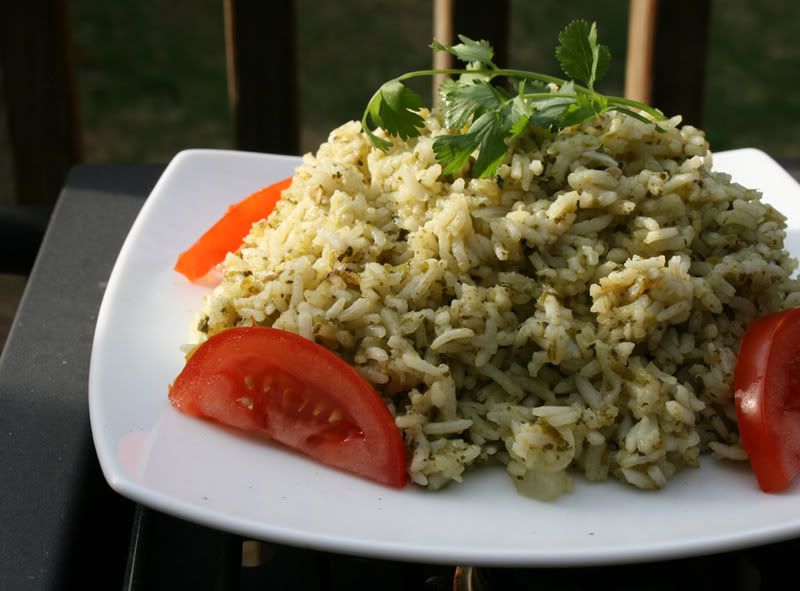 Arroz

Verde (Green Rice) Is part of my Earth Week / Cinco de Mayo Mexican Dinner (to be posted later). This rice dish is deep in flavor and has a little heat. The rice is more sticky, similar to the rice in paella. I enjoyed taking the scrapings off the bottom of the pan and eating them while I plated my rice. That's might just be the best part of the rice! Yum! But I wanted to leave it out of my picture, as it doesn't look too pretty.
Arroz

Verde
Adapted from The Complete Book of Mexican Cooking

a good handful of fresh cilantro
1/4 cup olive or salad oil
Cover the rice with hot water and allow it to stand for 15 minutes. Drain and rinse in cold water until the water

runs

clear. Drain again and dry thoroughly.
Place the

chiles

in the electric blender with the cilantro, onion, garlic, and a little stock. Blend until smooth.
Heat the oil in a large saucepan and saute the rice until golden. Add the puree and cook for a few minutes longer.
Add the remaining stock and season to taste with salt and pepper.
Cover and bring to a boil. Then reduce the heat and cook until the rice is tender and all the liquid is absorbed.