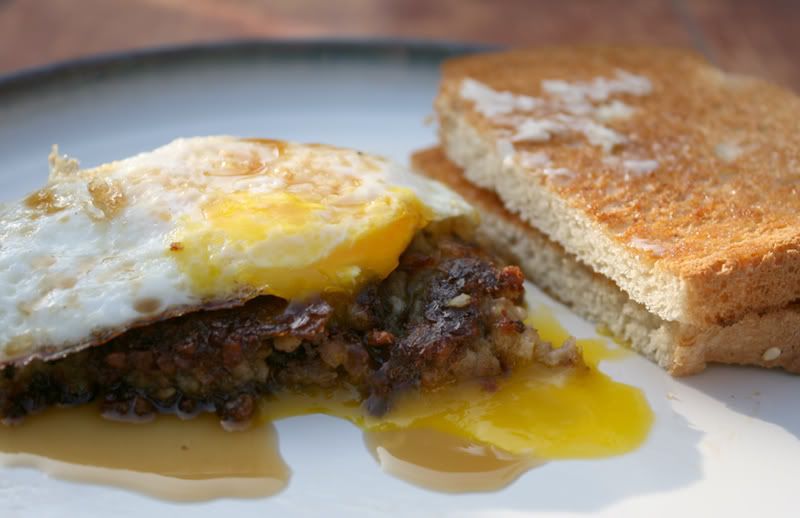 I took this

picture

today of my breakfast. However, this is part of the batch of

goetta

I made at the end of summer, eight months ago. When I was researching

goetta

I was reading peoples' stories and of their memories of

goetta

making. Someone said that their mother would make a big batch that would last throughout the winter. In fact, many people wrote of freezing their large batches of

goetta

.
The process for making the

goetta

is a long one, so making a large batch makes sense.

It tasted almost as good as the day I first made it. It was worth saving. Here's a picture of how it looked that day. The biggest difference is how it held it's shape.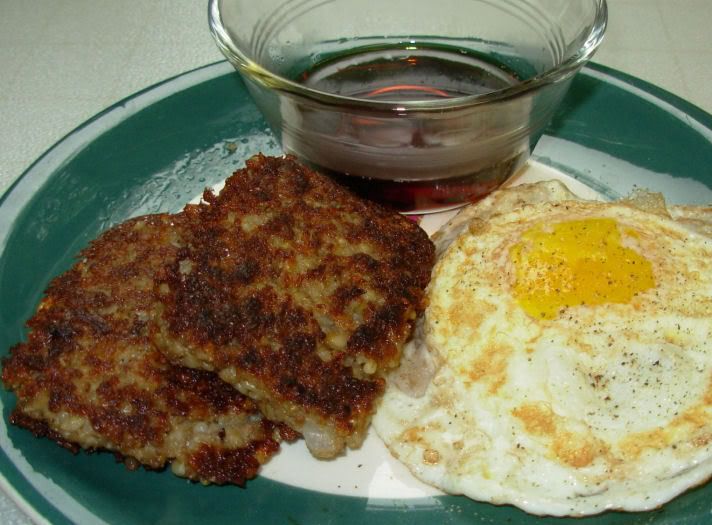 It definitely held its shape better when it was fresh. That is why for today's picture, I covered it up with my egg.
Looks aside, it was delicious. I had actually planned on taking a few bites only, since I'm the first to admit there's nothing the slightest bit healthy about

goetta

. But it was so good, drizzled with Grade B maple syrup and the yolk of my egg, that at first bite, I knew I was powerless to resist. I'm glad I only cooked up a small piece!
I recommend the Grade B syrup. It has a more rich maple flavor than Grade A.

The recipe I made was actually a combination of three recipes. I liked the ingredients of one recipe, but I liked the

crock pot

method

of another. I was influenced by the third. In the end it all worked out well and this recipe was a success.

I used this (from Trader Joe's) for the oatmeal component of the recipe: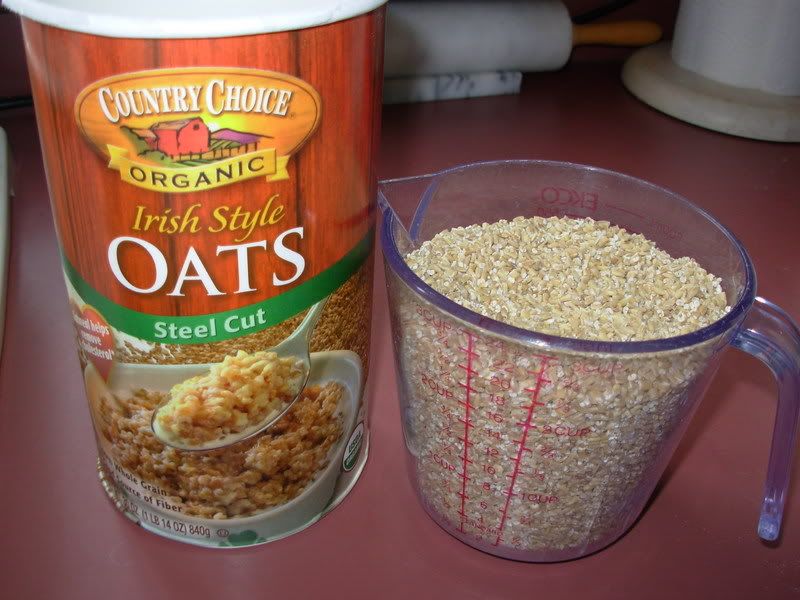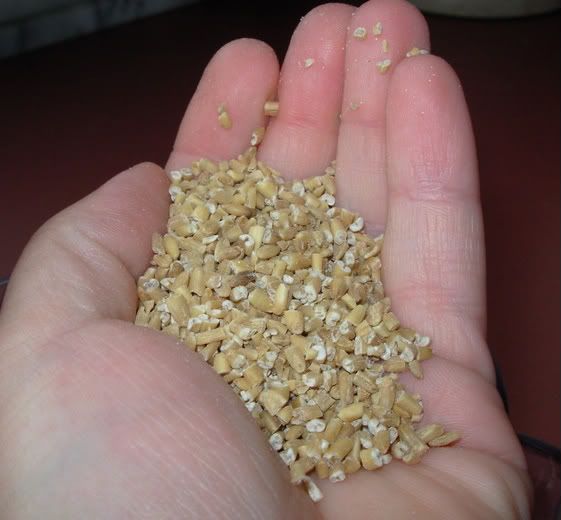 However, a traditional

goetta

is made with pinhead oats, which are tiny little round oat balls, and are often in birdseed mixtures. You can order it online if you want to try it out.
Ingredients
3 quarts water
2 tablespoons salt
2 teaspoons ground black pepper
5 cups steel cut oats
2 qt. cold water
2 lb. ground beef
1 lb. ground pork
1 medium onion, minced
1 1/2 tsp. salt
1/2 tsp. pepper
2 bay leaves
Boil the water, salt, and pepper on the

stove top

while the

crock pot

heats to high temperature. Add the water and the oats to the preheated

crock pot

. Cover and cook for 90 minutes.
Mix the beef, pork, onions, salt, and pepper together in a bowl.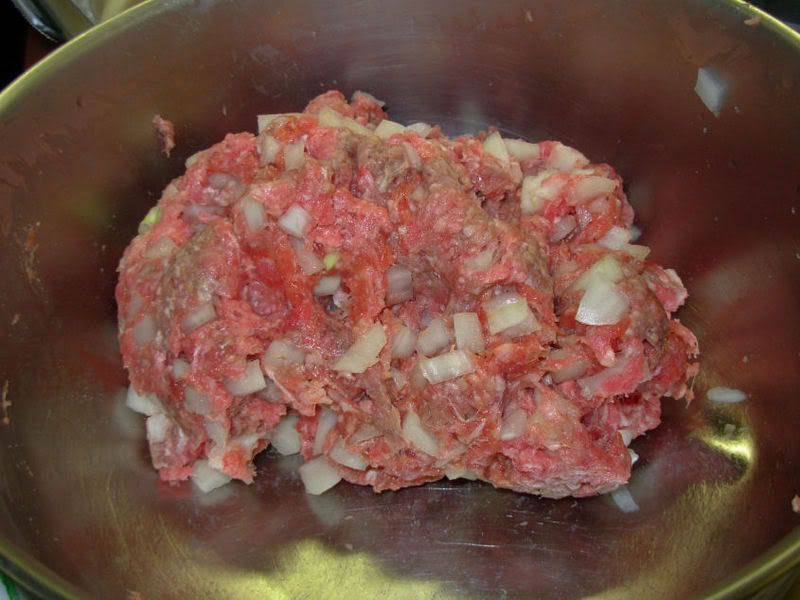 Add them to the oatmeal-filled crock pot. Mix it up and toss in the bay leaves.


Reduce the heat to low. Cover and cook the mixture for three hours, stirring occasionally.




When your mixture is cooked, it will look like this:



Place the mixture into a nonstick loaf pan, perhaps even lined with wax paper for ease of removal. Refrigerate the loaves for at least an hour (up to overnight).
In the morning, you can remove the mixture from the pans and slice them into individual portions. It should hold it's shape as you slice.


Fry the slices in a nonstick pan with enough oil to keep them slick on a medium-high flame. Don't try to turn over until you can see that the first side is good and brown. Most people like their goetta crispy on the outside, yet not burnt.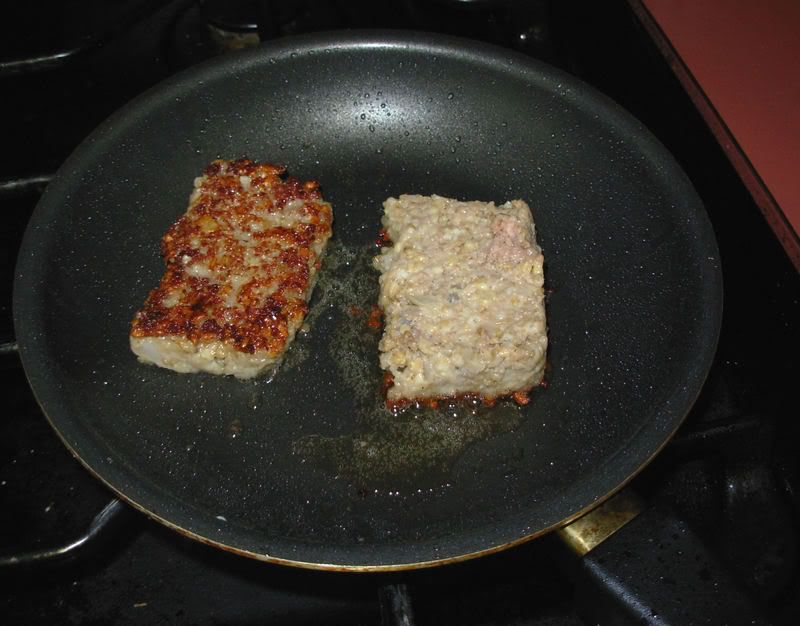 Serve and eat your creation! Impress your friends and family! This is good stuff.