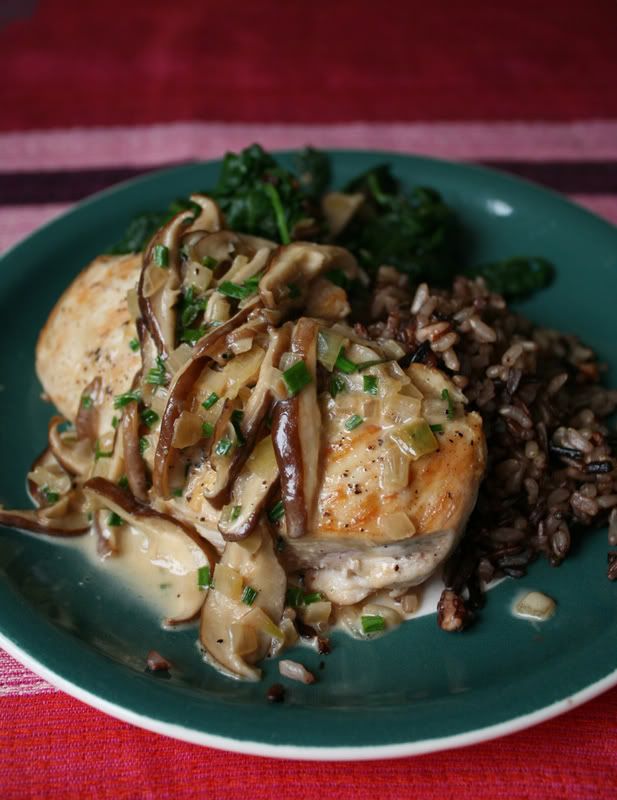 This recipe is most delicious!
The original recipe called for pan-frying the chicken till it's done. I used a higher flame on the stovetop and seared the chicken in a grill pan. Then baked it in the oven till it was done.

The sauce, which was unbelieveable, was just barely enough. I tend to like more sauce, so I would suggest doubling it if you are like me.

Chicken Breasts with Mushroom Cream Sauce


Adapted from Eating Well Magazine



2 (5 ounce) skinless and boneless chicken breasts
salt and pepper to taste
1 tablespoon vegetable oil to sauté the chicken
Another tablespoon oil to sauté the vegetables
1 medium shallot, minced
1 cup thinly sliced shitake mushroom caps
¼ cup chicken broth
2 tablespoons dry vermouth or dry white wine
2 tablespoons heavy cream
2 tablespoons minced chives (or scallion greens)

Season the chicken with salt and pepper on both sides.

Heat the oil in a skillet (I used a non-stick grill pan) over medium-high heat. Add the chicken and get those beautiful grill marks.
Transfer the chicken to a PAM-sprayed baking dish and bake at 350 for 20-30 minutes (depending on the thickness of the breast). Be sure not to overcook or it will be dry.
Add the chicken broth to the pan with the flame on and use a brush to remove the delicious bits from the pan and flavor your broth more. Pour the liquid in a dish and set aside.

Add the other tablespoon oil to a pan (not a grill pan) and heat it up. Then add the shallots. Let them sauté for 1 minute so they are tender. Add the mushroom caps. Cook them for 2-3 minutes.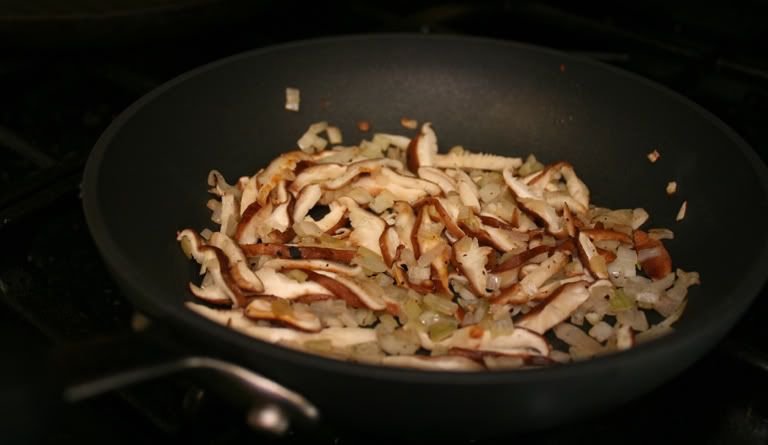 Add the vermouth and chicken broth. Cook down until half of the liquid remains.

Add the cream and chives.


To serve, spoon the sauce on top of the chicken.


My side dishes were sautéed baby spinach and a wild brown rice mixture with added toasted pecans.


A note about the sautéed baby spinach: It cooks down to almost nothing! I used an entire bag (6 oz) of baby spinach and only got one portion out of it! I used a small omlette pan, so first I through in about half of the bag of spinach: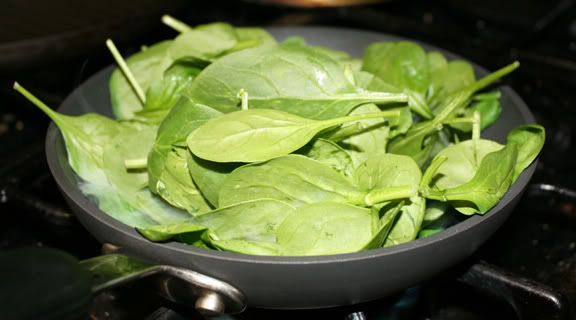 It cooked down:
Then I throw in the rest on top of what was there:
And this was all there was once it cooked.