This recipe was suggested to be part of a New England Fourth of July meal. I've lived in New England for about 20 years now, and even though I eat a lot of salmon, I don't particularly think of it as a New England seafood. New England makes me think of Cod, or Scrod (the mysterious white fish), lobster, and clams. But Cooking Light tells us that salmon was once common in the waters of the northeast!
Whatever the case, the ingredients looked like a wonderful combination! Salmon really tastes great with tangy sauces, and this one is pure tang! It has tangy Greek yogurt, eye-opening horse radish (yum!), and mouth-puckering lemon. But all that tang is balanced by the coolness of the cucumbers and the smooth creaminess of that Greek yogurt. And the dill and green onions deepen the flavor and make it awesome!
I invited my friend, Maureen, over for this patriotic salmon lunch. She, too, is a big fan of salmon.
One wonderful thing about this recipe is that it's quick and painless. I didn't start preparing it until she arrived. The recipe didn't require deep thought, so we had pleasant conversation while all the ingredients came together. All we had to do was make the sauce. Maureen helped and it was ready in just a few minutes.
I pre-cut my salmon into individual portions. That makes it easier to work with on the grill. The original recipe called for an enormous salmon steak, to be turned over in one fell-swoop. Well, I'm not one to set myself up for such a disaster!
For the grilling I used the technique I learned on America's Test Kitchen. The steps are in the recipe below. But I made a mistake. I hope you don't make the same one. I brushed my fish with oil, but I didn't spray the aluminum-foil pan/boat. You really need to do that. I lost my pretty grill marks because the top of my fish stuck to the pan and flipping it over wasn't what it should have been.
As for the point of doneness, some people like their salmon on the drier side, as did Maureen. But some people like theirs much more rare. It's a personal decision. I'm flexible, so I let my guest decide when she felt it was done.
Salmon is wonderful. I didn't used to be a big fan, but I trained myself and now I love it. It was worth the training, because every time I eat it, I feel like I'm doing something good for my body. It's fairly low in calories, high in protein, high in vitamin D and B vitamins, and it's high in omega 3 fatty acids.
Health Benefits of Omega 3 Fatty Acids:
* greatly reduce risk of heart disease
* stimulate blood circulation
* reduce rate of inflammatory diseases like arthritis and migraines
* reduce the clogging up of the arteries with cholesterol plaque
* lowers risk of cancer

So eat your salmon, readers, and make it tasty with a great recipe such as this one!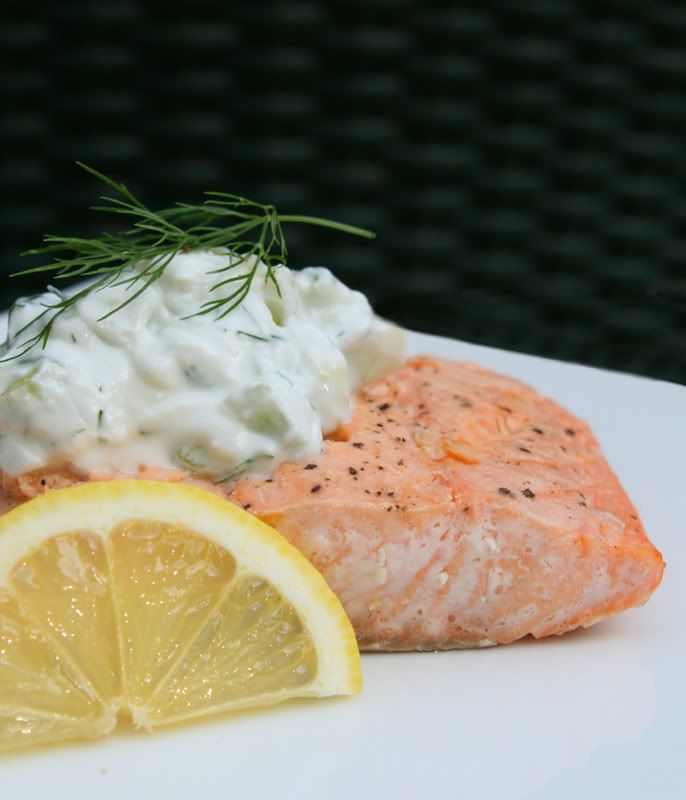 Grilled Salmon with Tangy Cucumber Sauce


Adapted from Cooking Light Magazine

1 cup cubed and peeled English cucumber
1 1/2 cups 2% Greek yogurt
1/4 cup chopped green onions
2 tablespoons chopped fresh dill
1 1/2 teaspoons fresh lemon juice
2 teaspoons prepared horseradish
1/4 teaspoon kosher salt, divided
1.5 pounds salmon fillet (about 3/4 inch thick)
salt and freshly ground black pepper to taste
Cooking spray
Dill sprigs (optional)
Lemon wedges (optional)

Combine the first 7 ingredients (cucumbers through salt) in a medium bowl. Stir well. Cover and chill 30 minutes. About 20 minutes into the chilling time, start up your grill on high. You need to heat it up for about 10 minutes to get the grates good and hot!

Cut the salmon into portion-sizes. If you like, remove the skin. Brush the salmon with olive oil. Then salt and pepper it to your liking.

For the grilling I used the technique I learned on America's Test Kitchen. There are pictures of me using the technique in my post for Saucy Grilled Salmon.


Fish Grilling Steps:

1. Create little pans of aluminum foil. Use the heavy-duty foil. Cut off a piece and fold up the edges into a pan shape.

2. Spray the aluminum foil pan with a substantial amount of cooking spray. Don't skimp!

3. Turn the flame down on the grill to medium.

4. Put the fish on the pan, presentation side down (aka: face-down). You will need to grill it now for about 4 minutes.

5. When the fish is half done, flip it over. You will only flip once, so choose the right moment!



Serve the salmon with the yogurt sauce, dill sprigs, and extra lemon wedges if desired.