El Premio (the Award) Arte y Pico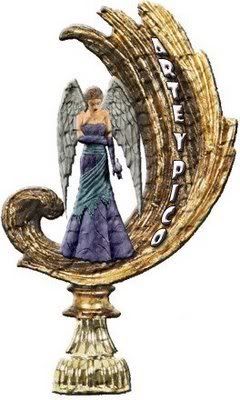 I'm so flattered to get this award! It is the Premio Arte y Pico. It originated in Uruguay with a blogger who makes dolls. I'm familiar with the phrase "y pico" but not used in this way. So I'm going to quote her blog. On her site (99% written in Spanish) she writes:
it translates into a wonderful phrase in Mexico, "lo maximo." LOL! It will never find its counterpart in English, but if it HAD to, it would be something like Wow. The Best Art. The Best Art. Over the top. Over the top.
It comes to me from Elle, who writes the blog Elle's New England Kitchen, which is an excellent blog. Elle is so awesome. She's incredibly kind and supportive as a fellow blogger, and I really admire her. Oh, and she's a dog person! That makes her even better in my book.
It comes with some responsibility, to obey the rules! One of those rules is to post said rules, so here they are:


1) You have to pick 5 blogs that you consider deserve this award, creativity, design, interesting material, and also contributes to the blogger community, no matter of language.

2) Each award has to have the name of the author and also a link to his or her blog to be visited by everyone.

3) Each award-winner, has to show the award and put the name and link to the blog that has given her or him the award itself.

4) Award-winning and the one who has given the prize have to show the link of "Arte y
pico"blog , so everyone will know the origin of this award.

5) To show these rules.
So, as the recipient of this award, I hereby pass it along to these fabulous blogs:
Teresa, who writes
Mexican-American Border Cooking
. She inspires me each time I view her blog. And I can pass on what I learn from her to my Spanish students, who love when we do food-related activities.
Joe, who writes
Culinary in the Country
. His was the first food blog that I began visiting regularly. He was one of my inspirations to start a food blog!
Fiona who has more than just a blog, but so much more! Her main page is Recipes2Share. Within that site, she has her own blog, promotes the blogs of others through her BlogView and through the photo gallery that others contribute photos of their successes, and she gives food-related book reviews. She is a tremendous asset to the food blogger community. Her heart and soul goes into her site and I cannot express how much I appreciate her!
Susan whose blog is Fatfree Vegan Kitchen. I don't know Susan, and I don't know if she has ever seen my blog, but I love her blog for many reasons. It is beautifully designed and a pleasure to look at in general. Her recipes and photos are wonderful. While I'm not a vegan, sometimes I tend to go toward the edge of vegetarian. I so appreciate the fabulous way that she presents healthy food to the world, and to me!
I'm writing this next one in Spanish so that it can be understood by the recipient:

Inmaculada (aka: Adi), que tiene el blog Pan y Varios. Encontré este blog solo hace unas semanas y lo visitaré regularmente. Su fotografía es fabulosa y estoy segura que voy a usar sus bonitas recetas muy pronto. Me da ejemplos de la comida española. También, me da una idea de como usar el vocabulario correcto cuando hablo de la preparación e ingredientes de la comida. A propósito, Inmaculada también contribuye al blog Verduras Para Todos.

The Hard Working Food Blogger Award

Elle (Elle's New England Kitchen) created this lovely award for all of the hard-working food bloggers of the world: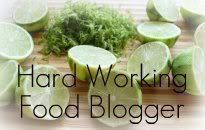 When she introduced this award, she wrote the words that we food bloggers feel, so I want to quote her here:
... because you take care in what you post. You stop during cooking to take step
by step photos. You set up shots and take 20 or 30 (or maybe even more) photos
to find the one that's just right, which means you often eat cold food. You
upload, edit and post photos that you secretly pray Tastespotting or Foodgawker
or any of the others will publish. You try to write interesting and witty things
about your food, and sometimes have no clue what to write. Then you hope that
your readers will like what they see. I know all of this because I go through it
every time I make food and a blog post.
That sums up my life these days! I, therefore, proudly display this award! Thank you, Elle.