My friend, Karen, recently moved to Portland, Maine. I had the luck of going to visit her on the most incredible day for good weather! I left, hopelessly in love with the city of Portland. Luckily it is only about two and a half hours away, and I will be able to return some time soon.

Let me just begin by saying, it is a beautiful place! The city, the port, the beaches, the lighthouses, they are all such pleasant sites. And every time you breathe in, you inhale the fresh sea air and feel at peace with the earth.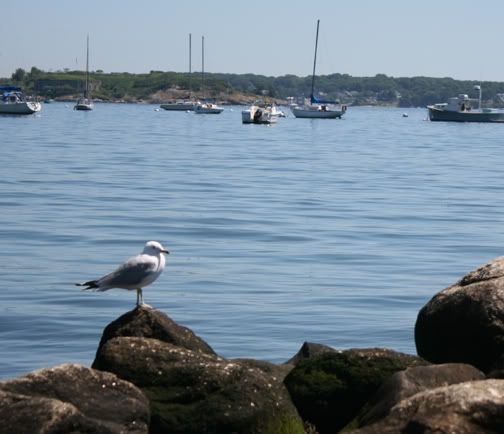 As Karen was driving me to from one scenic area to the next, we stopped for a bite at the
Scratch Baking Company
. Karen tells me that this is a place that you need to get to early in the day because everyone loves their artisan breads and they tend to sell out. I didn't feel comfortable bringing in my camera like I did in the old port, so I don't have photos of their beautiful breads, but they were amazing. Karen got a blondie and I got a ciabatta roll. Both were incredibly delicious (I tasted the blondie!) and the bakery definitely lives up to it's good reputation. I recommend anyone make a stop there when visiting the area.

I did take a picture outside, but there were workers there putting up an awning, so I am going to refer you to this site if you want to see what the bakery looks like:
http://blog.typeadiversions.com/2008/01/itchin-for-bagel-try-scratch.html


After visiting a number of lighthouses and beaches, we went to the Old Port area of the city. This is the most charming area, full of fun shops, markets, and restaurants. This dolphin statue is outside of one of the more special hotels in the Old Port: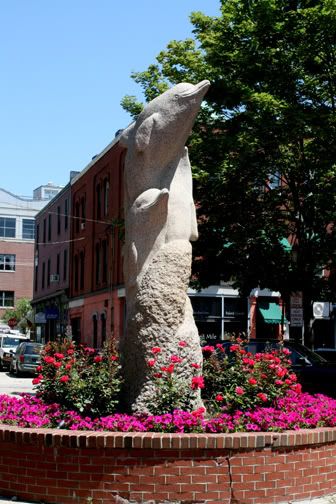 We stopped at
Fetch
, a fun place to buy fun toys, treats, and walking and clothing accessories for your dog or cat. You can also buy greeting cards (including doggy party invitations) and bumper stickers. I got a magnetic sticker for my car that says "more wag, less bark." That's a great way to view life and the people around you!

Karen took me to a number of excellent fish markets.
Harbor Fish Market
is one of them: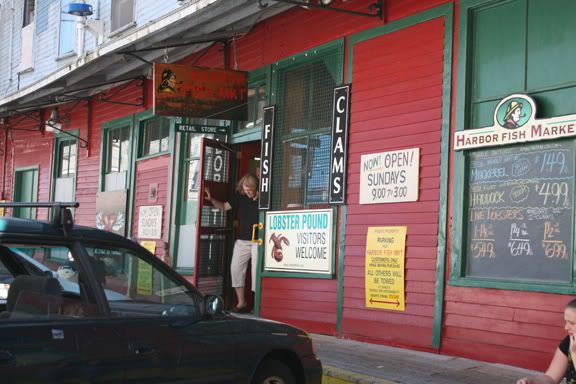 If you live inland and want some fresh lobsters, Harbor Fish Market will ship them right to you! That's so cool.

There were quite a few hip-looking restaurants right on the wharf. One of them is a pretty well-known pizza place with a great deck overlooking the port. I didn't eat here, though Karen says it's pretty good. It's called the
Flatbread Company
: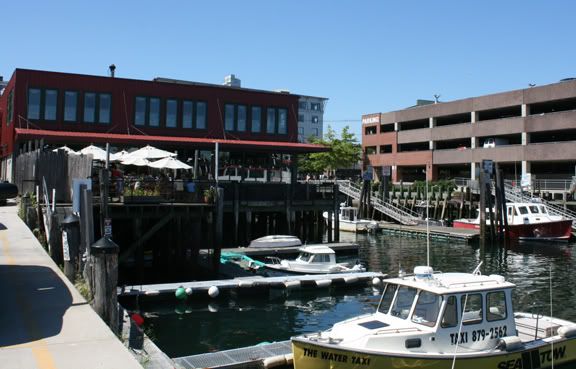 We ate at one of Karen's favorite restaurants,
Walter's
. I was looking like a tourist, carrying my camera around my neck. As we were outside looking at the menu, people coming out from the restaurant told us we should eat there. They were quite pleased with their lunches!
The inside was really pleasant. I took this picture without my flash, as not to disturb everyone inside, so it's a bit fuzzy:

I loved the brick walls, and those hanging lamps were mesmerizing ! The almost floor-to-ceiling front windows let in lots of natural light, and we were seated one seat away from the prime front-window table.
We began with drinks. Karen told me that this restaurant is known to have a fantastic Bloody Mary, so I jumped on that one. She ordered a Margarita with a bit of Chambord in the mix. I do have to say that my enormous Bloody Mary, while not strong in alcohol, was the best-tasting Bloody Mary I've every had. It was spicy and had a generous amount of horse radish. Karen enjoyed her Margarita, but said she would have preferred it without the Chambord. But that's a matter of personal taste. She didn't feel they made a bad drink.
For our lunches, Karen ordered the Grilled Fish Tacos. Had I not just made fish tacos earlier in the week, I probably would have ordered them as well. But I did get to take a taste, and they were juicy and flavorful.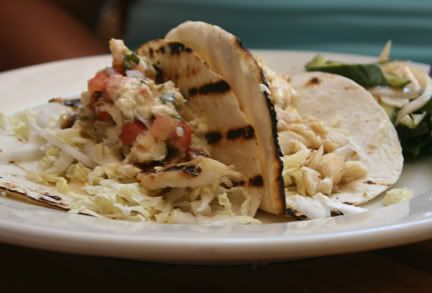 I did choose well, and I ordered the Baja Summer. The menu describes this dish as:
Spice seared shrimp and scallops on a roasted pablano (that's their typo) and sweet potato salad with grilled green onions, crumbled goat cheese and a sweet and spicy avocado crema.

Not only did it look special, but it was pretty tasty. I loved the sauces that were drizzled in various areas of the plate. The scallops and shrimp were cooked to perfection. They were tender and the flavors of their spice rubs and grilling were very pleasant. The cooked seafood had good contrast to the flavors of the chilled sweet potato salad underneath them.
We did a bit more browsing in the Old Port area after lunch.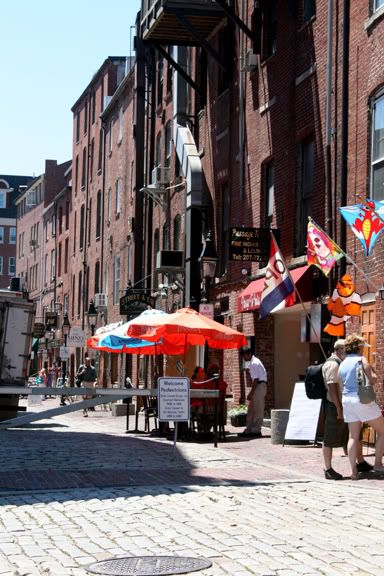 This picture, below, is of the front steps to a potter shop. These animal figures were metal watering cans. I took quite a liking to the cow, but figured that it would end up in a dusty corner, so I passed on the purchase.





We returned to one of the beaches, and then went swimming in Karen's apartment complex pool. The complex is directly across the water from Old Port, and the pool is right up along the water. It really was an amazing experience.
When her husband arrived home from work and we had picked up her daughter from day care, we all hopped in the car to go to the Lobster Shack which is outside the city in an area by a state park called Two Lights. The line was out the door and about 30 yards deep, so I decided to order sushi on my way out of town so that I'd get home before 11 pm.
I got my sushi at a place called Sapporo. At dinner time it was very hard to find parking near the restaurant. I drove around the block twice. There are garages nearby, but since I was just running in for a takeout order, I ended up parking illegally in the parking lot of the Black Tie Restaurant (which didn't appear to be open).
Sapporo was beautiful inside, though I have to say that my spicy tuna roll and spicy salmon roll were nothing to write home about. Too bad.
But the so-so sushi was not enough to change my opinion of the wonderful city of Portland. I am looking forward to returning before the summer ends and having another wonderful day.