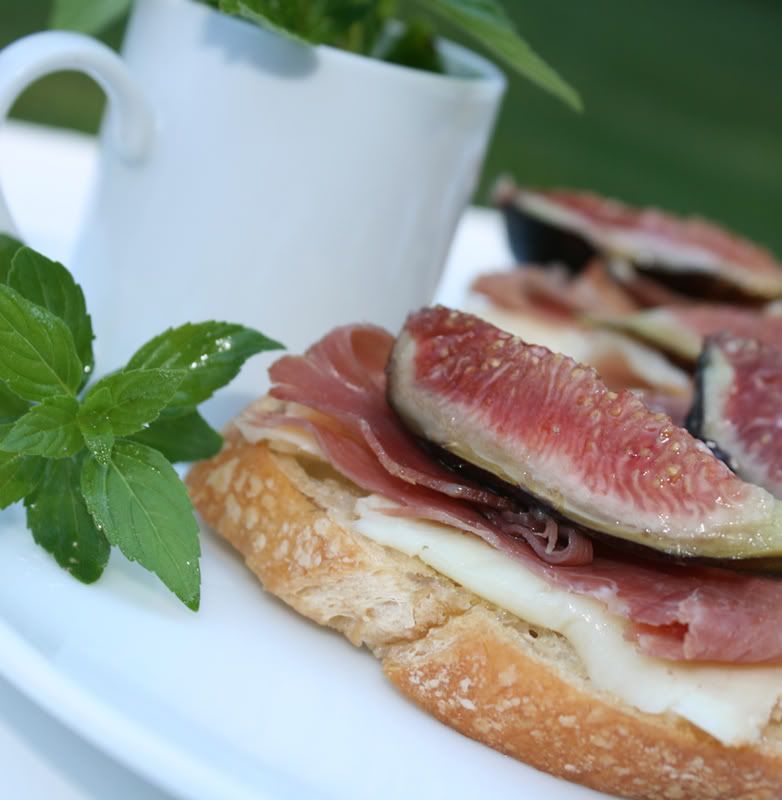 Fresh figs always look so good when you see them in magazine recipes. But, somehow, I've never had fresh figs! So there I was, in Trader Joe's, and there they were, on the shelf. It was a large package, and there was no price tag. I was, indeed, intimidated. When I asked the guy working there how much they were, I was expecting to hear a high number. but he went and checked and came back with a reasonable figure. So I put them in my cart.

Having spent many hours looking at food magazines, I made a beeline for the prosciutto. I always see figs paired with prosciutto. So I got that too, along with a demi baguette (a half-sized baguette) and headed home to figure out what exactly I would do with my ingredients.

And therefore I present to you my Crostini with Prosciutto, Cheese and Fresh Figs. I used two different kinds of cheese. On half of the crostini, I used my local Capri goat cheese. On the other half, I used a Spanish sheep's milk cheese called Torta del Casar. I bought it earlier in the day when I was in the town of Concord, MA. They have a place called The Cheese Shop that I just love.

I saw the Torta del Casar and asked about it. The man behind the counter asked, "do you like strong cheese?" I answered, "sometimes." He opened it up and gave me a taste. It was definitely strong, but in a good way. I liked it and got a small portion to bring home.

I was very pleased with the combination of flavors and textures. All together, there was that wonderful sweet and salty mix that I adore. The crostini was crunchy. The cheese was savory and salty. The prosciutto was perfectly flavored, and held up to the strong flavors of the cheese. And then, the fresh figs brought the soft and sweet to the dish. I like fresh figs!!!!





Crostini with Prosciutto, Cheese, and Fresh Figs

(Ingredient amounts are approximations)

1 Small (demi) baguette, sliced on a diagonal
1 (6 ounce) Package of Carando Prosciutto
1/3 - 1/2 Pound goat cheese (

or a soft sheep's milk cheese such as Torta del Casar

)
1 Pound fresh figs, stems cut off and quartered
Extra virgin olive oil
Freshly ground pepper

Preheat the grill on the highest setting for approximately 10 minutes.

With a pastry brush, brush both sides of the slices of the baguette. Grind some black pepper on both sides.

Brush both sides of each fig half with olive oil as well.

When the grill is preheated, place the slices of bread on the grill and cook to a light brown. Remove them and top with the cheese while still warm.

I turned off my grill and then put the slices of prosciutto on for 30 seconds to heat it up as well.

Place the prosciutto on top of the cheese.

Top with a quarter of a fig.

Drizzle with extra olive oil.

I plated the crostini with fresh mint for garnish.