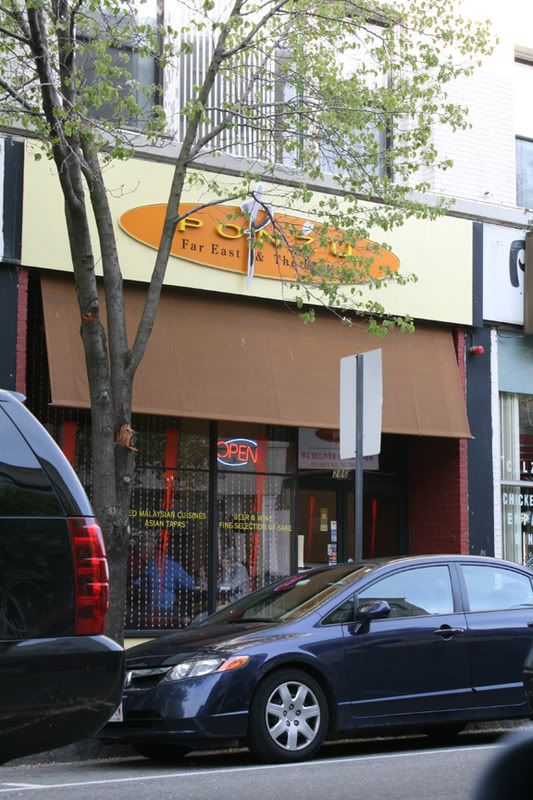 Last night I had the pleasure of dining at
Ponzu
on Moody Street in

Walthm

, Massachusetts. Joining me were my husband, and our friends

Bev

and Bob, who have both worked with my husband at a former workplace.
I wish I had pictures to show you, but taking pictures really would have disrupted the moment and the conversation. But let me tell you that

Ponzu

is a must-dine if you enjoy Asian foods (it is a fusion restaurant) and you are in reach of

Waltham

.
Looking on Yelp.com, I can refer you to these photos taken by other people:
I was in an adventurous mood and we ordered a lot of things I have never tried: sake, sea urchins, and most of the items on my sushi sampler dinner.
I was a wee bit late, so when I arrived, everyone had already gotten started with beer. But I'm not a beer-drinker. I saw sake on the menu. There is warm sake, and there is cold sake. I recently saw a show on sake where they mentioned that good sake is served cold. In fact, Wikipedia states:
heating serves to mask the undesirable flavors of lower-quality sake
So I asked the waitress for a suggestion of the cold sake and she suggested Momokawa Pearl. It was a fairly small bottle, probably the size of an average beer bottle. That was perfect. The sake was served in small, tinted blue glasses. We each got one and everyone tried it. This was the cloudy type of sake, which is not filtered and has rice sediment in the bottle. So before serving, they shake the bottle which turns the sake cloudy. I thought it was mighty tasty. I'd buy it if I were to see it in the liquor store.
On To The Food!
The appetizers

We started out with 3 small appetizers. Joe, not being into raw seafood, ordered the Ponzu Hot Ribs. They looked so good! Bev, Joe, and Bob all ooh-ed and ah-ed over them. I withstained, knowing that we ordered a lot of food and that I almost always end up with too much. I regret not taking a little taste, but it's too late for that!
The 2nd appetizer was the Torched Sashimi Napoleon. It was a combination of thin slices of just-slightly seared tuna, salmon, and scallops. It was on top of a bed of matchstick carrots and another vegetable (whose name I don't know). It was really impressive and tasted fabulous. Even Joe tried a taste of the salmon and liked it.
Bev and I went a little wild for the third appetizer. Neither of us had ever had sea urchin, and I was dying to try it. I brought it up and she was equally enthusiastic. The Sea Urchin Shooters came in two little shots. There were about 5-6 pieces of urchin bathing in a ponzu mixture with a raw egg of some sort on top. Wanting to taste the sea urchin specifically, I went at my shot with the chopsticks. Bev drank hers in parts. We found that we both liked sea urchin. The best way to describe it is that it tasted like the freshest of ocean scents, very pleasant and enjoyable.

The Meals
I got the Sushi Martini Sampler. I wanted to break out of the tuna and salmon I always have. I gave those away to others along with the "crabmeat" and shrimp pieces. I sampled the striped bass, eel, octopus, yellowtail (I have had that), squid (never had it as sushi), and there was another I can't remember the name of. It was a really nice sampling platter and had a substantial amount of food.
The other three entrees came in bowls with a very wide rim, so wide that my husband was concerned there wasn't enough food. But the bowl in the center was deep, and Joe said there was actually plenty of food, which made him happy. Rice was served on a different plate for all three.
My husband got a Red Creamy Spiced Curry Chicken. It was delicious (I did try it).
Bev got the Basil Seafood with Malaysian Black Bean Sauce. Had I not ordered sushi, that would have been my choice. It was shrimp and scallops in a very flavorful sauce. The dish was absolutely impressive (I tried that too).
Bob got the Banana Leaf Dried Curry Beef. Wow, that was an amazing dish. We all tasted it and commented on how good it was.

And when we finished our meals, we were brought a complementary Mochi plate for dessert sampling. I've always wanted to try mochi! It was really good. There is ice cream on the inside (one of them mochi was tea flavored - I liked that) of a rice-based outside. That is to say that the outside layer is made of rice, but you wouldn't know by looking at it. It is made into a paste and rolled out so it completely surrounds the ice cream ball on the inside. Very delicious.

I can't say enough nice things about Ponzu. It was one of the best dining experiences I've ever had. The people were nice, they were good at recommending things to me. The atmosphere is chic. We all had a wonderful time.