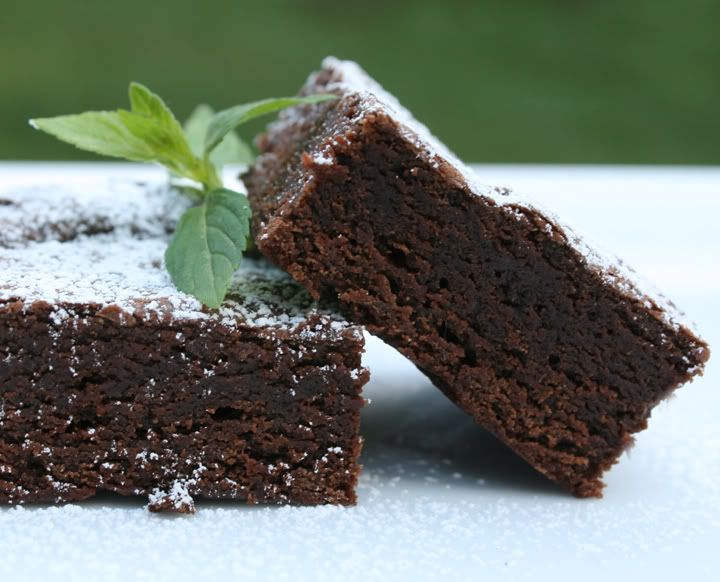 As many a chocolate lover knows, coffee enhances and intensifies the flavor of the chocolate to create a special treat when used together in baked goods.

Several years ago (2002 to be exact), I came across this recipe in Cooking Light Magazine and have made it as my brownie treat ever since. It is the only brownie recipe I make over and over again to this day.

This recipe makes the absolutely most fudgy batter I've ever come across, which is pretty impressive for a light brownie. I have photographic proof as you look at the pictures further into this post. It's really quite incredible.

When made in an eight inch pan, there are 16 brownies, and each has 121 calories, which is pretty impressive.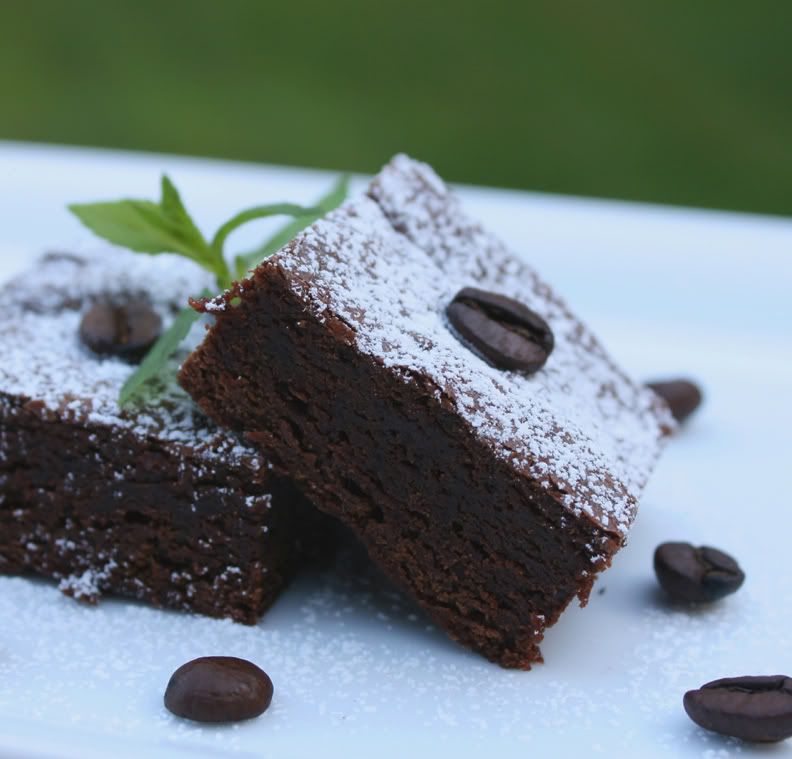 Fudgy (Yet Light) Mocha Brownies
Slightly adapted from Cooking Light Magazine
1 cup sugar
2 large eggs
1 tablespoon hot water
2 teaspoons instant espresso granules
1/4 cup butter, melted
1 teaspoon vanilla extract (I used double vanilla extract)
1 cup all-purpose flour
2/3 cup unsweetened cocoa
1/4 teaspoon salt
Cooking spray
1 tablespoon powdered sugar (optional)

Preheat the oven to 325°.

Place sugar and eggs in a large bowl and beat with a mixer at high speed until thick and pale (about 5 minutes). This might seem like excessive beating, but the theory behind it is that the more you beat the eggs and sugar, the more crackly the top crust will be.
Mine was looking pretty white and pale, though I will admit to having only beat the eggs and sugar for about three minutes. The batter was become almost meringue-like. There were thick waves behind my beaters as I moved the mixer around. In the end, my crust was on the verge of being crackly when it came out. So perhaps I should have gone the extra two minutes.
Combine the hot water and espresso powder, stirring until all the powder dissolves. Add the espresso mixture, the butter, and vanilla extract to the sugar mixture and beat at low speed until combined.
Lightly spoon flour into a dry measuring cup; level with a knife. Combine the flour, cocoa, and salt, stirring with a whisk. Gradually add the flour mixture to sugar mixture, beating with the mixer on low speed, just until the dry ingredients are incorporated into the batter. This batter will be thick! To get it out of the bowl, I used a rubber scraper that I sprayed with cooking oil spray. That way the batter won't stick to the scraper.
Spread batter into an 8-inch square baking pan coated with cooking spray. But as you look at this picture below, you will see that this thick, fudgy batter needs help to reach the corners of the pan. It doesn't spread throughout the pan. It just sits there.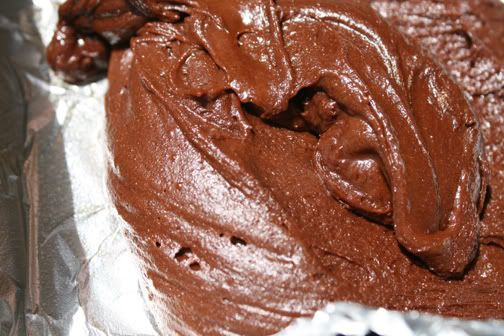 To spread the batter throughout the pan, I coated a wide plastic spoon with cooking spray.

I am going to advise that anyone looking at the above picture do a better job of flattening out the surface than I did. Even in the oven, the batter doesn't change it's form. So those lumps that were in the corner and along the edge remained.
Bake the brownies at 325° for 22 minutes or until brownies spring back when touched lightly in center. Cool in pan on a wire rack. Let them cool completely to room temperature before you do any cutting. By being patient and waiting, the brownies will hold their shape and won't fall apart as the knife cuts through. But if you can't wait, I guess I can understand. After all, these things are good!
I garnished my brownies with powdered sugar. I was looking for that extra something special to add, but I had no fruit. So I thought about the coffee in the batter and used coffee beans. Ideally, if you can get those chocolates that are in the shape of coffee beans, those would be awesome! Or, you could get chocolate covered coffee beans, but they don't have that pretty shape.
Yield: 16 servings (serving size: 1 brownie)

NUTRITION PER SERVING
CALORIES 121(30% from fat); FAT 4.1g (sat 2.3g,mono 1.3g,poly 0.2g); PROTEIN 2.4g; CHOLESTEROL 34mg; CALCIUM 10mg; SODIUM 75mg; FIBER 1.4g; IRON 1mg; CARBOHYDRATE 20.6g