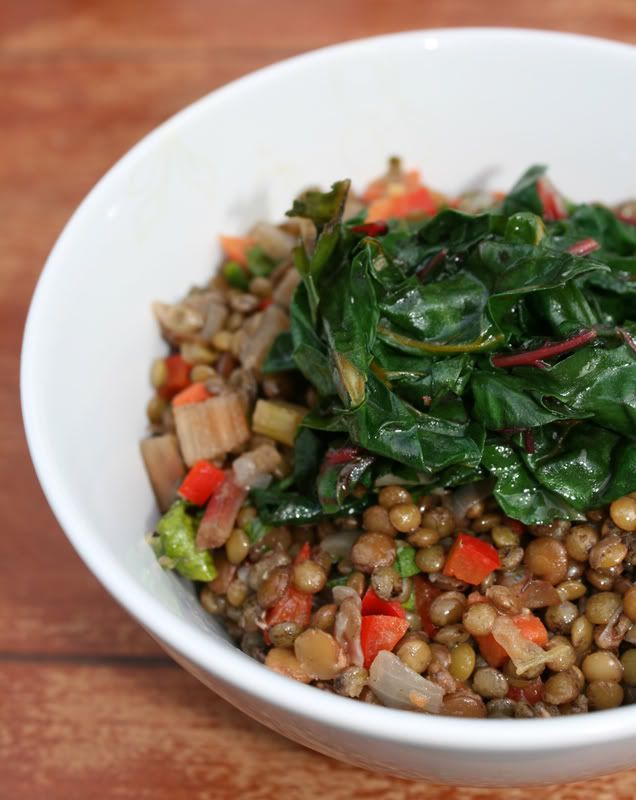 Lentil Salad with Braised Greens is an attractive dish. It's colorful with it's array of vegetables. It has great texture (as long as you don't overcook it). And the flavor is incredible, really. I have a feeling that many people think of a dish like this as bleh. Sometimes, dishes like this are bleh. But not this one, folks! It is bursting with flavors, and I, personally, think that I improved those flavors with my not-so-secret ingredient that I'm going to share with you.
The cooking and braising liquid was all stock, but I zapped it with some sweet and extremely flavorful apple cider. Then, it gets a zammo of fresh lemon juice! And a pow from the red pepper flakes! Loads of awesome flavors.
I know I will make this dish from time to time, and that doesn't happen too often in this house! During the past few days I've found great little variations with it too.
Variations on this Warm Lentil Salad:
with or without the Swiss chard



chopped egg white added in


Parmesan added in


topped with a delicious egg, sunny side up
It can be vegetarian or not, vegan or not. It lends itself to your personal tastes.
This is my take on a recipe that aired on Emeril Green. Emeril Green is new, but it's already one of my favorite cooking shows. With all his overexposure on the Food Network, I had turned-off to Emeril. But he has completely renewed my respect and esteem for him with his new show on Planet Green, formerly the Discovery Home Network (so it may well be on your current cable system).

One of the things that I love about Emeril Green is that he tailors his recipes to the people he is helping. He's helping people with their dietary needs, and that's great. One of the things that he used to talk about on his live show was how pork fat rules, and that was a bit of a turn-off, as we all watched him expanding and wondered if he'd have a heart attack. Don't get me wrong. Pork fat is tasty, and I do use some from time to time, but we all know what it will do to our arteries!

But on this show, he helps people who need to watch their figures, have appropriate foods for their lifestyles, people with sodium issues and other dietary restrictions. I like this side of Emeril. He's charming, concerned, and incredibly creative with a number of food styles.



Warm Lentil Salad with Braised Greens (and Sunny Side Up Eggs)
Adapted from Emeril Green

The stems of 2 bunches of Swiss chard (leaves to be cooked separately)
3 tablespoons extra virgin olive oil (to cook the vegetables)
1 cup diced onion
1 cup diced carrots
3/4 cup diced celery
1 pound French green lentils, rinsed well and picked over
1-2 bay leaves (depending on their size)
5 cups stock (vegetable or chicken stock)
1 cup apple cider

2 teaspoons kosher salt
1/2 teaspoon freshly ground black pepper
1 medium red bell pepper

1/2 cup chopped fresh parsley
2 lemons, juiced
2 tablespoons extra virgin olive oil
2 tablespoons extra virgin olive oil (for braising the Swiss chard)
2 small garlic cloves
1/2 teaspoon crushed red pepper
1/2 teaspoon salt
the leaves of 2 bunches of Swiss chard
Wash the Swiss chard and beet greens well. Pat dry. Cut the ribs from the leaves, chop into 1/2-inch pieces. Set aside the leaves for later. You can prepare them while the lentils cook.

Heat 3 tablespoons of the olive oil in a dutch oven (a really big, deep pot) over medium high heat. When hot, add the onions, carrots, celery, Swiss chard ribs, salt and pepper. Cook, for about 4 minutes so that the vegetables begin to soften and the onions turn translucent. Add the lentils and the bay leaves. Toss to coat lentils in the oil. Then add the stock and the cider. Bring it all to a simmer uncovered. Then cover the pot and cook, stirring occasionally, until lentils are just tender, about 20 minutes. You will want to taste the lentils once you hit 20 minutes to check their consistency. I felt mine needed more cooking, so I reset my timer for 5 minutes and checked again later. Still, I felt more time was needed and I ended up adding another 4 minutes (9 minutes total). You want the lentils to not be mushy. They should have some bite to them, but not crunch.
While the lentils cook, chop the red pepper up into a small dice. You will be adding them to the cooked lentils after the liquid has been removed. The heat of the lentils and vegetables will be cooking them. No flame or stove top will be involved. Set the peppers aside.
Also, while the lentils cook, chop the chard into one-inch strips. Mince the garlic. Have your red pepper flakes and salt ready.
When the lentils are ready, pour them through a colander, with a bowl underneath the colander to catch the liquid and reserve it. Put the lentil mixture in a bowl and add the red pepper, lemon juice, olive oil, and parsley. Mix well to distribute the new additions. Set aside, covered to keep warm.

This is how my lentils looked a few minutes later (before cooking the chard). If you don't like chard, you could stop right here. It's very delicious, as-is.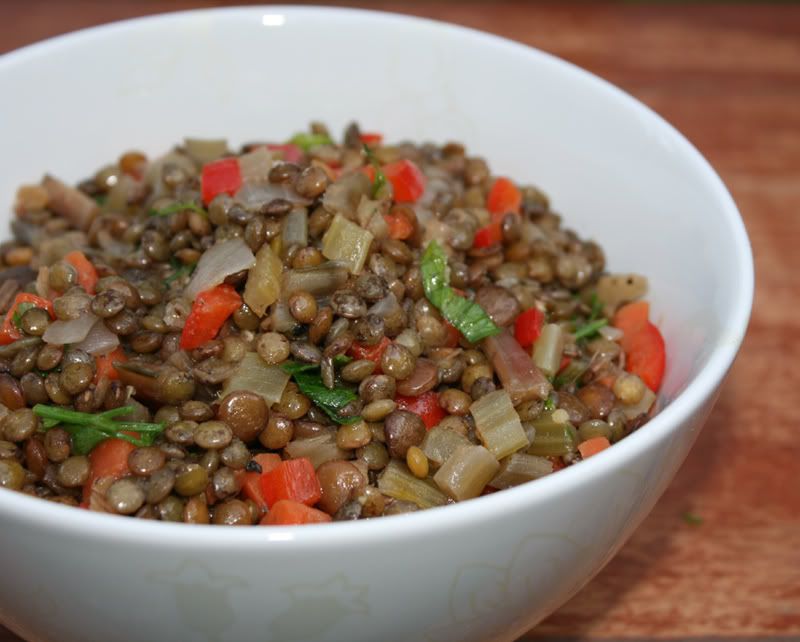 Now for the Greens!

Heat a large pan on medium high. Add 2 tablespoons of oil to the pan. As the oil heats, it becomes thinner and when it's ready, it will act like a water based liquid, rushing to the edges when you tilt the pan. You should add the chard before the oil smokes.
Add the garlic, and red pepper flakes and cook for about 30 seconds. Add the Swiss chard and the salt. Move it around with either tongs or a spatula. As it cooks, the volume reduces a lot. If there is too much chard to put in at once, you can add more as it reduces. Don't cook it all the way. Keep it at the just-wilted stage (sort of "al dente"). It will only take about 2 minutes to cook it.
Add one cup of the reserved liquid from the cooked lentils and cook for another minute. I prefer that my greens have texture, so I don't cook them long. I want to avoid a pile of green mush.
I watched Emeril serve this with the lentils on the bottom. He took a little more lemon juice and drizzled it on top. Then, with his tongs, he placed a neat pile of chard on top. The egg is optional, but I will admit, it's a tasty treat with the warm yolk, coating it all with yumminess!
Yield: 6 to 8 servings