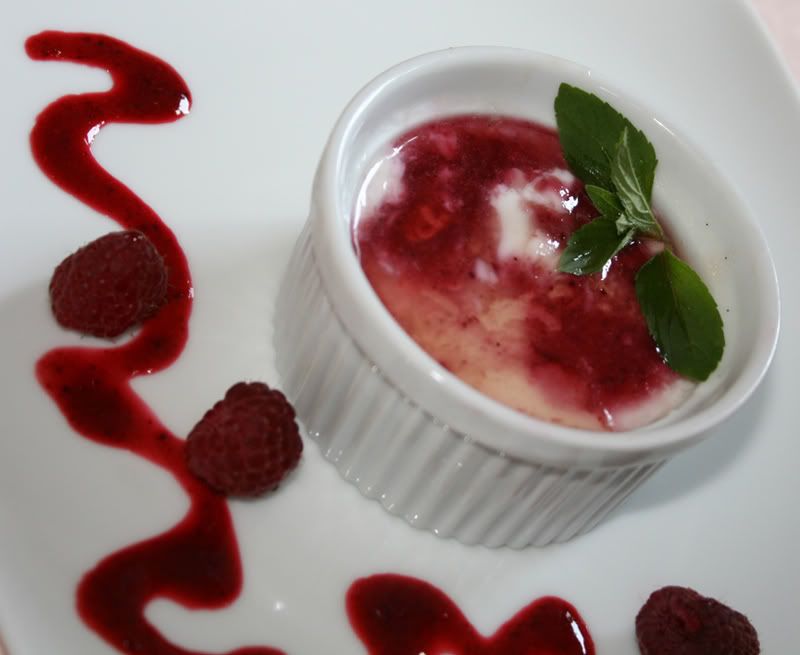 I've been dying to try making a panna cotta lately. It always looks so beautiful when I see it on TV. Often it is lying in a bed of sauce, holding it's shape and looking very creamy and edible. I had a frozen one that I bought at Trader Joe's once, and might I say that it was pretty awesome, and not as delicate as I had imagined.

Panna Cotta has been sitting on my "to make" list, and when the time was right I began looking for a recipe. I was more than a little bit shocked when I saw the typical amount of heavy cream that most recipes had. What about those yogurt panna cotta recipes that I saw on cooking shows in the past? Did they have that much cream?

I changed my search criteria to yogurt panna cotta. But once again, the amount of heavy cream in these recipes had me a little amazed. Don't get me wrong. I'm a big fan of cream. But I am also a big fan of not gaining any weight right now, so those recipes were just out of the question. Besides, my husband just lost about 90 lbs. by counting points, and it just wouldn't be right for me to have such a rich, luscious dessert in the fridge.

So, once again, I changed my search criteria to "light panna cotta" and I found this recipe, on Serious Eats. It was encouraging! I had to make it.

Instead of whole milk Greek yogurt, it called for fat free. I decided to live wild, and used 2% instead. Instead of heavy cream, it used fat free milk and buttermilk. I had to try it.

Well, it is a delightful low-calorie and low fat dessert. It is much more delicate than the heavy, frozen Trader Joe's version. It is actually more like what I was expecting. Yet it is creamy and has a light flavor, to which I added some vanilla. Can you see the specs in the picture?

Well, I have never used a vanilla bean. I'm sure what I did could be improved upon, but I took the vanilla bean out of my vanilla extract and put the seeds into the panna cotta. When it was all said and done, I ordered "unused" vanilla beans, but they have yet to arrive at my door.

And my unwavering point-counting husband? He loved it! Heck, he actually ate it! That made me so happy. And he ate it again the next day, too.

There are two ways to serve panna cotta. The easy way is in the ramekin, such as the opening photo to this post. But I had to try the other way, the elegant way. I tried removing it from the ramekin. Here were the results: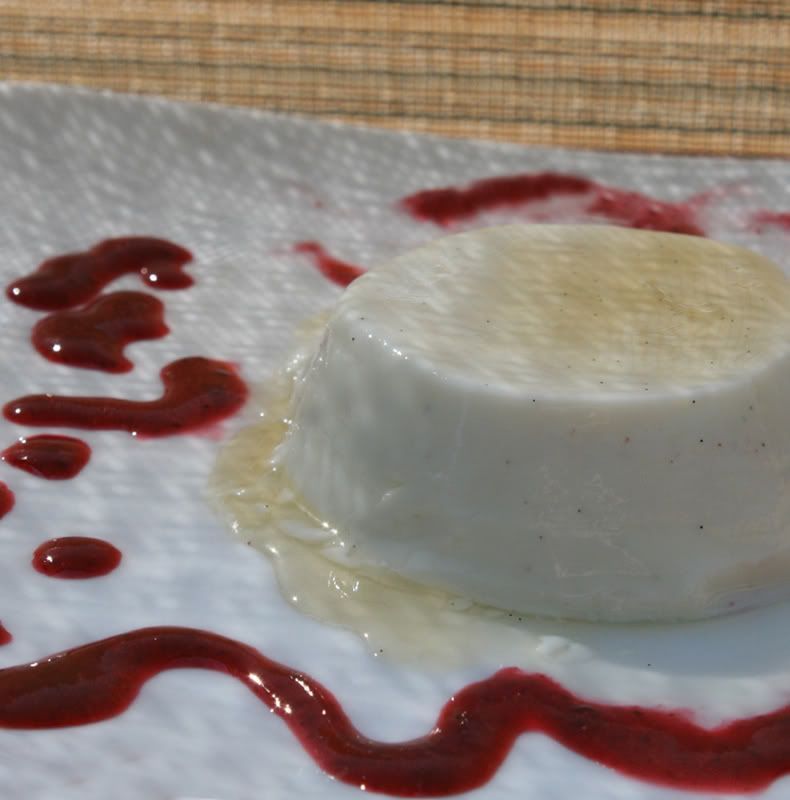 Honestly, I thought it was just fine in the ramekin! It was very risky and difficult to remove from the ramekin. You have to dip the ramekin in very hot water. But when I did that, some of my panna cotta melted and I had an ugly mess that I had to clean up for the photo.
Note to self
:
next time leave it in the ramekin or even use a campaign glass instead
.
Because this was my first panna cotta, I didn't mess with the recipe much, other than my vanilla thing and the 2% yogurt. From here, I see more panna cottas in my future, and a delivery of vanilla beans to make them with.

By the way, if you are using Fage Greek Yogurt, be aware that this container below looks like a perfect cup, but it is not! You will need all of it, plus some of another of the same sized container.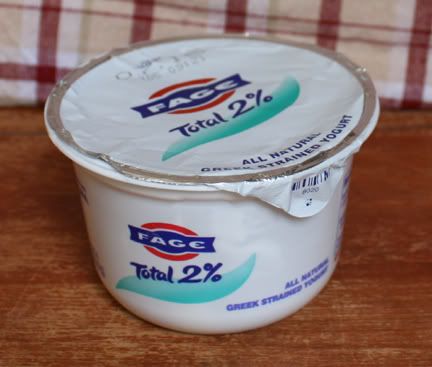 Luscious Light Panna Cottas with Honey




Adapted from Lucy Baker of

Serious Eats

(

who

Adapted from Food & Wine magazine

)


1 1/2 teaspoons unflavored gelatin
1 tablespoon water
1 cup fat-free milk
1/3 cup sugar
1 cup low-fat buttermilk (I used the powdered kind that you get in the baking isle)
1 cup 2% Greek yogurt
1/2 vanilla bean, split lengthwise

honey for drizzling and garnish

Berry Coulis

for drizzling and garnish


In a small bowl, mix the gelatin with the water. Let stand for 5 minutes to soften it.


Remove the seeds from the vanilla pod by sliding the blade of the knife (apparently I should have used the back side of my knife - live and learn). The seeds will collect on the knife.



In a small saucepan, bring the milk to a simmer with the sugar and vanilla seeds. Cook until the sugar is dissolved, about 1 minute. Remove from heat and stir in the softened gelatin until dissolved.

In a medium bowl, whisk the buttermilk with the yogurt until smooth.

Note: if you are using the buttermilk powder, you need to follow the package directions and hydrate it!

Whisk the warm milk mixture into the yogurt and buttermilk.

As you pour the panna cotta mixture into six (4-ounce) ramekins, pass it through a sieve to catch any clumps.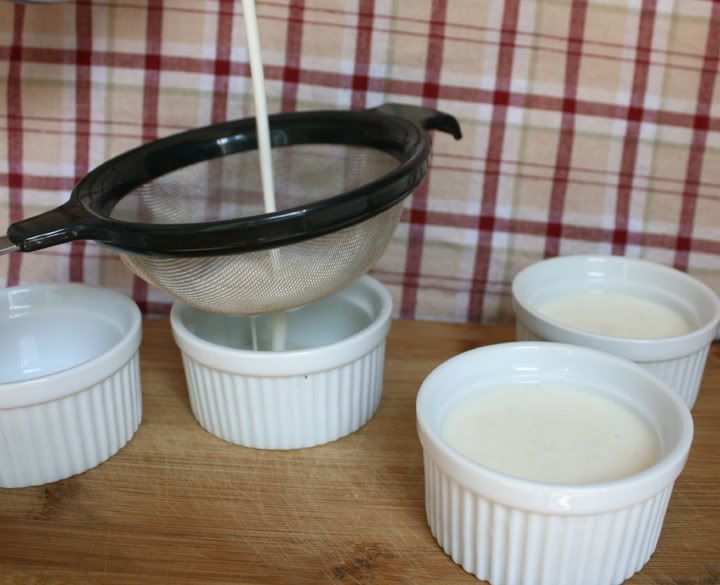 Even though I had really mixed well, I still had clumps, so I was glad I did that step.


The panna cotta will be set in about 3 hours, but I preferred the texture and flavor the next day.



To serve, drizzle with honey and

Berry Coulis

. You could try removing the panna cotta and placing it on a plate, but I don't think it's worth it!



- makes 6 servings -