I love a spicy tuna roll. But it can get expensive ordering them as take out. Plus, living in the boonies, I have to drive far to reach any sushi restaurants that I would order from. So I decided to learn to make it on my own.

Luckily, I have a great fish market one town away. They have good prices and nice fresh seafood. It's also a restaurant, so someday, I'll have to go and get some steamers or fried clams. I digress.

If you want to learn to make sushi - especially if you want to actually see how to roll it, I recommend viewing this video in addition to reading the rest of this post: http://video.about.com/japanesefood/Spicy-Tuna-Roll.htm
I'm hoping to educate my readers on making sushi, so I'm going to start with the fish itself. Here's a picture of the tuna steak I bought yesterday: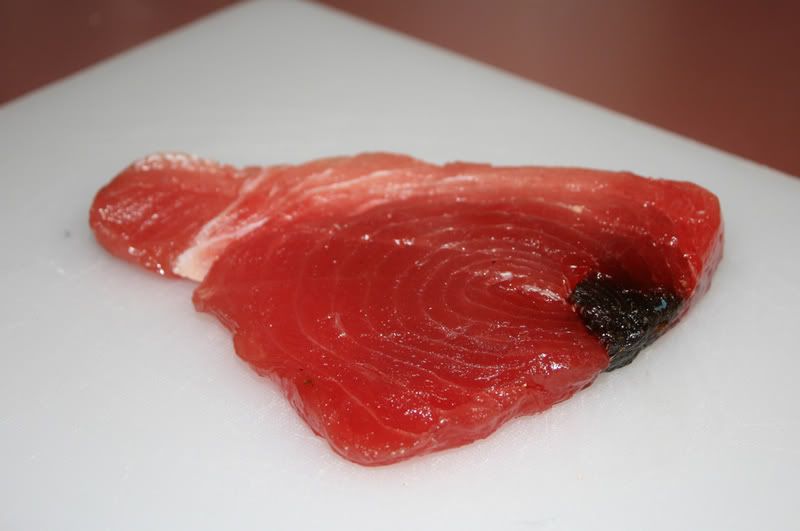 When I order the fish at the counter, I ask for sushi grade tuna. This steak was 1/3 pound. It was enough for a good-sized roll with plenty of tuna in and on top of it. I also asked the fishmonger to cutt off the skin. Don't expect that they will do that until after they have weighed the fish. That dark spot is a blood vessel and it needs to be cut out.

Speaking of cutting, the knife is important. Don't attempt to try to make sushi with the steak knives you bought at Target! You need good, sharp knives.
Sometimes I watch a show called Shopping with Chefs on Bravo. Just today, they were shopping for sushi knives. They had a lineup of about 7 knives. They began with one that cost $140.00. Can you believe that??? They ended with a $50.00 knife and then on the screen said that a beginner could get one for $40.00 that would do the trick. But I don't have a real sushi knife. I have a set of Wustoff Trident knives that I got from my brother for a wedding gift. I use those knives to cut the fish and the finished sushi rolls.

The first thing I did was I sliced several thin slices from the nicest area of the steak. I sliced them on a slant, going against the grain. I then set them aside to save as a garnish. Each piece will have a pretty slice of raw tuna on top.


The only other ingredient I use that I can't get in the local grocery store is the Japanese style mayonnaise. I order it from Amazon. In the recipe below, I've linked to the products so people can order them online, or at least see a picture.
Here's my recipe.

Spicy Tuna Roll


1/3 pound sushi grade tuna
1-2 scallions, chopped very finely
1 heaping Tbs. Japanese style mayonnaise (I used
Kewpie
brand)
1 teaspoon
Sriracha
hot chili sauce

1 sheet
nori
prepared sushi rice (recipe at end of this post)


Chop up the tuna into a small dice. Put it in a bowl. Add some of the scallion (perhaps the lower part of the scallion that is whiter, while saving the green for garnish).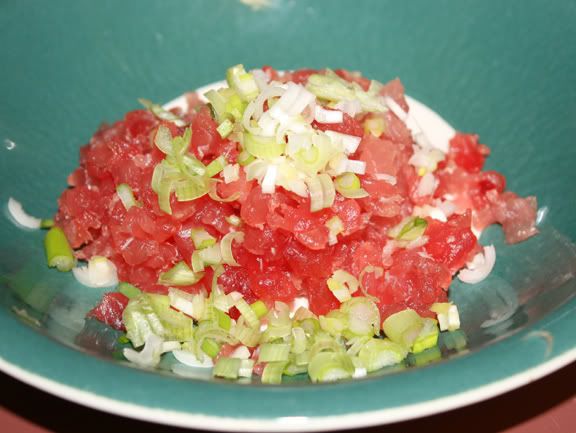 In a separate bowl mix the mayonnaise and Sriracha. Taste it to make sure that you have added the right amount of Sriracha for your taste. When it's ready, pour it into the tuna and scallions and mix it up.
Cover the sushi-rolling mat with plastic wrap. This will keep it nice and clean. Once you roll your sushi, you just throw away the plastic and store the mat.

The sheets of nori that I have are large, and I noticed that in the video I linked to earlier, the sheet of nori is much smaller. So I removed the top 1 ½ inches from the nori.

Spread the rice out and press it into the sheet of nori. The moisture in the rice will glue it to the nori.

If you want an inside-out sushi roll (like the one in my picture), then flip the sheet of nori with the rice pressed into it so that the rice side is face-down.
Here's what it looks like head on: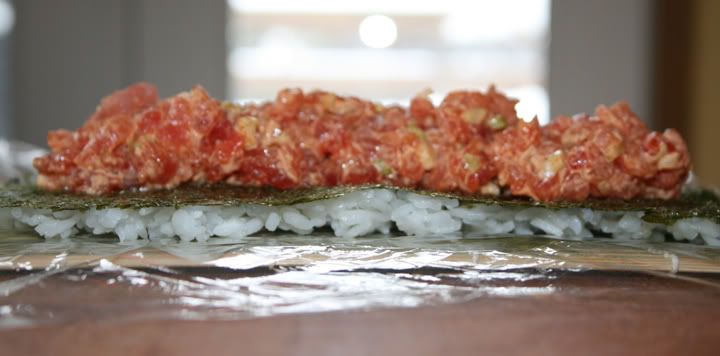 Here's the view from above: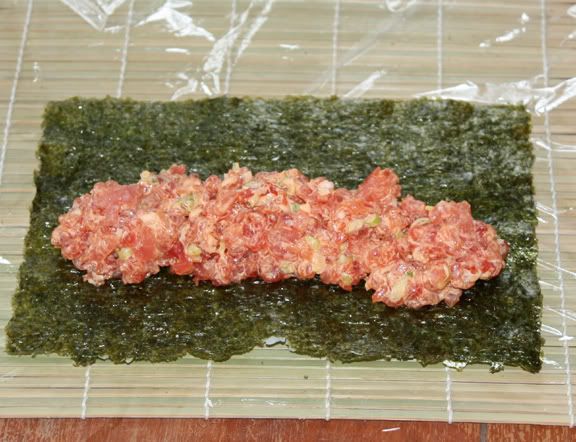 You can see my pictures of rolling a different kind of sushi in this post: http://mylittleworldoffood.blogspot.com/2008/03/recipe-meryls-surimi-maki-sushi.html

Roll the sushi and cut it. I like to cut into eight pieces, personally.

You could serve this sushi in two different ways. One way is to stop here and simply display them like this with the cut sides facing up:



But I wanted to do it the way my favorite restaurant does it. Lay the cut pieces on their sides. Top with the nice slices of sushi that you saved from earlier. Top with the beautiful slices of tuna and the chopped green part of the scallions. Serve with wasabi and soy sauce.

Sushi Rice
I cook one cup rice according to directions.I empty the rice pot into a bowl. While it's still hot, or after it's cooled some, I add:
1 ½ Tbs. rice vinegar
1 Tbs. sugar
Mix well and let the rice cool, covering it to keep it moist.