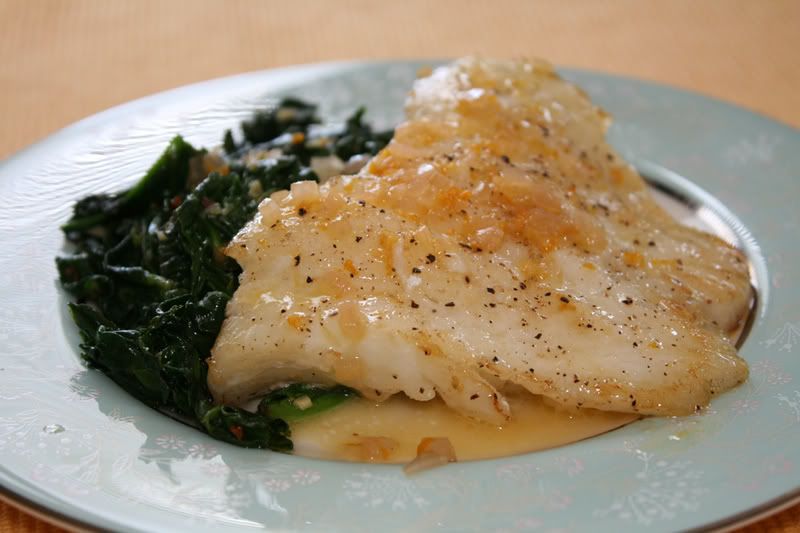 Chilean Sea Bass with Citrus Butter Sauce
Adapted from
Italian Food Forever
(Deborah Mele)

1 1/2 to 2 Pounds Sea Bass
1-2 Tablespoons Extra Virgin Olive Oil
Salt & Pepper to taste

For The Sauce:
1 lemon
1 orange
1 teaspoon orange zest
1 teaspoon lemon zest
½ shallot, finely minced
3/4 Cup White Wine3 tablespoons unsalted butter

1 Recipe Sautéed Spinach

Zest the lemon and orange using a microplane before juicing them.

Preheat the oven to 400 degrees.
Sautee the shallot in a saucepan. Juice the oranges and add them to the same saucepan. Cook over high heat until the juice is reduced to about 1/2 and is thickened. Add the wine and reduce again to 1/4 of the amount is left. Lower the flame to the lowest setting. Add the butter and stir until melted into the sauce. Keep warm on the lowest setting until the fish is ready.
Heat the oil in a heavy, ovenproof pan (or use nonstick and transfer to a different dish later). Season the sea bass with salt and pepper. Add it to the heated pan and sear it on both sides in the hot oil until lightly browned. Place the fish into the hot oven and bake for about 12-15 minutes or until the fish flakes with a fork, but remains moist inside. If you are using thicker fillets, you may need to cook it up to 20 minutes.
Serve with Sauteed Spinach.