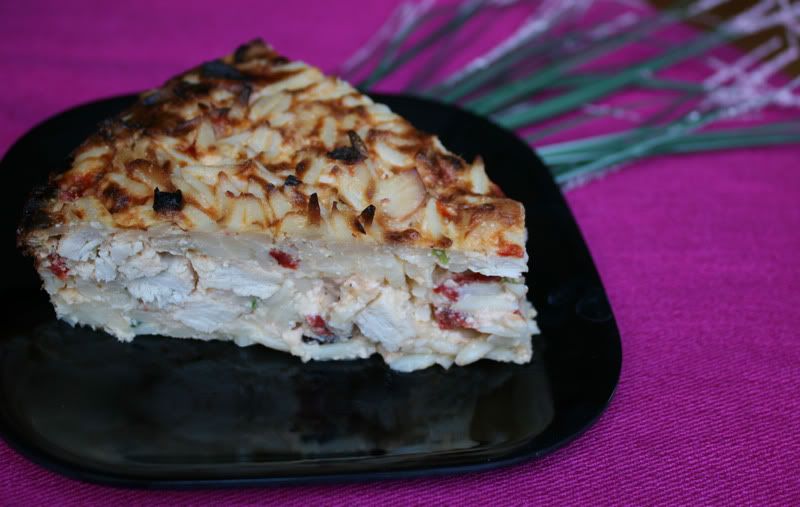 I found this recipe on one of my favorite blogs: Culinary in the Country
(
http://desertculinary.blogspot.com/
). And he had changed it from the original recipe from Giada De Laurentiis. It looked good and the ingredients were very available. Joe mentioned that it was kind of bland when he made it, and I was out to take is suggestions on making it better and come out with a masterpiece.
But in my haste to get going, I did just the opposite! I completely forgot to season it! Narf!
Truth be told, however, it was still pretty darn tasty. I will make this recipe again, and I will remember to season it.
The cooking time is 35 minutes, but I would suggest that when you make it, leave hourse before you have to serve it. Here's why. When I first took it out of the pan and cut into it, there was a lot of liquid on the bottom of my plate and the shape of the frittata wasn't very firm. But in a couple of hours, all the liquid was soaked up and the frittata held it's form well. And I thought it tasted better the next day anyway.
But if you want to eat it while it's still warm, maybe it would be less liquidy if you were careful about getting the liquid out of the jarred roasted red peppers. They had a lot of liquid.
One last note. I wanted to make it in a springform pan, but I couldn't find the right sized one in my cabinets. So I made it in an 8" cake pan. Because it was only an 8" pan, it was thick and needed extra cooking time than what the recipe calls for. I checked for it being set by just slightly jiggling the pan and seeing how it reacted.
Chicken and Orzo Frittata
(Adapted from Culinary in the Country who adapted from Giada De Laurentiis)
3/4 cup dry orzo pasta
4 large eggs
4 large egg whites
1/3 cup milk ricotta
1/4 cup crème fraîche
2 cups chopped cooked chicken breasts
4 green onions, chopped
1/4 cup chopped parsley
1/3 cup diced roasted red bell peppers
1 teaspoon salt
1/4 teaspoon fresh ground black pepper
1/8 to 1/4 teaspoon crushed red pepper
Preheat the oven to 375.
Bring a pot of salted water to a boil - add orzo and cook until al dente, about 8 to 10 minutes. Drain well and let cool slightly.In a large bowl, whisk together eggs, ricotta and creme fraiche until well combined.
Add cooked orzo, chicken, scallions, parsley, red bell peppers, salt, pepper and crushed red pepper - stir until combined.Scoop the mixture into a 1 1/2 quart baking dish coated with nonstick spray. Bake just until set, about 25 to 35 minutes.
Turn on the broiler and let the top turn golden, about 5 more minutes. Remove and let sit for 5 to 10 minutes before serving. Makes about 6 servings.