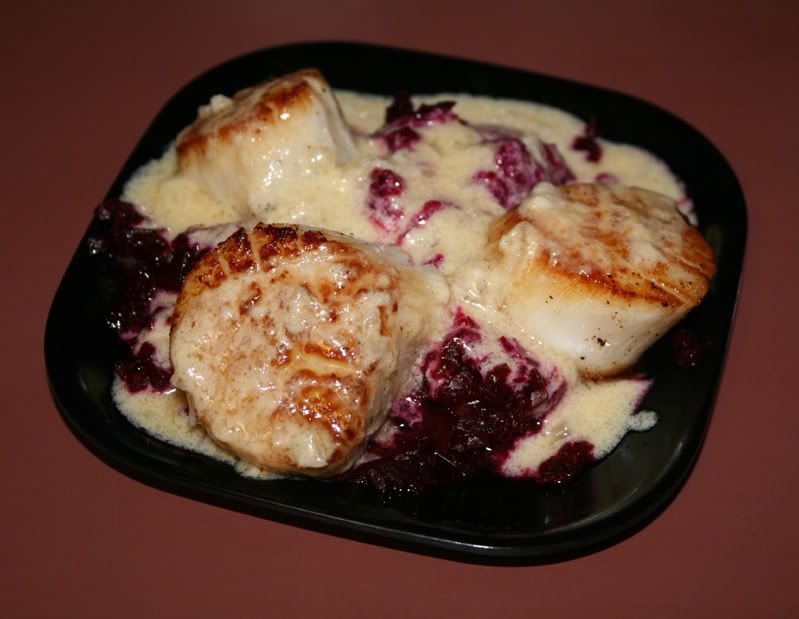 I just had to add this new photo (above) to the original post I did. This photo comes from the 3rd time I made the dish. The old photo (below) is inferior - it's just
not as pretty. But I will leave it here since part of the post talks about the ingredients.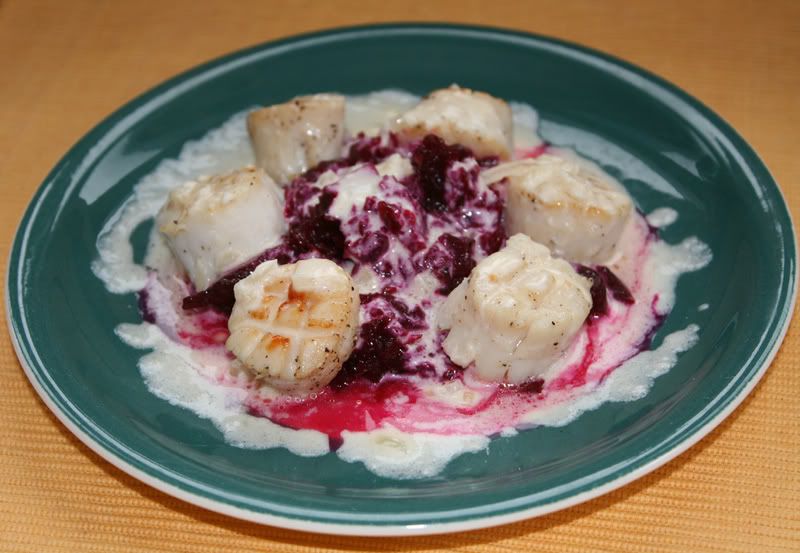 This recipe comes from Food And Wine Magazine (April 2008)
I'm hoping that this blog encourages me to experiment more in my cooking. I did just that when I made this next recipe. It is another recipe that comes right out of this month's edition of Food and Wine Magazine. I made it as it is presented on page 67 (and it's online as well). There were no pictures to go with this recipe, so now there are.

Borscht inspired this chef to create this recipe. I've never actually had borscht, but I remember watching my grandfather eat it when we used to visit. He was a Russian immigrant. I'll admit, I was rather grossed-out watching him eat the funky purple stuff. It looked like a purple version of Pepto Bismol. But now, in my forties, it looks appealing.

What exactly do this dish and borscht have in common? The beats, the lemon, the onion (or in this case, shallot), and the sour cream (in this case crème fraîche).

I've made this dish twice now. The first time it was a deconstructed version. I made the beets one night. And they were so good, that I ate them all before I got around to buying some scallops. I never made the "salad," I just ate them plain and cooled. Fresh beets are so good!

Then, two nights later I made the rest. I got huge, fresh sea scallops. They were expensive, and I only bought three. One of them didn't make it into this picture: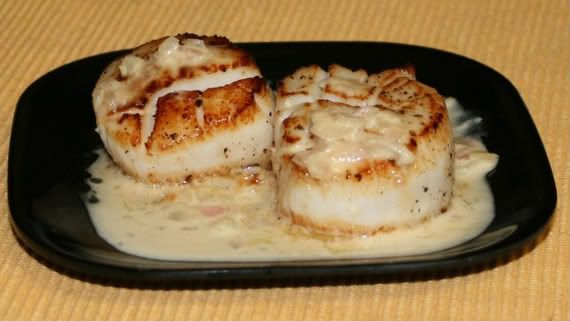 Then, I went to make it again. After all, I still had crème fraîche, lemon, and scallops. And I was more than happy to get the beets and scallops again. Too bad the huge ones weren't available, so I got the medium sized scallops instead.

Not only is this recipe a delicious one, but it is easy to make. There are really few ingredients. And you can roast the beets days beforehand. They don't go bad so quickly! And the sauce and the scallops are ready in minutes.


Seared Scallops with Beet Salad and Horeseradish Cream


1 pound large unpeeled beets, cut into 1-inch wedges
Salt and freshly ground pepper
1/2 cup water
1/4 cup plus 2 tablespoons extra-virgin olive oil
1 tablespoon raspberry vinegar
1 small shallot, minced
1 tablespoon drained prepared horseradish
1/2 cup crème fraîche
1 teaspoon fresh lemon juice
12 jumbo scallops (about 1 pound)

Preheat the oven to 375°. Put the beet wedges in a medium baking dish, season with salt and pepper and add the water. Cover the dish tightly with foil and bake for about 1 1/2 hours, or until the beets are tender. Let cool slightly.

Peel the roasted beets and transfer to a food processor. Pulse several times, just until coarsely chopped. Transfer the chopped beets to a bowl and stir in 1/4 cup of the olive oil, the raspberry vinegar and a pinch each of salt and pepper.

In a small skillet, combine the minced shallot with the horseradish, crème fraîche and lemon juice and season with salt and pepper. Cook over low heat, stirring occasionally, just until the crème fraîche is melted, 1 to 2 minutes. Keep the sauce warm over low heat.

Meanwhile, in a large skillet, heat the remaining 2 tablespoons of olive oil until nearly smoking. Using a paring knife, score a shallow crosshatch pattern into one side of each scallop. Season the scallops with salt and pepper and add them to the skillet, scored side down. Cook over high heat until the bottom is browned, about 3 minutes. Turn and cook until the scallops are lightly browned on the second side, and just cooked through, 1 to 2 minutes; don't let the scallops become opaque.

Spoon the roasted beet salad onto plates and top with the seared scallops. Drizzle the warm horseradish cream all around and serve right away.