I've been the neglected wife of a golfer at the beginning of golfing season. I think Joe felt my pain after a rather sarcastic remark I made a few days ago and offered that we go on a date to any place I want. I wanted to go to Boston, specifically to the South End.
The South End of Boston seems to be the hip area these days with a great dining scene. I did a slight bit of Internet research and was a little worried about going to the South End, not quite knowing where it was. I kind of chickened-out and suggested we go somewhere in the Fenway. I remember seeing a recent Iron Chef America where a Boston chef of a Spanish restaurant,
Toro
, competed and won. I wanted to check out his restaurant which I thought was in the Fenway.
Reviewers online seem to unanimously state that the menu and food at Toro is the most authentic of the Boston-area Spanish restaurants. So I was excited to check it out. My only reservation was that we would have the brunch menu as opposed to the regular dinner menu. But there were some really tempting menu items that could not be ignored.
As we approached Toro, we discovered that we were, in fact, in the heart of the South End. Well, what do you know? Toro was on Washington Street. It is not far from the theater district. Here it is from the outside: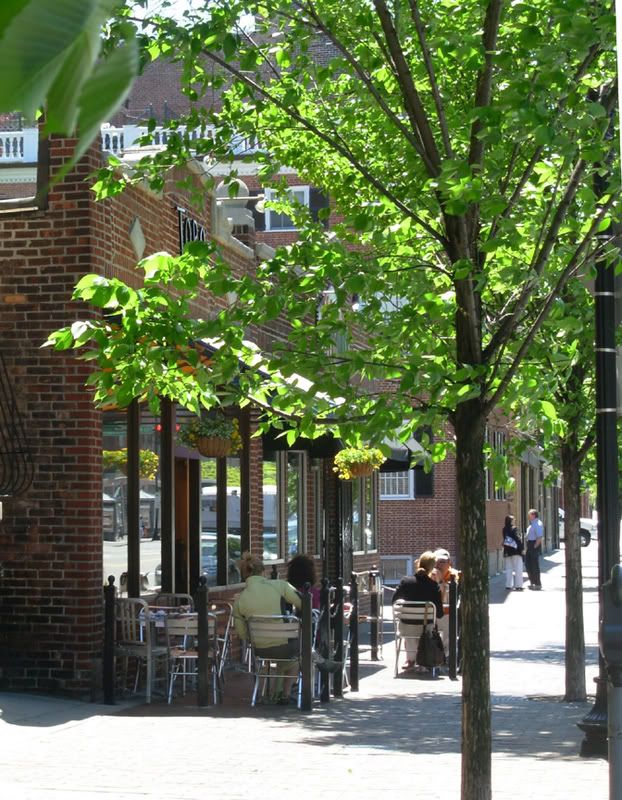 I'm glad we went on Memorial Day Weekend because there were no crowds, and we had absolutely perfect weather.
Though the weather was indeed perfect, we decided to sit inside. So we walked right in and there were open seats everywhere. I appreciated that they kept the doors open and there was a lot of fresh air. Here are some shots of the inside.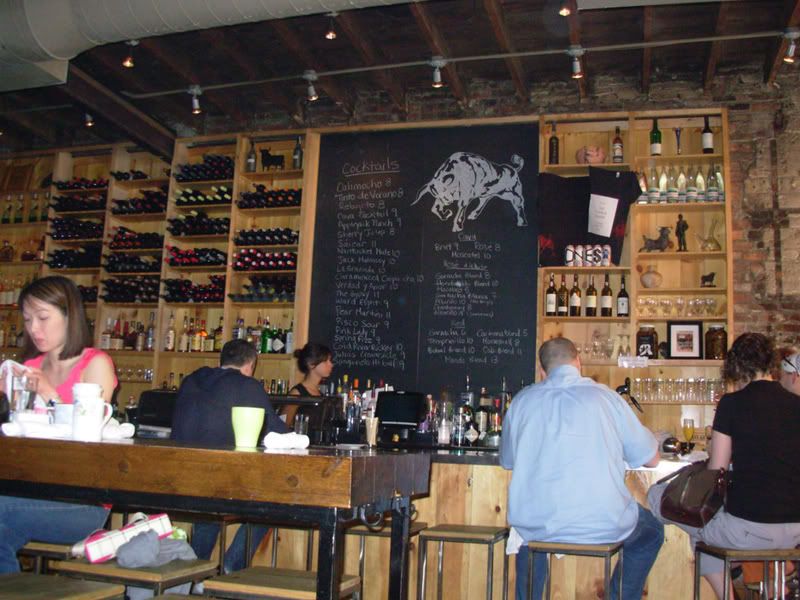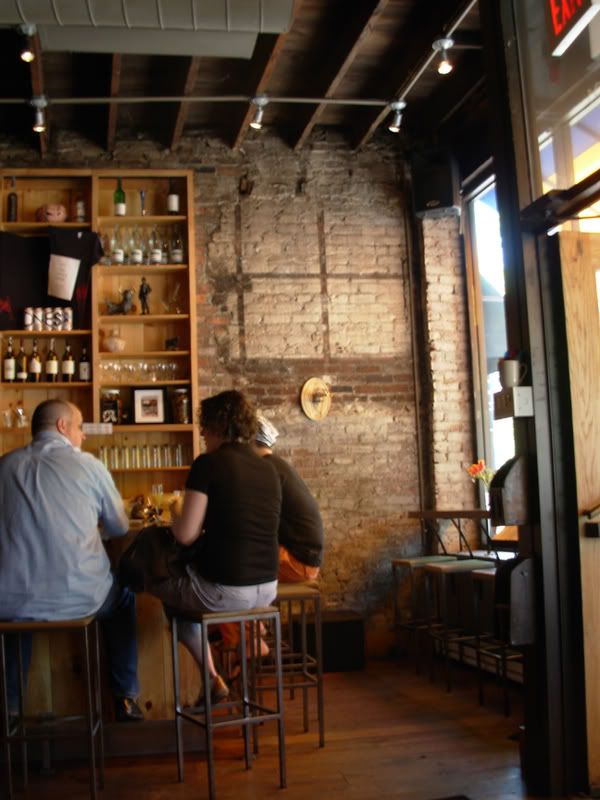 Joe ordered a Dos Equis, and I decided to start out with a glass of red. I've got a thing for Rioja reds these days. When they brought it to the table I was surprised to see the glass. I was also surprised to see the generous portion of wine! This is a really horrible picture, and I had already been drinking it for 1/2 hour, but better late than never.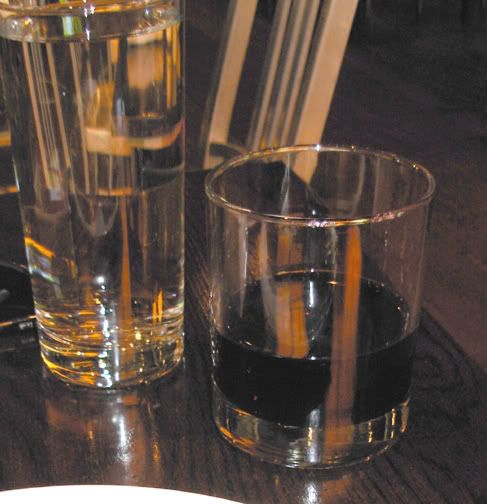 The ordering didn't take long. We had been looking at the
brunch menu
at home before we left.
Joe ordered what is now called Huevos con Chorizo. It is scrambled eggs with Spanish chorizo sausage. It smelled and tasted great.
I got the Breakfast Tartine. It was a slice of brioche topped with dried apricots, goat cheese, and acacia honey. It wasn't completely what I expected since the menu calls the apricots "preserved." Did they just run out? Aside from the apricot misunderstnding, the dish was sweet and delicious.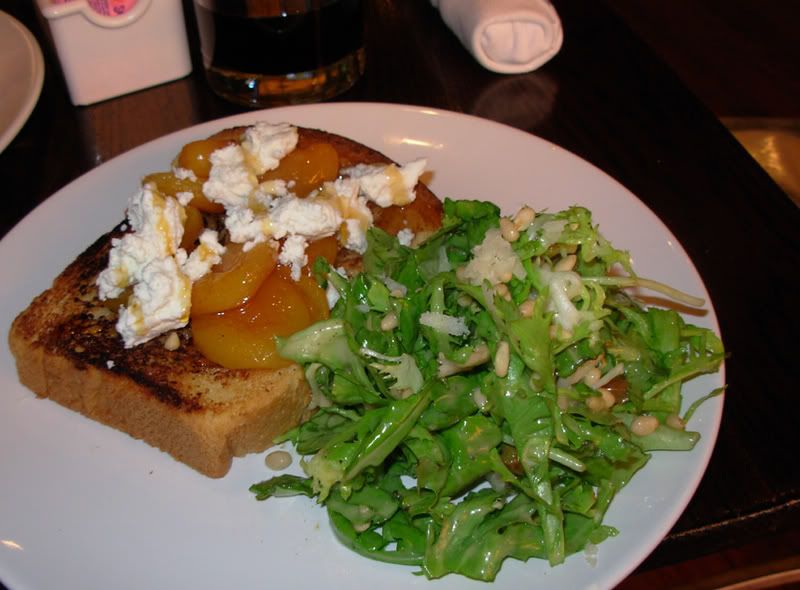 I loved the eclectic mix of coffee mugs that were on the tables in front of me.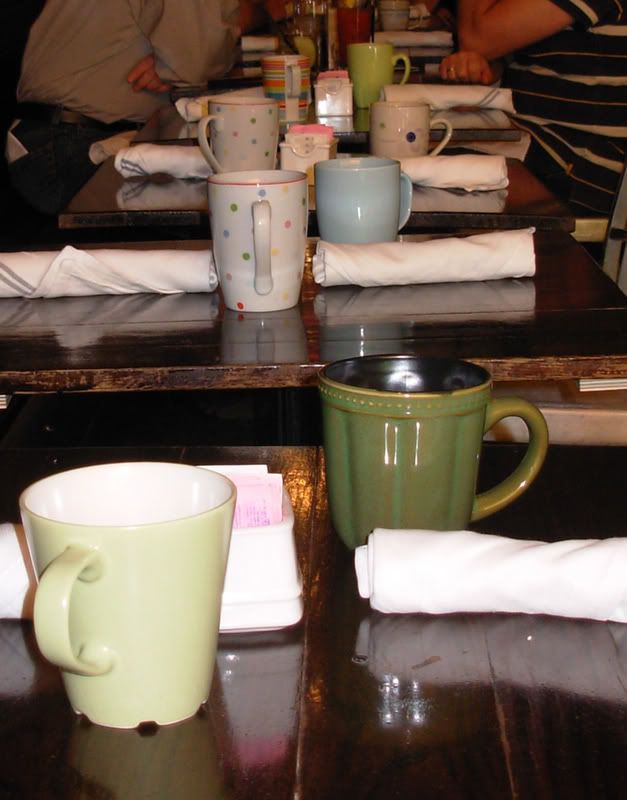 Finally, we ordered some churros and chocolate for dessert. The chocolate sauce was super-thick and had a hint of chile powder in it.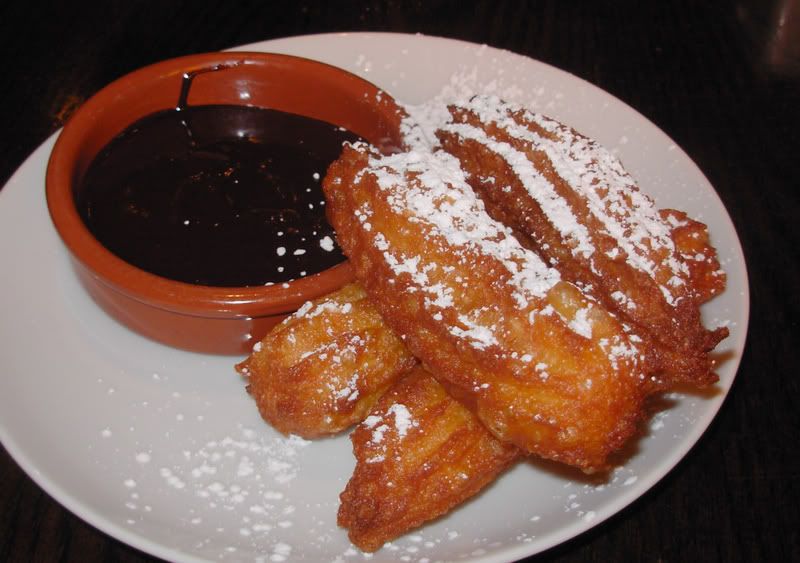 The churros were very different from other churros I've had. The outside was not as crispy as the churros I've eaten in other places. The inside was more dough-like and moist. And instead of rolling the churros in granular sugar and cinnamon, they were topped with the powdered sugar. In my first bite, I noted what tasted like a previously fried ham croquette, but it didn't ruin the experience for me, and the rest of my bites weren't like that.
I'd love to return to Toro for their dinner menu. Perhaps on my next trip to the city. But for right now, my favorite restaurant in the state is the tapas restaurant in my own back yard, Bocado in Worcester.

And while poor Petey and Elvis waited for our return home, we kept them in our thoughts as we made a stop into the Polka Dog Bakery. We brought them home an assortment of baked treats, salmon jerkey, and dried talapia. Lucky dogs!