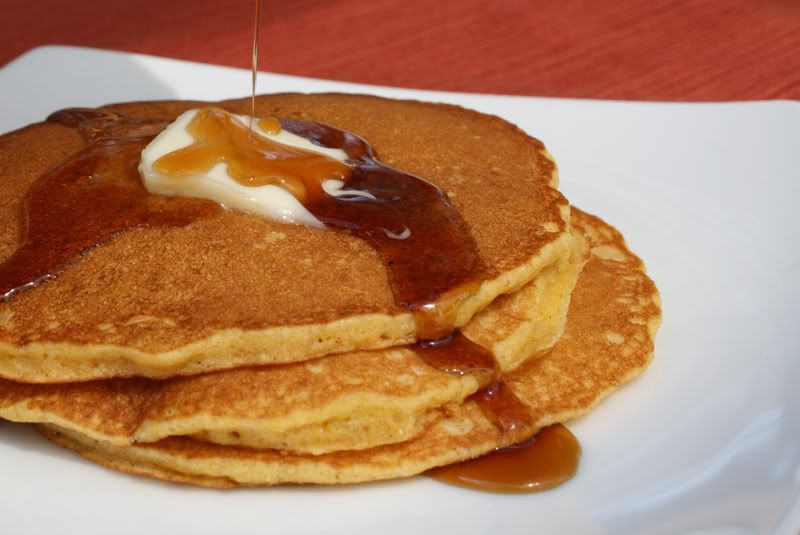 I love the taste of cornmeal, but sometimes it becomes grainy in baked goods. But that is not so with these delicious and light cornmeal pancakes! This recipe is a definite keeper.
Is it as easy as breaking open a box of Bisquick? No. But it is worth the added effort, and these pancakes store easily once you make them. You can put them in the fridge, or even freeze them for a day when you want something quick.
Today I had them with butter and maple syrup. I like the grade B maple syrup. I think the grading system we have is a bit deceptive because it makes you think of school, and an A is better than a B in school. Grade B maple syrup is the darkest of the grades of syrup available in the US, and has a deeper maple flavor.
I wanted perfectly round pancakes, and I didn't have a perfectly flat pan to do that with. So I made mine one at a time. A slight problem arose because there are egg whites folded into the batter, and the batter got thinner as time went by and my last pancakes were not as thick as the first ones. So I advise that you use a flat griddle pan or electric griddle to make these on.
The recipe calls for buttermilk. I use the powdered buttermilk from the supermarket. It keeps in the refrigerator. I like it because I would never be able to use an entire carton of regular buttermilk before it all goes bad. The powdered stuff keeps me from wasting.
I found this recipe on epicurious.com, but they got the recipe from a restaurant called Figtree's Cafe.
Cornmeal Pancakes
Adapted From Figtree's Cafe in Venice, California.
1 1/4 cups cornmeal
1/2 cup whole grain pastry flour
1/2 cup unbleached all purpose flour
1 teaspoon baking powder
1 teaspoon baking soda
1 teaspoon salt
2 cups buttermilk
3 tablespoons butter, melted
3 large eggs, separated (I use the shell-to-shell method)
2 tablespoons honey
Preheat oven to 200°F. This will keep your pancakes warm as you continue making them.
In a large bowl, mix the cornmeal, pastry flour, all purpose flour, baking powder, baking soda, and salt. Set it aside.
In a medium size bowl, whisk the buttermilk, melted butter, egg yolks, and honey to blend. Add this wet mixture to the dry ingredients and stir until blended.
In another medium bowl, beat the egg whites until stiff but not dry.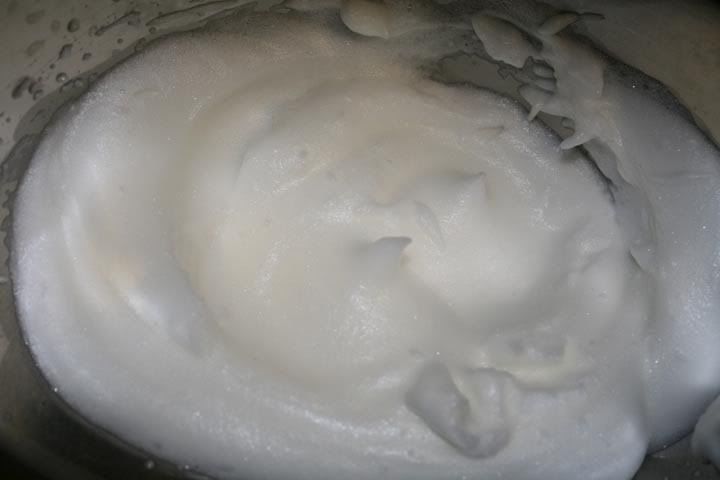 Fold the whites into the batter in two separate additions. You may be tempted to mix instead of fold, but do this the right way! You will get much better results, and by that I mean you pancakes will be light and fluffy.
If you don't really know what folding means, then I recommend watching Chef John Mitzewich as he makes a batch of his own pancake recipe at
http://video.about.com/gourmetfood/Fold-Egg-Whites-Into-Batter.htm
. He goes through the entire recipe quickly, so you won't be sitting there forever waiting to see how to fold.
Continue folding. If your batter looks like this, you are not done yet:
Here was my finished batter.
Here comes the fun part.
Melt some butter in heavy, large, flat griddle over medium heat. Drop the batter by 1/4 cupfuls onto griddle. Cook the pancakes until the bottoms are golden brown and bubbles form on top. This takes about two minutes.
Turn pancakes over and cook them until the bottoms are golden brown, about one more minute.
Transfer the pancakes onto large oven-safe plate and put them in your 200 degree oven.
Serve your corn pancakes hot with maple syrup and butter.