Is it possible that I grew up in a mostly Italian town in New Jersey, totally adore Italian food, and never eat any sort of gnocchi by the time you turn 41? Yes, it is! So today, not only did I eat gnocchi, but I made it. I started my gnocchi journey with the sweet potato kind.
The dough was easy to make. I did learn, though, that one must not overwork the dough when rolling out the gnocchi. Once you mix the dough, you have a large dough ball from which you take batches to roll them out into ropes and cut apart. In the first batch that I rolled out I overworked the dough. I was trying to get the hang of rolling it out and cutting the correct size. At first I cut them too big, so I had mushed them together and started over. Note of advice to you all - don't do that!
Another thing I found out is that making the cute little fork indentation in your gnocchi is not easy. I decided to save my dough and stick with the little pillows instead.
I'm thinking about making it again and improving my technique. I know that next time I will probably put the ricotta, once drained in the sieve, through a food processor so little white cheese lumps don't appear in my gnocchi.
The other thing I learned is that sweet potato gnocchi is absolutely delicious!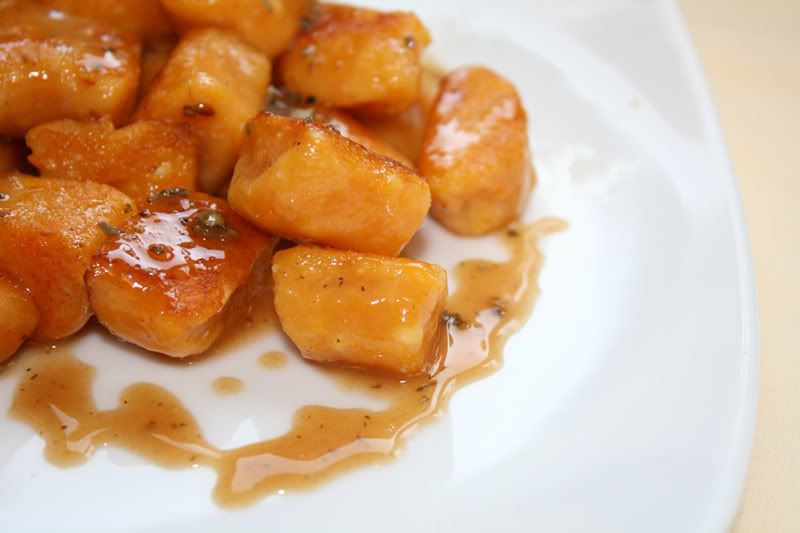 Sweet Potato Gnocchi

Adapted from Gourmet and Bon Appetit Magazines


For The Gnocchi

1 12-ounce container fresh ricotta cheese
1/3 cup finely grated Parmesan cheese
2 tablespoons (packed) golden brown sugar
2 teaspoons plus 2 tablespoons salt
1/3 teaspoon freshly ground nutmeg
2 3/4 cups (about) all purpose flour
For The Sauce
2 cups apple cider, reduced by half
salt ground pepper to taste
1/3 - 1/2 tsp. dried, chopped sage
Put the ricotta cheese in a sieve placed over a bowl. Drain the cheese for two hours.
Line large baking sheet with parchment paper. Rinse the sweet potatoes. Pat them dry and pierce them with a fork all over. Place them on a microwave-safe plate and microwave on high until tender, about 7 minutes per side. Cut in half and cool.
Scrape sweet potato flesh into medium bowl and mash well till smooth. Transfer 3 cups of the mash to a large bowl.
Add ricotta cheese; blend well.
Add Parmesan cheese, brown sugar, 2 teaspoons salt, and nutmeg. Bend it well.
Mix in flour with your hands, about 1/2 cup at a time, until soft dough forms. It will all clump into a ball and take the dough off the sides of the bowl when the time is right.
As I look at this picture below, I wish that I had mashed the potato and ricotta better. Perhaps putting the sweet potato and ricotta in food processor before mixing it together with the flour would have made for a prettier picture.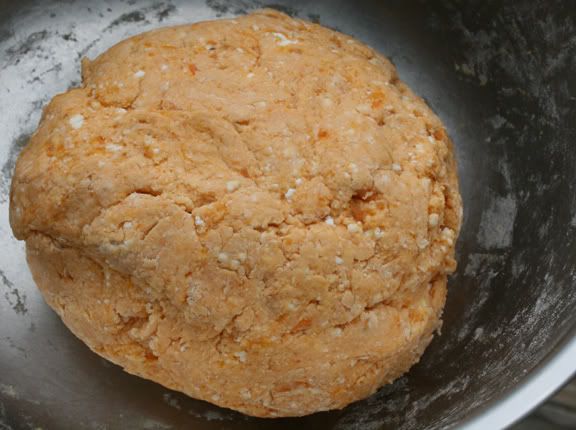 Turn dough out onto floured surface; divide into 6 equal pieces. Rolling between palms and floured work surface, form each piece into 20-inch-long rope (about 1 inch in diameter), sprinkling with flour as needed if sticky. As you roll, move your hands apart. Cut each rope into 20 pieces.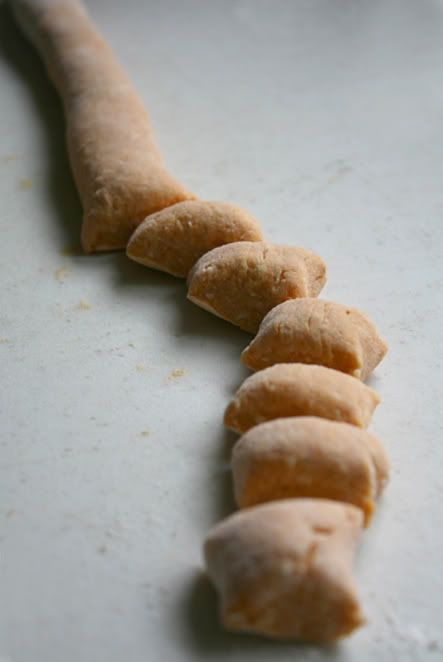 This is the point in which you can roll each piece over the tines of fork to indent. I tried doing this, but it didn't really work out well for me, so I left most of my gnocchi as little pillows.

Transfer the gnocchi to a baking sheet. Keep them floured and separated.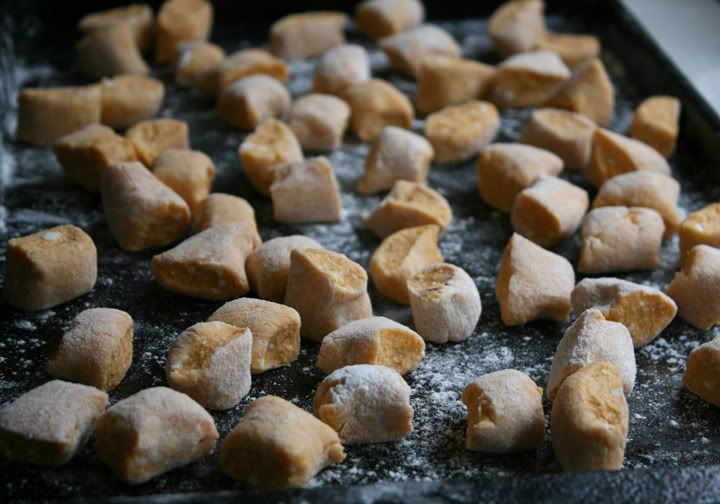 Bring large pot of water to boil; add 2 tablespoons salt and return to boil. Working in batches, boil gnocchi until tender, 5 to 6 minutes. Transfer gnocchi to clean rimmed baking sheet. Cool completely. (Can be made 4 hours ahead. Let stand at room temperature.)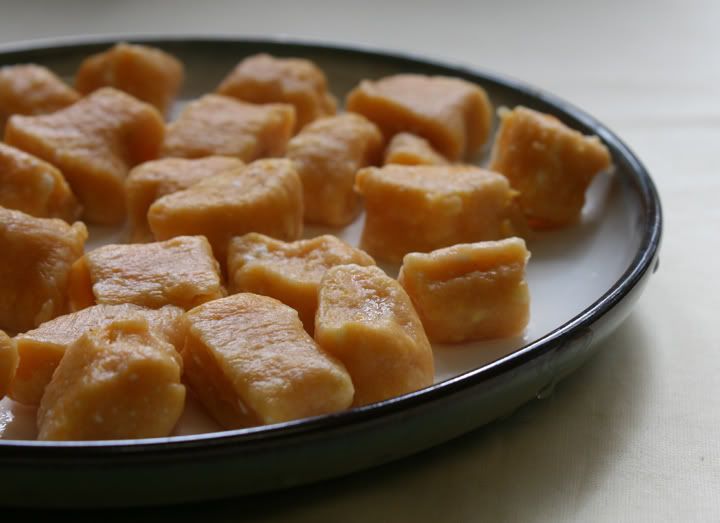 Meanwhile, get the sauce started. In a small saucepan, simmer the apple cider over moderately high heat until reduced to 1/2 cup, for about 20 minutes.

Add the cream, salt and pepper.

Pan fry the gnocchi in butter on a medium-high flame.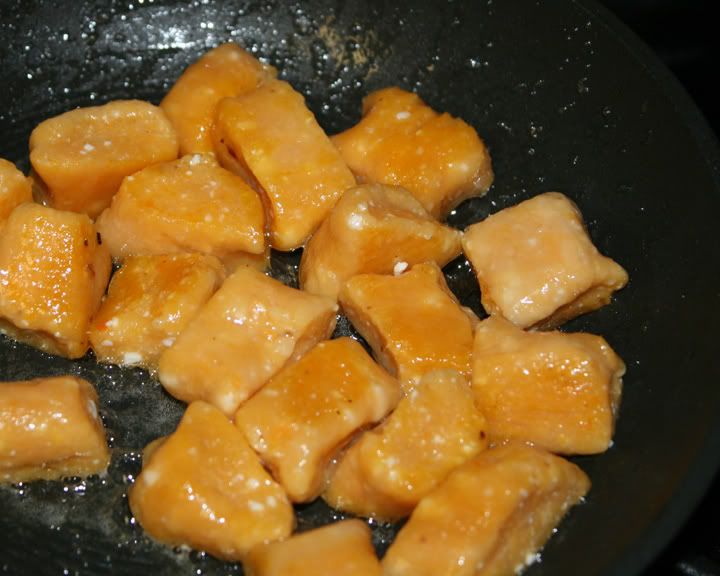 Keep frying till it is lightly browned.
Plate the gnocchi and drizzle it with the cider reduction sauce.
Mangia Bene!