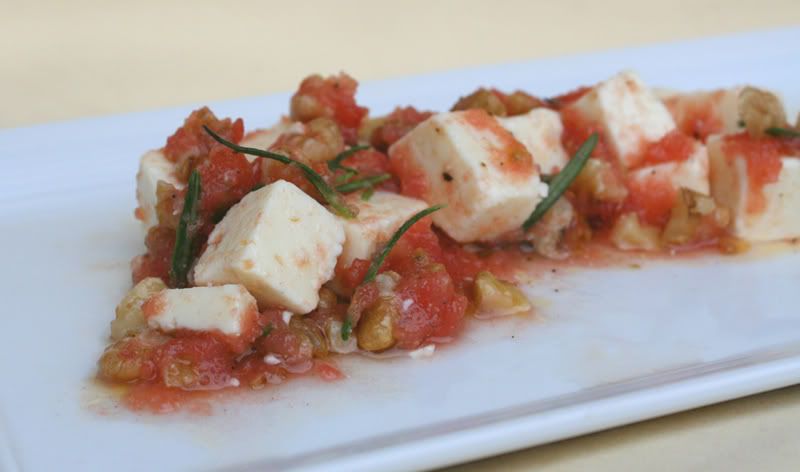 I've enjoyed watching a few episodes of Made in Spain, but I really didn't expect to make anything. I guess I'm a little intimidated by authentic Spanish cooking. It's not like it's difficult, but the ingredients are usually strange to me. But there I was, watching the episode on La Mancha, and there was my Manchego cheese in the fridge (straight from La Mancha), and my extra-ripe tomato on the counter. The time was right to experiment.
This little tapas dish is wonderful in every way. It's ingredients are simple, it's easy to prepare, and so full of flavor.
Chef José said that you could eat this right away, but it would be even better the next day. I think he was right about that.
Salad of Manchego, Tomato, Walnuts, and Rosemary
Adapted from José: Made in Spain
1 tablespoon extra virgin olive oil
5 twists of fresh ground black pepper - on the coarse setting
5 oz Spanish Manchego cheese
1/4 cup walnut chunks, lightly toasted and then broken into pieces
Cut the tomato in half and grate it. That's right, grate it into a bowl. All of the pulp will come off of the skin and fall into the bowl with the seeds. That's what you want. Call it a fresh tomato puree (that's what José called it).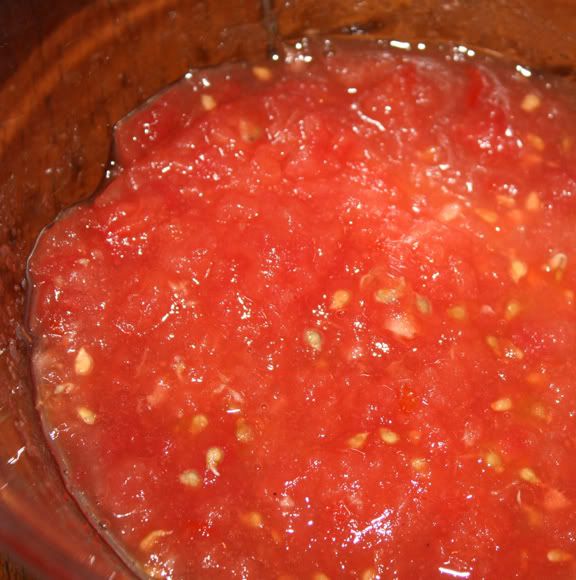 Add the the olive oil and season with salt and pepper.
Here's what the cheese looks like with it's characteristic rind with the zigzag lines.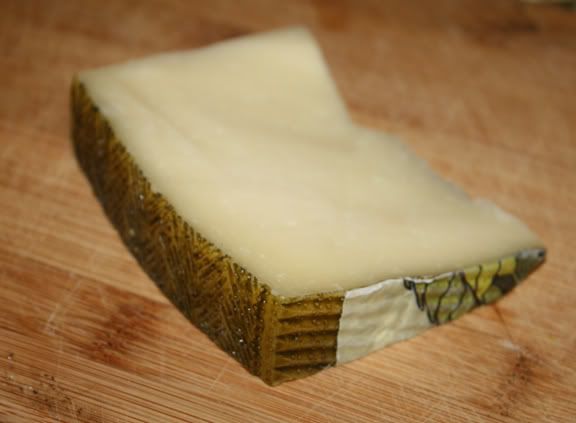 Cut off the rind of the Manchego cheese and cut it into cubes. I did the approximate size of sugar cubes (if you can remember them).
Add them to the tomato puree.
Add the walnuts. If you want more of fewer walnuts, go ahead and change the amount. I liked the 1/4 cup.
Take some rosemary leaves off of the plant stem. fold them over and rub them around between your fingers so that the oils in the leaves are released to the surface. Add it to the rest of the ingredients.
Toss all the ingredients in the bowl. Serve either immediately, or after being refrigerated for up to one day or so.