The minute I saw this recipe in Eating Well Magazine I knew I had to make it. It followed a story about the Lundberg family who produces a line of wild rices. I just happened to have a bag of their brown rice mix in my pantry. I also had most of the other ingredients on hand, so this was meant to be.
I tweaked the recipe just a little, adding a bit more cheese and some cayenne pepper. I also slightly changed some other little things. I liked the result, and ate it all up within a couple of days and then decided to make it again and see if I could tweak it more.
I was going for something to hold the mixture together stronger. My only complaint about the first batch was that once you broke into the patty, the insides tended to not stick together so well. So I added another egg white. I also decided to experiment with a little orange zest. The results? Too much egg white and I didn't like the orange zest. As for the egg whites, I'm recommending one and a half.
You'll notice that I did garnish with lemon slices. Maybe it's because they resemble crab cakes. I also squeezed a little lemon on these and it was pleasant. I tried drizzling a tiny bit of honey as well. I liked it, but it's not necessary.
Brown Rice and Goat Cheese Cakes
Adapted from Eating Well Magazine
¾ cup medium-grain brown rice
1 ½ cups water
3 tablespoons extra-virgin olive oil, divided
4 medium shallots, chopped
2 medium carrots, shredded using the large holes of a box grater
1/2 cup toasted pecans
5 ounces goat cheese
1 large egg white plus half of another
½ teaspoon dried thyme
½ teaspoon salt
½ teaspoon freshly ground pepper
¼ teaspoon cayenne pepper

Bring the rice and water to a boil in a medium saucepan. Reduce heat to low, cover, and simmer at the lowest bubble until the water is absorbed and the rice is tender, 30 to 50 minutes. Remove the pan from the heat and let it stand, covered, for at least 10 minutes.
Meanwhile, heat 1 tablespoon of oil in a large skillet over medium heat. Add the shallots and stir often, until soft, 2 to 3 minutes. Add the carrots, reduce the heat to low, and stir often, until softened and the shallots are lightly browned, about 4 minutes. Remove from the heat.
Preheat oven to 400°F.
Transfer the cooked vegetables and rice to a large food processor. Add pecans, goat cheese, thyme, salt and pepper. Lastly, add the egg white. I say this because the warm ingredients could start cooking the white, so you don't want to put in the egg white until you are ready to start blending.
Pulse the mixture until well blended but still a little coarse. Scrape into a large bowl. Here's my original mixture. You can see it's a little dry, which is why I'm going to say to add another half of an egg white.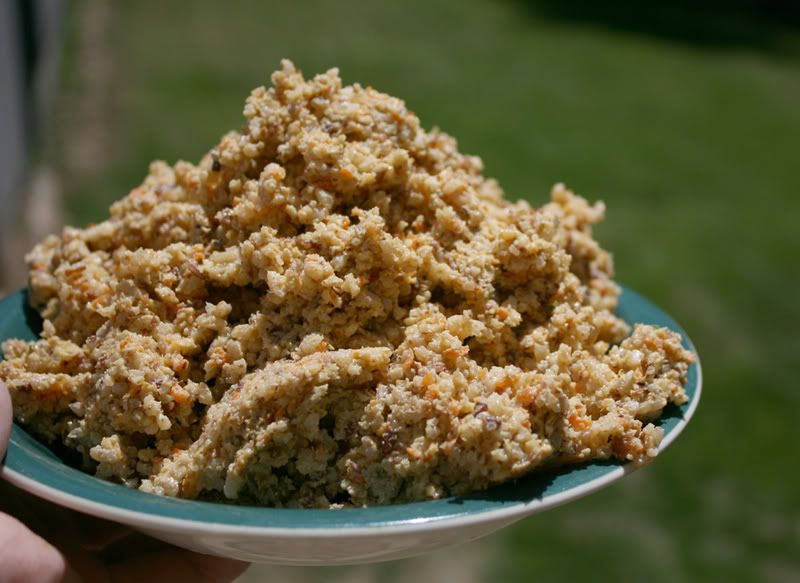 With wet hands, form the mixture into six 3-inch patties, about 1/2 cup each. But truth be told, I got seven patties.


Heat the remaining 2 tablespoons oil in a large nonstick skillet over medium heat. Add the patties and cook until well-browned, 3 to 4 minutes per side.

Once the patties hit the pan, do not try to move them. If you do, they will stick and your patties will be broken. Don't try to move them for a couple of minutes, until a crust has formed. When you do begin to flip them over, swiftly scoop the spatula under the patty and gently turn it over. This will help to keep the patties from falling apart.

Transfer the patties to a PAM-sprayed baking sheet and bake for 15 minutes. They will come out evenly cooked and should be firm to the touch.

Garnish with extra crumbled goat cheese and perhaps some lemon and thyme sprigs!