A couple of months ago I found John & Kira's and ordered this chocolate tower: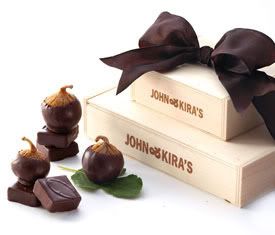 The larger, bottom box has 15 bonbons, sampling of each of their available flavors.

The box on top contains 6 drunken figs. John and Kira describe their figs much better than I can: Noted for their extremely thin skins and sweet, almost candy-like taste, our Spanish figs are filled by hand with a silky dark 64% Valrhona ganache flavored with Whiskey and enrobed in a thin layer of dark 54% chocolate. The Calabacita variety of fig is grown by a family owned company in "Los Llanillos" in the village of Almoharin located in the Extremadura region of Spain.

They were really good, and I don't know why, but I had two left as of today.

But an interesting thing happened a couple of weeks ago. While browsing through the HotPaella Web site looking for Spanish foods, I found this very similar product. called Rabitos Chocolate Stuffed Figs. Instead of whiskey, this one has brandy. This is how they describe their product on the
HotPaella
Web site: Pure Decadent Bliss! Decadent brandy fudge stuffed dried figs dipped in chocolate. Although the figs are from Cáceres

(that's also the Extremadura region)

, we think they're grown in the Garden of Eden!

Last night I broke into the box to look at it because my friend Karen was visiting with her husband and I intended to give her a sample. To my delight, each of the figs was individually wrapped!





Well, I couldn't let this moment go by without doing a side-by-side comparison. So I cleansed my taste buds today and got down to work.

Here's a photo of both types. The Rabitos is on the left, and John & Kira's on the right.





While the chocolate on the Rabitos was noticeable darker, both chocolates enrobing the figs tasted great.

Here's a shot of each type cut open: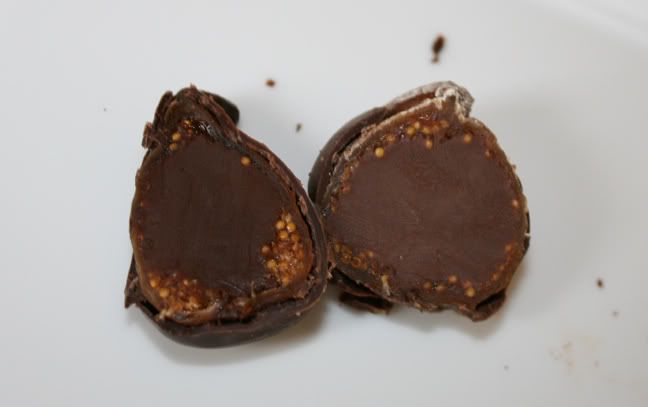 The enrobing chocolate on the Rabitos was a lot less likely to crackle and fall apart. While I've had the John & Kiras for a longer period of time, I tried cutting them open the week I got them and had the same results. In order to to take a picture, I tried sticking the chocolate that had fallen off back onto the fig. In the end, it didn't make for a stunning picture, so I never bothered to post it at the time, but here it is: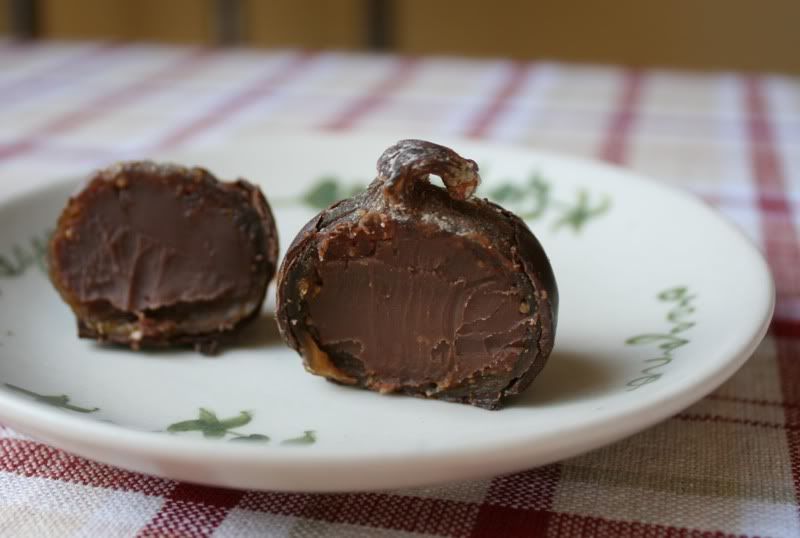 As for the flavor and texture of both fig brands, they were awesome. There was a slightly different taste due to the difference between the brandy and whiskey and the amount of liquor. John & Kira's goes light on the flavoring it adds to chocolate in general. Rabitos had more flavor added by the brandy.

If I were to have tasted these blindly, I don't know which I would have chosen, to be honest. I enjoyed them both.
As I stated earlier, I really love that the Rabitos is individually wrapped. And maybe that is why it was less prone to chocolate crumbling off the outside - it had less exposure to air.

The biggest, most notable difference between these products was the cost.

At John and Kira's, a 12-piece box of drunken figs costs $34.00. That's a lot of money at $2.83 per fig, plus shipping.


The Rabitos figs (through HotPaella) are $12.95 for a 9-piece box (that's $1.44 per fig) and you can get a 16-piece box for $18.50 (that's only $1.16 per fig), plus shipping from California.

I will get the figs from HotPaella next time.