Joe and I spent a week on Cape Cod, during which we celebrated our our ninth anniversary. We got a great recommendation from the man we rented our cabin to go to The Oyster Company in Dennisport. Here we are, about to get into the car to go to dinner!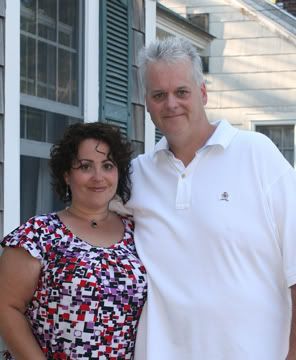 Our anniversary fell on a Thursday and we made a reservation for 6:00. We arrived and the restaurant was about half full. The hostess was going to bring us to one table, but I saw a two-seater right under a nice window and asked if we could sit there. That was great.
The atmosphere was fairly casual. Some people were Friday casual, and some were just plain casually dressed. I get the feeling that most of the people dining there had some money - and their children were extraordinarily well behaved. I noticed that right away. There were quite a few families with fairly young children, yet I didn't hear one scream or argument during our entire dinner. Amazing!
There were a number of special drinks on the menu, and I ordered one. It's not listed on their site because it was a new special. But in was something like a white chocolate espresso martini. It had some sort of Godiva liqueur, vodka, and espresso. Here it is: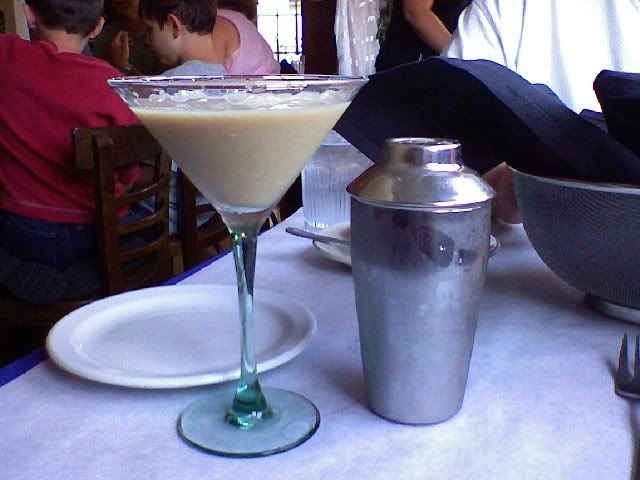 The drink was true heaven! I've had other espresso-type martinis. Compared to them, this one had very little espresso, but it sure was good anyway. I had to stop myself from slurping it down in a minute - it tasted so good! I loved the little decanter they brought it in. It was full of ice, and there was more of the drink in it that didn't originally fit in the martini glass. It was probably close to two drinks by the time I finished.
I was feeling a little bold, and wanted to try oysters of some sort. After all, we were at The Oyster Company, and I've never had oysters! They had a lot of oysters, but I think most of them were raw. I figured that probably wasn't the way to go for me. So I got what I felt was a beginners' oyster dish - Caitlin's Oysters (broiled with a lime cilantro and shallot butter).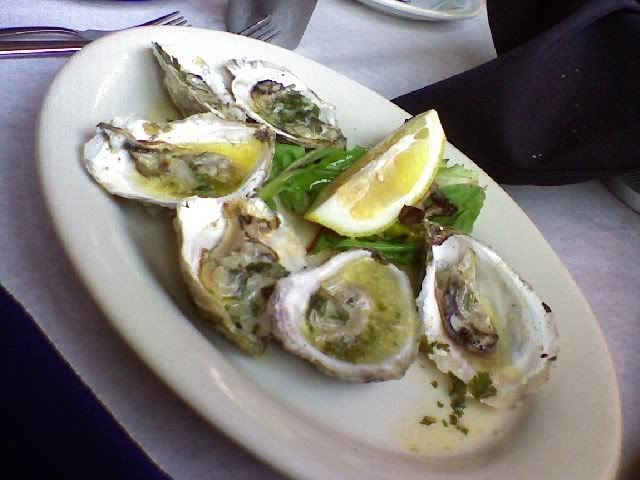 Turns out I like oysters plenty! Maybe next time I'll do something a little more adventurous. These oysters were the tops. And there just weren't enough of them! The butter sauce was so good I dipped bread in it when the oysters were gone. I wanted to just drink it up.
Joe got the chowder. It wasn't an exciting picture, so I left it out. But he enjoyed it. It wasn't too thick and it tasted great. I did taste it and I agree - it was good.
For dinner, Joe ordered the Lobster Fettuccini: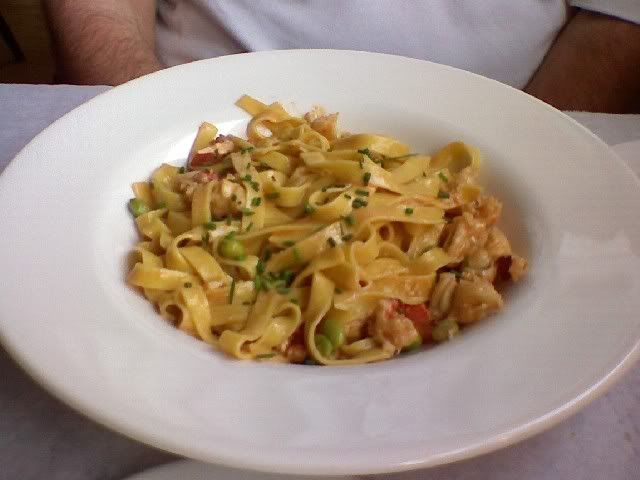 We are quite sure that the pasta was homemade. If they didn't make it there, then someone nearby did. It was fresh and perfectly cooked. The lobster chunks were plentiful and the cream sauce was delicious. We both agreed that it was nice that the pasta wasn't swimming in the sauce. The ratio of sauce to pasta was very pleasant. The green things you see are edamame.
I had one of the best meals ever. It definitely goes into the Meryl Top 10. It was the Pan-Seared Dayboat Scallops: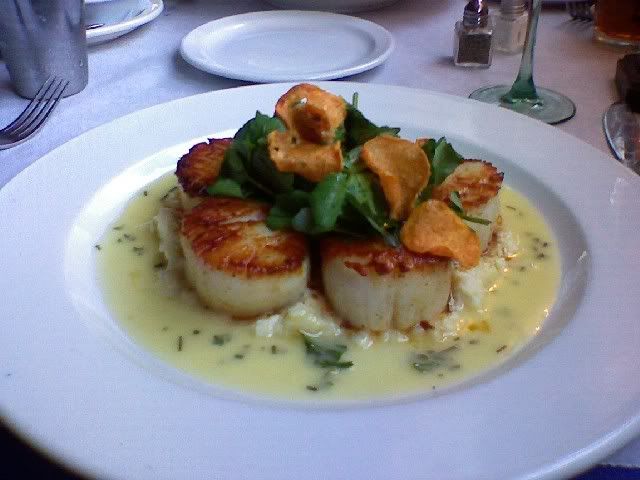 The scallops were placed on a celeriac puree and were surrounded in a lemon-herb emulsion. I'm pretty confident that there was some bacon fat used in searing the scallops - though it wasn't overly bacon-flavored. Just enough to make the scallops spectacular. On top are some sweet potato chips. I was so stuffed I had to give my last scallop to Joe, and that hurt. Nor could I finish my second martini.

We looked at the dessert menu. I mentioned that were I to get dessert I would either go for the creme brulee or the flourless chocolate torte. Joe got the cheesecake for dessert - damn him! I should have gotten a picture, but I forgot! Joe says it was very good. He would have liked more of the fruit sauce which was very lightly drizzled over it and onto the plate in thin ribbons. The cheesecake was not the typical consistency of cheesecakes I've had in Massachusetts. It had a lot of cheese in it and the top browned some when it baked. I particularly like this kind of cheesecake and I sampled some of his. It had a thick graham cracker crust.

In the end, I have nothing but wonderful things to say about The Oyster Company. I'd go back in a heartbeat.