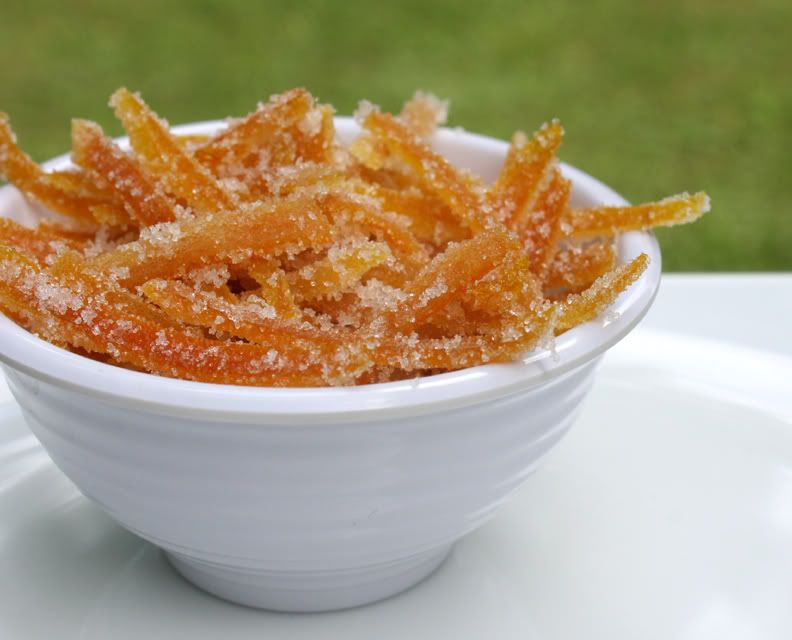 I've wanted to make candied orange peels for some time now, but for some reason I was intimidated. That was silly because this was one of the easiest things I ever did! I've been snacking on them, but I made them to garnish a recipe for
Brown Sugar Custards
that I will post later.


Candied Orange Peel
Adapted from Bon Appetit

2 oranges
1 1/4 cups sugar, divided
3/4 cup water

Bon Appetit suggested using vegetable peeler. I don't have one that works that well, so I cut the orange peel off the orange with a good knife. Try to do it in nice, long sections. The white part that you see in the picture below is called the pith.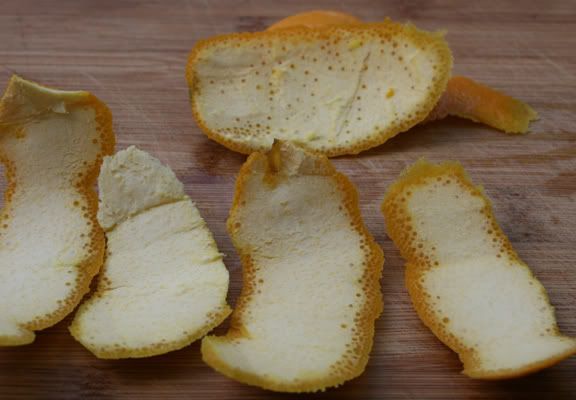 The pith is bitter and you want to remove as much of it as possible if you are not a fan of that bitterness. I'm not a fan, myself.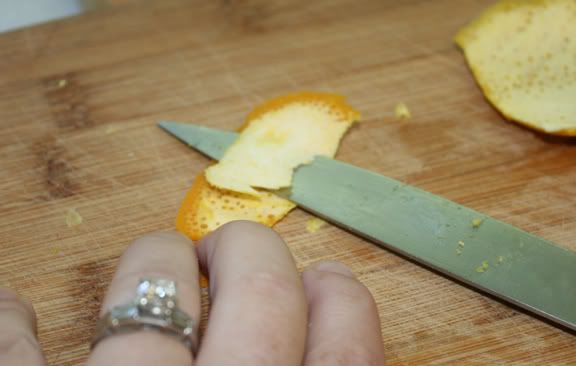 Make sure to cut by moving the knife away from your fingers!

Cut the peels into strips, about 1/8-1/4 inch thick.

Stir 3/4 cup sugar and 3/4 cup water in heavy small saucepan over medium-low heat until the sugar dissolves. Bring the mixture to a boil. Reduce the heat heat and simmer for 2 minutes.

Add orange peel and simmer for 15 minutes.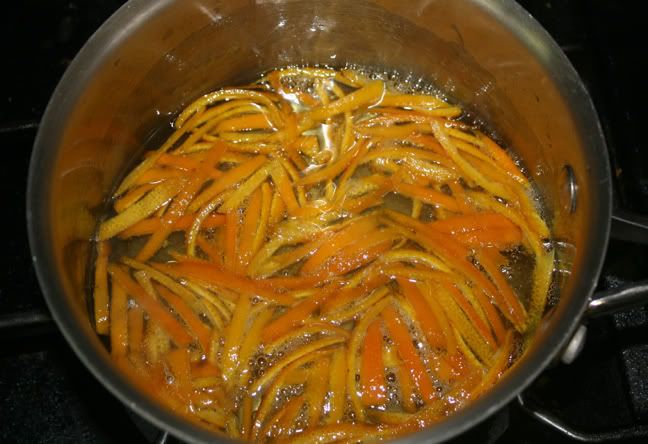 Place the remaining 1/2 cup sugar in small bowl. Remove the peels from the syrup with a slotted spoon and toss them into the sugar, coating them with the crystals. Cool, tossing occasionally. I left them out on the counter for a little while to cool down before I put them in a container together.

For the remainder of the day, they were still soft. But the next day they had more bite and the sugar crystals were crispy again. I liked them that way!

I can't help but think that the syrup that was left in the pot (and that I threw away) would be wonderful in a citrus-flavored martini. But I have no plans on making one.

After using the candied peels to garnish the
Brown Sugar Custards
I made later that day, I wanted to chocolate-cover the rest of them, but I keep nibbling at them, and I wonder if I'll have any left. For now I'll post this recipe. If and when I chocolate cover either these, or a new batch, I'll post it.