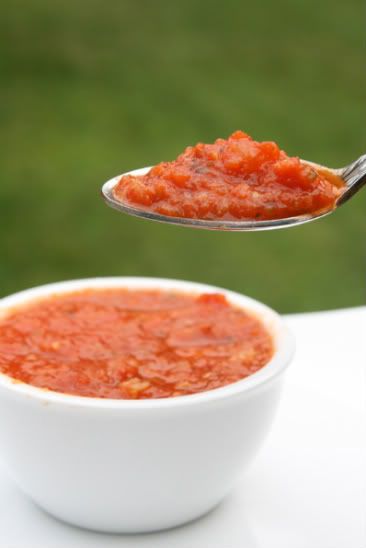 A few weeks ago I began watching
Secrets of a Restaurant Chef
on the network I love to hate, the Food Network. The restaurant chef is Anne Burrell, who is an accomplished chef in New York, and Sous Chef to Mario Batali on
Iron Chef America
. I like her show a great deal and I like learning from watching her and listening to her secrets.
This past week I decided to make a Neopolitan Meatballs recipe from Eating Well, and I decided to change the sauce recipe and combine it with the Spaghetti Bolognese recipe that I saw Anne prepare on her show. But for some reason, the Food Network is only posting recipes from one of her shows so far. I think they've aired about five episodes. So I relied on my memory of Anne, preparing that marvelous-looking sauce. Aside from her advice on seasoning foods and some of the ingredients she used, I remember Anne talking about the Bolognese sauce as one that goes to the brink of destruction (from over-cooking) and then bringing it back from the edge to make a wonderful sauce with complex, deep flavors.
I think I did this sauce justice! It is seasoned more than it would have been and the flavor is amazing! I will definitely make my version of this sauce again. Maybe with the meatballs, but maybe not!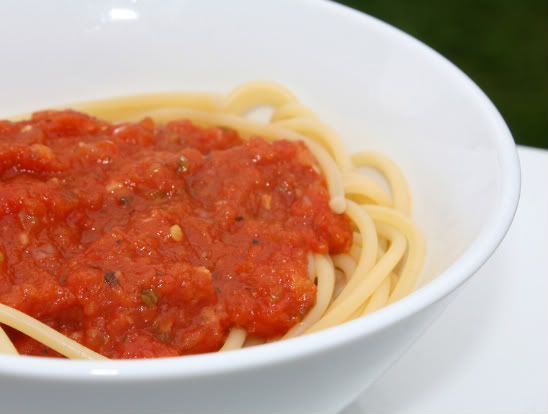 Bolognese-Style Pasta Sauce
Adapted from Eating Well Magazine
(with the help of Secrets of a Restaurant Chef)
yield: 8 servings
Ingredients
3 tablespoons extra virgin olive oil
2 cups onion, chopped
1 cup zucchini, chopped
5 cloves garlic, minced
1 1/2 teaspoons salt, divided
1 teaspoon freshly ground black pepper
2 (28 ounce) cans petite diced tomatoes
1 cup dry white wine
1 cup water
2 bay leaves
1 teaspoon red pepper flakes
1/4 teaspoon dried oregano
1/2 teaspoon dried basil
Procedure
Heat-up a dutch oven on a medium-high flame. Add the olive oil and heat it up for a minute. Don't let it heat to the point of smoking. Add the onions. Stir occasionally for 2 minutes. Add the zucchini and and 1/2 teaspoon salt. Sauté the vegetables for about five minutes, stirring occasionally so they are soft and cooked, just beginning to brown. Add the garlic. Cook, stirring, for one more minute.
Add the tomatoes (don't drain them), white wine, water, bay leaf, the rest of the salt, black pepper, red pepper flakes, oregano, and basil. Cook it for about an hour, stirring occasionally and checking to see the level of liquid. Each time that I saw the level of liquid get very low, I'd add about 1/2 cup water, stir, and continue cooking for one hour. I added water 3 times during the cooking period. If it were to have needed more, I would have used it.
Here's what it looked like after that first hour (water was a little low and I added 1/2 cup just after this picture was taken):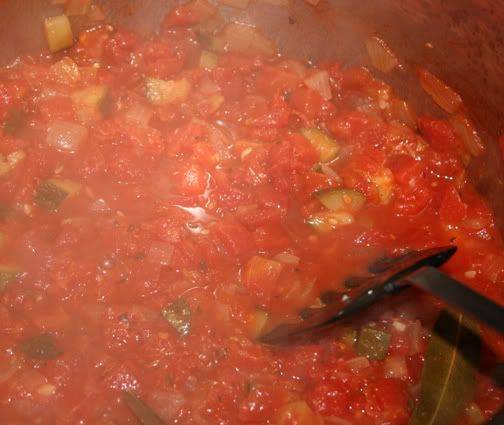 I don't like chunks of vegetables in my sauce, but I like the flavor. So I used an immersion blender. If you don't have an immersion blender, transfer the sauce to a regular blender. Be sure to temporarily remove the bay leaves first!
If you are going to add meat, such as the Neopolitan Meatballs that I made on this particular day, add it now and continue to cook. It took me about 1/2 hour to cook my meatball (I had to do it in batches). then I cooked the sauce for another hour after adding the meatballs. So the total cooking time of the sauce was 2 1/2 hours.
Here it is, with the Neopolitan Meatball recipe. That's good stuff!

By the way, this was definitely the best sauce I've made in my life!